News blogs
Tuberculosis Treatment in HIV Infected Ugandans with C
Xeni Jardin at 11:21 am Fri, Jan 17, 2014 • 0 Image: Reuters Reuters reports that digital security firm IntelCrawler claims to have uncovered "at least six ongoing attacks at merchants across the United States whose credit card processing systems are infected with the same type of malicious software used to steal data from some 40 million credit cards at Target Inc."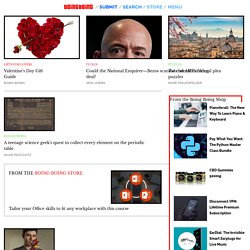 NOVA Energy LabHelp design energy systems that meet demand and save the greatest amount of carbon emissions for the least amount of moneyAstro Drone Crowdsourcing GameIf you own a Parrot AR.Drone Quadricopter, you can participate in the European Space Agency's (ESA) Astro Drone crowdsourcing game to help improve robot visionWeddell Seal Population CountHelp scientists in the field monitor the Weddell seal population in McMurdo Sound, Antarctica
littleBits are color coded electronic modules that connect together magnetically to create simple electronic circuits. They are designed for ages 8 and up so hobbyists, designers, makers, and artists, and can add light, sound, and motion to their crafts and projects. Since they connect up magnetically (no need for circuit boards, breadboards, or solder), you can't accidentally connect them the wrong way. With littleBits you can quickly build electronic circuits in a matter of minutes. The color coded modules are divided into four categories. Blue, for power, currently includes three modules—the power module to which you connect the 9 volt battery, a coin battery module, and a USB power module.
Featured Articles
Wired Science News for Your Neurons From the Science Blogs The Eruption and Humanitarian Crisis at Indonesia's Sinabung ContinuesFrom Eruptions by Erik KlemettiIn what is becoming a larger danger (and potential disaster), activity at Sinabung appears to be increasing daily, with more… More01.08.14 A Playful, Curious Spirit Drives Avian ExplorationFrom Zoologic by Mary BatesCorvids, the group of birds that includes ravens, crows, jays, and magpies, have quite the reputation. Ravens can use insight to… More01.08.14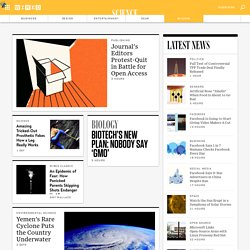 Science blog | Science
Cherry flavored ClimaPsychoTamiflugate By Matt Ridley, The Times 06/01/14 It's not only Tamiflu where inconvenient data goes unpublished.