News blogs
Tuberculosis Treatment in HIV Infected Ugandans with C
Xeni Jardin at 11:21 am Fri, Jan 17, 2014 • 0 Image: Reuters Reuters reports that digital security firm IntelCrawler claims to have uncovered "at least six ongoing attacks at merchants across the United States whose credit card processing systems are infected with the same type of malicious software used to steal data from some 40 million credit cards at Target Inc."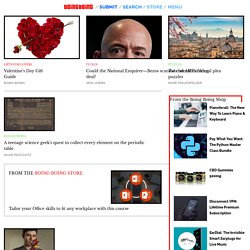 NOVA Energy LabHelp design energy systems that meet demand and save the greatest amount of carbon emissions for the least amount of moneyAstro Drone Crowdsourcing GameIf you own a Parrot AR.Drone Quadricopter, you can participate in the European Space Agency's (ESA) Astro Drone crowdsourcing game to help improve robot visionWeddell Seal Population CountHelp scientists in the field monitor the Weddell seal population in McMurdo Sound, Antarctica
Until university leaders can supply politicians with better approaches to accountability, they're just going to count. In Norway right now, we're in the midst of counting season. And because of the sharp folks at Current Research Information System in Norway, we have detailed numbers. (Disclosure: I'm the head of the board at CRIStin.) Along with counting, comes comparison. So, here's a little teaser from the high north and, sure, I'd like to know how it stacks up against your university.
Featured Articles
At 90, Freeman Dyson Ponders His Next Challenge By Thomas Lin, Quanta Magazine Monday, March 31 2 Comments Freeman Dyson — the world-renowned mathematical physicist who helped found quantum electrodynamics with the bongo-playing, Nobel Prize-winning physicist Richard Feynman and others, devised numerous mathematical techniques, led the team that designed a low-power nuclear reactor that produces medical isotopes for research hospitals, dreamed of exploring the solar system in spaceships propelled by nuclear bombs, wrote technical and popular science books, penned dozens of reviews for The New York Review of Books, and turned 90 in December — is pondering a new math problem. Renewables Aren't Enough. Clean Coal Is the Future By Charles C.
Science - News for Your Neurons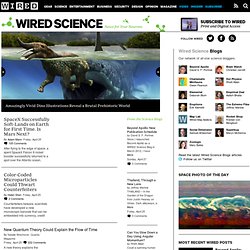 Science blog | Science
Frontiers fires back again on the hype surrounding Lewandowsky's retracted Recursive Fury paper Readers may recall some ethics objections I raised in my complaint letter to UWA and Psychological Science, and also sent to Frontiers. It seems Frontiers agrees.