Communication - Parts 1
The FWA: Favourite Website Awards - Web awards at the cutting ed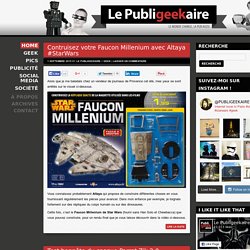 [Edit 300512] Le Dieu Random.org a parlé, voici les 3 gagnants qui vont être contactés par mail et sur Twitter :) Gagnante commentaire Gagnant Tweet (retirage suite à indisponibilité de la première
Le Publigeekaire : Blog publicitaire et geek
Facebook a publié la semaine dernière ses résultats trimestriels, et les chiffres sont très impressionnants : Facebook passes 1.19 billion monthly active users, 874 million mobile users, and 728 million daily users. Non seulement le rythme de croissance de Facebook est maintenu, mais la rentabilité est en hausse : Presque 1,2 milliard d'utilisateurs mensuels (728 M d'utilisateurs journaliers et 874 M d'utilisateurs mobiles) 2 milliards de $ de C.A. trimestriel (dont 49% grâce à la publicité mobile) et un bénéfice de 425 M$ pour une marge opérationnelle de 37% (Facebook revenue hits $2B in Q3, now has 507M mobile DAUs) Rien à redire, ces chiffres sont très bons, voir excellents. En développant de façon spectaculaire ses revenus publicitaires mobiles, Facebook est devenu une véritable machine à cash : Facebook Mobile Ad Revenue Rockets 478% Year-Over-Year.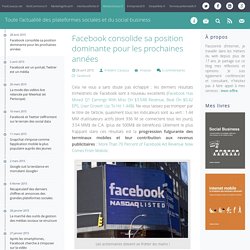 MediasSociaux.com
Wisibility
La mode est à l'infographie, au risque parfois de l'overdose. Mais dans le cas qui nous intéresse aujourd'hui, c'est l'outil idéal. Michell Zappa d'Envisioning Tech a... Suite... Les robots vont faire de plus en plus partie de notre quotidien dans les prochaines décennies.
Et-demain.com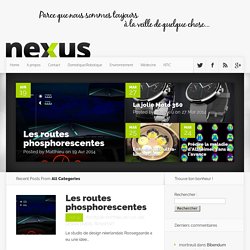 novövision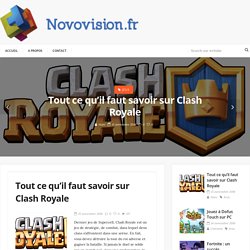 Ceci n'est pas un blog. C'est l'archive d'un blog. J'ai publié ici entre 2006 et 2011, sous le pseudonyme de narvic, quelques centaines de billets sur le thème d'internet, du journalisme et de l'information. Vers 2010, la source s'est tarie peu à peu. Les publications sont devenues sporadiques, avant de cesser définitivement au début 2011. Ce blog est resté quelques temps comme une épave à la dérive sur internet et il a fini par sombrer tout seul et disparaitre.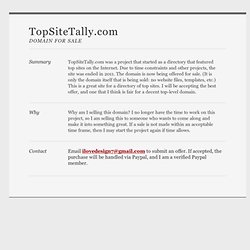 Top Site Tally - Your Daily Dose of the Web's Top Sites - A Dire
TopSiteTally.com was a project that started as a directory that featured top sites on the Internet. Due to time constraints and other projects, the site was ended in 2011. The domain is now being offered for sale. (It is only the domain itself that is being sold: no website files, templates, etc.) This is a great site for a directory of top sites. I will be accepting the best offer, and one that I think is fair for a decent top-level domain.
Ads of the World | Creative Advertising Archive & Community
Catégorie : Buzzies awards. Ecrit par Patricia Gallot-Lavallée, le 23 mars 2014 à 08:15 Voilà la session des Buzzies Awards Réalisateurs Numériques de l'IIM se clôture. Ce fût une chouette cérémonie. Le Jury était 100% dédié aux Réalisateurs Numériques, les JV et les 3D :
BLOG // Patricia Gallot-Lavallée - Kenazart Strategy Interactive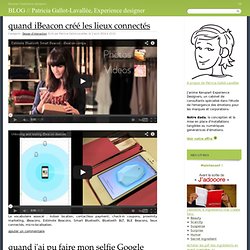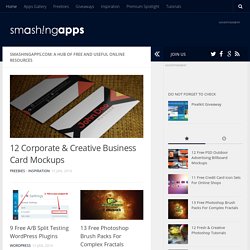 High Quality Yet Free Responsive HTML5 Templates HTML5, a web development paradise on your screen with rich advanced capabilities, surprisingly grand features, is an every developer first choice of platform to have their site upon. As beauty of design and development unfolds with HTML5, so does its challenge of operating it. It's a skill to generate accurate encodes and putting them to uses a work of experienced.
Free and Useful Online Resources for Designers and Developers @
Mario Bros. Themes Performed On 48 Wine Glasses This is a video of Youtuber Dan Newbie performing Super Mario Bros. themes using 48 wine glasses, two pencils and a frying pan.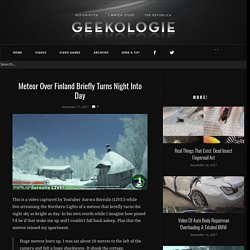 Geekologie - Gadgets, Gizmos, and Awesome
taggle.org
9 décembre 2013Commentaires fermés Au cours de l'année dernière, Google a acheté discrètement 7 jeunes startups toutes spécialisées dans la robotique et l'intelligence artificielle :