Communication - Parts 1
The FWA: Favourite Website Awards - Web awards at the cutting ed. Le Publigeekaire : Blog publicitaire et geek. MediasSociaux.com. Wisibility. Et-demain.com. Novövision. Top Site Tally - Your Daily Dose of the Web's Top Sites - A Dire. Ads of the World | Creative Advertising Archive & Community. BLOG // Patricia Gallot-Lavallée - Kenazart Strategy Interactive. Catégorie : Buzzies awards.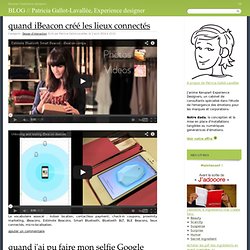 Ecrit par Patricia Gallot-Lavallée, le 23 mars 2014 à 08:15 Voilà la session des Buzzies Awards Réalisateurs Numériques de l'IIM se clôture. Ce fût une chouette cérémonie. Le Jury était 100% dédié aux Réalisateurs Numériques, les JV et les 3D : Free and Useful Online Resources for Designers and Developers @ Geekologie - Gadgets, Gizmos, and Awesome. Taggle.org.
---