Social web
Breaking: Facebook buys Instagram for about $1 Billion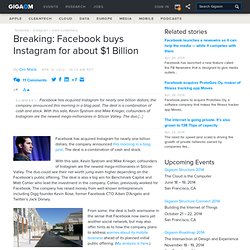 Facebook has acquired Instagram for nearly one billion dollars, the company announced this morning in a blog post . The deal is a combination of cash and stock. With this sale, Kevin Systrom and Mike Krieger, cofounders of Instagram are the newest mega-millionaires in Silicon Valley. The duo could see their net worth jump even higher depending on the Facebook's public offering. The deal is also a big win for Benchmark Capital and Matt Cohler who lead the investment in the company. Cohler, previously worked for Facebook.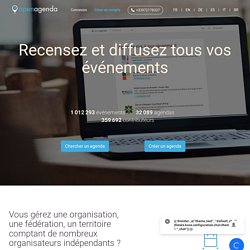 Take advantage of the Cibul Platform to broadcast your events. Its free! Publish your Event Make them visible on the Cibul platform but also on other platforms Edit them between several users Before and after their publication Write them in several languages Publish them on Facebook in 1 click Avoid retyping them Integrate content from your favorite platforms Display videos, images and audio List several dats and places in one page Useful for tours and mobile expos Export your dates to your calendars Google, Yahoo, Windows Live, iCal Send them by email In html format with banner and map Share them on your programs Allow them to be shared by other programs
Cibul
Greplin
Benjamin Costantini's stories - storify.com
The Best New Magazines, Printed on Demand by HP
Are you planning to run a social media contest ( like this one )? Today it's possible for anyone to achieve success engaging consumers online , thanks to the growing popularity and relative ease of execution of social media promotions. The fact that anyone can run a promotion doesn't mean that everyone should, and it certainly doesn't mean that a promotion guarantees social media success. However, if executed as part of a comprehensive social media strategy, social media contests can produce tremendous results no matter how large or small your business. So if you're thinking of running a contest or sweepstakes, here are some key considerations. Start With the End in Mind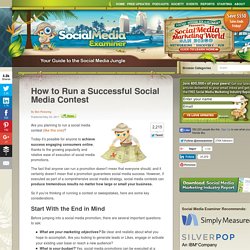 Castiz
30 Super Useful Nonprofit Hashtags – Twitter Chats, Too! « Company K Media
Twitter really shines as a communications tool when you use it with hashtags . Hashtags are words or phrases prefixed with the hash symbol (#), #justinbeiber for example. Hashtags have two major benefits – they help your tweets get found (by people who are searching for your subject), and they help you find good content.
Giving your links more value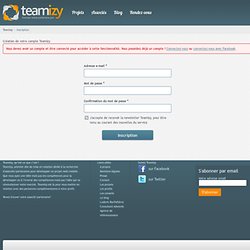 Mon compte
Teamizy › Inscription Création de votre compte Teamizy Vous devez avoir un compte et être connecté pour accéder à cette fonctionnalité. Vous possédez déjà un compte ?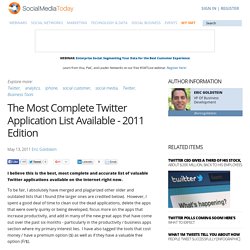 I believe this is the best, most complete and accurate list of valuable Twitter applications available on the internet right now. To be fair, I absolutely have merged and plagiarized other older and outdated lists that I found (the larger ones are credited below). However, I spent a good deal of time to clean out the dead applications, delete the apps that were overly quirky or being developed, focus more on the apps that increase productivity, and add in many of the new great apps that have come out over the past six months - particularly in the productivity / business apps section where my primary interest lies.
My Page - Arts Rights Justice
objetivarte y sus amistades
Benjamin Costantini (objetivarte)
objetivarte's Public Library
Apture is Joining Google! Since 2007, all of us here at Apture have worked hard to add new dimensions to the web. We've always believed that by transforming flat web pages into interactive multimedia experiences, we could enable readers to see, hear and truly experience the ideas on the page.
Search. Explore. Experience – Apture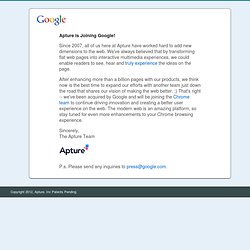 Identifiez-vous
Have you asked yourself this? Well you're in luck - ManageFlitter has the answer! Click "Connect to Twitter" below to connect your account. We'll process data on your followers and within a few seconds you'll see the screen below - a list of all the people who have unfollowed you.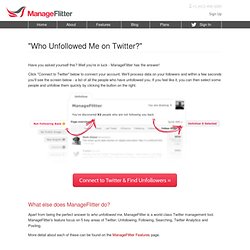 Discover, Evaluate, and Monitor Your Professional Online Brand
Pivotal Tracker - Pricing Plans
FollowUp > Email Reminders and Tasks
Benjamin Costantini (objetivarte
Your browser is outdated and may not support all features of The Tweeted Times. If you are having problems, try to update your browser to the latest version. Loading... Expand Grid view Column view List view
Benjamin Costantini
As a marketing tool Twitter gets much more interesting and useful when you can filter out 99 percent of the junk that doesn't apply to your objectives and focus on the stuff that matters. The basic search.twitter.com functionality is fine for finding out what's being said about your search terms. The advanced search function offers more ways to slice and dice the stream, but still leaves some room for improvement as it only searches what's being said and where.
7 insanely useful ways to search Twitter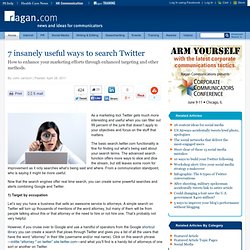 Benjamin Costantini
Objetiv@rte