How To's and Self Improvement
Get flash to fully experience Pearltrees
How to find the product key of any software that you want..?? A product key is a unique identification number or code, used in software like operating systems and games, to prevent counterfeiting and piracy. This is a specific software program. For the most part, a product key operating system is an insignificant number, but when you need to re-install your OS, suddenly the product key becomes the code harder to find. Find Product Key Of Windows 7 A product key Windows 7 is needed to activate the system, format the Windows 7, or in the event of a system crash, re-installing Windows 7 on your computer.
By It usually takes us much longer to change our moods than we'd like it to take. Here are ten things you can do in ten minutes or less that will have a positive emotional effect on you and those you love. .
We love using chalkboards as backdrops for displays and parties (like this one here !). So we were super excited to learn that you can create your own custom colors-and it's really easy! We first learned how from Martha Stewart whose tutorial you can read here . She recommends that you use latex paint, but we tried it out with acrylic paints with much success.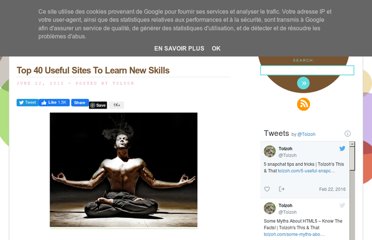 The web is a powerful resource that can easily help you learn new skills. You just have to know where to look. Sure, you can use Google, Yahoo, or Bing to search for sites where you can learn new skills , but I figured I'd save you some time. Here are the top 40 sites I have personally used over the last few years when I want to learn something new.
Eating 10 hot dogs in 6 minutes and belching the national anthem may impress your friends, but neither of those feats will do much for your body—at least not much good. Instead, why not train yourself to do something that may actually pay off? We're not talking bench presses and interval training (though those do help). You can teach your body to cure itself from everyday health ailments—side stitches, first-date jitters, even hands that have fallen asleep. Just study this list, and the next time your friends challenge you to an ice cream eating contest, chow down: You know how to thaw a brain freeze—and 17 other tricks that'll make everyone think you're the next David Blaine.
Much of the brain is still mysterious to modern science, possibly because modern science itself is using brains to analyze it. There are probably secrets the brain simply doesn't want us to know. But by no means should that stop us from tinkering around in there, using somewhat questionable and possibly dangerous techniques to make our brains do what we want. We can't vouch for any of these, either their effectiveness or safety.
You've read several posts already. It's very flattering to know that somebody is interested in what I write over here. :) I just wanted to let you know, that you can also subscribe via email to receive blog updates. I usually post once a month or so. I'll do my best to keep them interesting.