Religion Studies & Comparison
Zygon Center for Religion and Science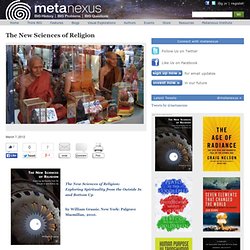 The New Sciences of Religion
The New Sciences of Religion: Exploring Spirituality from the Outside In and Bottom Up by William Grassie , New York: Palgrave Macmillan, 2010. "A typically colorful and significantly original approach to religion, as contemporary science interprets it. It is rare to find a book that covers so wide a range of scientific approaches to religion, and Grassie does so without falling prey to reductionism of either the scientific or the theological kinds.
Map showing relative importance of religion by country. Based on a 2006-2008 worldwide survey by The Gallup Organization . Religiosity , in its broadest sense, is a comprehensive sociological term used to refer to the numerous aspects of religious activity, dedication, and belief (religious doctrine). Another term that would work equally well, though less often used, is religiousness .
Religiosity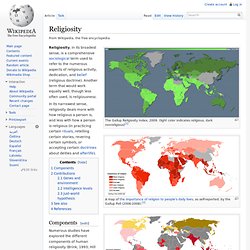 World Religions: Comparative Analysis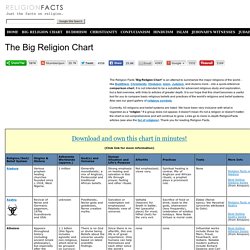 The ReligionFacts " Big Religion Chart " is an attempt to summarize all the complexities of religions and belief systems into tiny little boxes on a single, quick-reference comparison chart . Yes, of course this is impossible. Our comparison charts are not a substitute for reading about religions, talking with religious adherents, etc. But this chart can (hopefully) be a useful way to compare basic beliefs and practices of the world's religions and belief systems. Currently, 43 belief systems are listed. We have been very inclusive with what is regarded as a " religion ."
All sizes | The Great Chain in Various Wisdom Traditions
Histoire des religions
Religion.swf (Objet application/x-shockwave-flash)
Category:Religion academics
Category:Historians of religion
Mircea Eliade
Mircea Eliade ( Romanian: [ˈmirt͡ʃe̯a eliˈade] ; March 13 [ O.S. February 28] 1907 – April 22, 1986) was a Romanian historian of religion, fiction writer, philosopher, and professor at the University of Chicago . He was a leading interpreter of religious experience, who established paradigms in religious studies that persist to this day.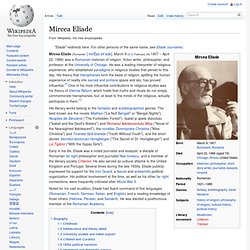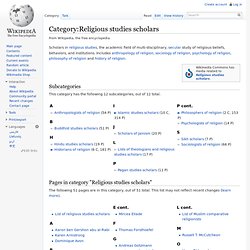 Scholars in religious studies , the academic field of multi-disciplinary, secular study of religious beliefs, behaviors, and institutions. Includes anthropology of religion , sociology of religion , psychology of religion , philosophy of religion and history of religion . Subcategories This category has the following 12 subcategories, out of 12 total. Pages in category "Religious studies scholars"
Category:Religious studies scholars
This category regroups topics in the multidisciplinary academic field of religious studies . Religious studies is the academic field of multi-disciplinary, secular study of religious beliefs, behaviors, and institutions. It describes, compares, interprets, and explains religion, emphasizing systematic, historically-based, and cross-cultural perspectives. Please note that this field/category is not the same as theology or Category:Theology , though it often encompasses certain aspects of that field. Subcategories This category has the following 14 subcategories, out of 14 total.
Category:Study of religion