TO MAKE / DO
No-Sew Duct Tape Zipper Pouch. Take your duct tape skills to the next level with this great zippered pouch.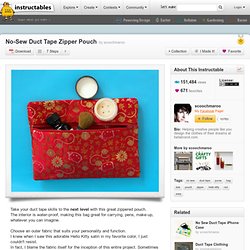 The interior is water-proof, making this bag great for carrying, pens, make-up, whatever you can imagine. Choose an outer fabric that suits your personality and function. I knew when I saw this adorable Hello Kitty satin in my favorite color, I just couldn't resist. In fact, I blame the fabric itself for the inception of this entire project. Rollie Pollie!
Looking for hours of entertainment?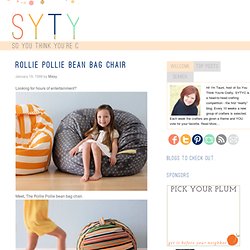 Meet, The Rollie Pollie bean bag chair. It's a chair, it's a toy, it's your favorite pillow. Felt Flowers. How to make a fabric rose. It's the last stiffened fabric project and then I'm moving on!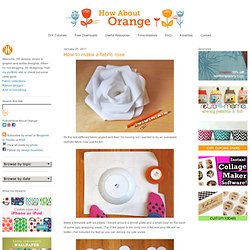 I wanted to try an oversized, realistic fabric rose just for fun. Make a template with six petals. I traced around a dinner plate and a small bowl on the back of some ugly wrapping paper. (Tip: if the paper is too curly, iron it flat and your life will be better.) Vintage book travel-tech organizer. As you may have figured out from my My Life Scoop posts, I'm a bit of a nut for tech accessories, especially pocket-sized ones.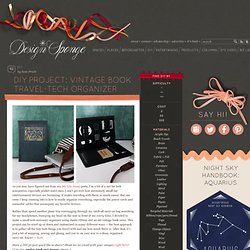 I can't get over how awesomely small our entertainment devices are becoming; it makes traveling with them so much easier. But one issue I keep running into is how to neatly organize everything, especially the power cords and connector cables that accompany my favorite devices. Rather than spend another plane trip rummaging through my catch-all carry-on bag searching for my headphones, bumping my head on the seat in front of me every time, I decided to make a small tech-accessory organizer using elastic ribbon and an old vintage book cover. Wallet-to-Tote On the Go ~ Tutorial. Lorraine from ikat bag is a favorite around here… She has tons of fun tutorials on her blog and she's joined us before with this wonderful Back to School Pencil Case tutorial.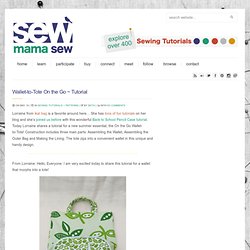 Today Lorraine shares a tutorial for a new summer essential, the On the Go Wallet-to-Tote! Construction includes three main parts: Assembling the Wallet, Assembling the Outer Bag and Making the Lining. The tote zips into a convenient wallet in this unique and handy design. From Lorraine: Hello, Everyone. I am very excited today to share this tutorial for a wallet that morphs into a tote!
Paracord Wrap Bottle. Now we have 8 stands.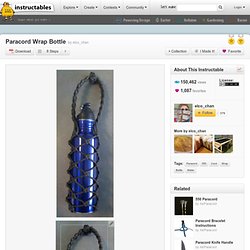 Step 1: Take two of the strands that are next to each other and make an S shape out of the cord having the right-most one cross over the left strand bringing the bottom half of the S under the left strand. Step 2: Bring the left strand underneath the S and feed it between the two cords at the very top to the left of itself. Make a self-zipping coin purse from a ribbon. Look what came in the mail today from my mom.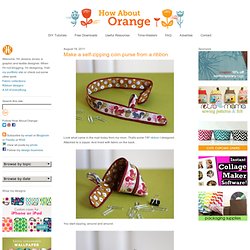 That's some 7/8" ribbon I designed. Attached to a zipper. And lined with fabric on the back. You start zipping, around and around. And you get a coin purse! Book strap tutorial. Ladies and gentlemen, I'm delighted to share a guest tutorial today from Lorraine (LiEr) Teigland of Ikat Bag.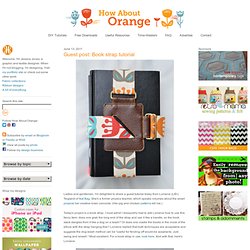 She's a former physics teacher, which speaks volumes about the smart projects her creative brain concocts. (Her pig and chicken patterns kill me.) Today's project is a book strap. Bow tie paper clips from fabric scraps. I had a couple little scraps left over from stiffened fabric projects, and after fiddling with them, I noticed they'd easily make tiny bows.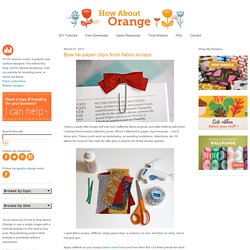 Which I attached to paper clips because... I don't know why. These could work as bookmarks, on wedding invitations, Valentines, etc. Or attach the bows to hair clips for little girls or pencils for bridal shower games. T-shirt latch hook rug tutorial. I really love flokati rugs.
I have two that are safely tucked away in my parents basement awaiting our reunion. When I learned that I would be having a child and building a nursery for him, I wanted a flokati. A gray one. Being a flokati snob though, I knew that I couldn't afford the price tag ( ), and I knew that I would be too precious about the rug ( ). So I chose the only sensible alternative: I would make a rug. DIY Solar Lamp: Make Your Own Eco-Friendly Sun Jars. The principle is simple and seductively clever: solar lights that store energy during the day and release light at night. These can be purchased ready-made in a variety of colors (yellow, blue and red) but they can also be built at home.
A simple, less-technical approach involves buying a conventional solar-powered yard lamp and then essentially harvesting it for key pieces to put in a jar. This is simply a way of taking an existing solar lamp design and appropriating its parts to make something more attractive for display around a house or home. A more electronically-savvy individual can take the more complex route and built a solar lamp from the ground up using small solar panels – though the aesthetic result may not be as impressive.
Whatever route you choose to go, these are fun and sustainable gadgets that make it easy to go green, automate the process of turning on lights at night and can add some color to your porch, patio, garden or windowsill. Guest blogger - Sasha from The Guilded Bee: Here's another DIY project from our sweet friend, Sasha - from the The Gilded Bee. Be sure to check out her awesome shop full of handmade packaging lovelies.
Thanks for being here with us Sasha! I'm delighted to share my book tutorial with you today: DIY Market Bag. With Earth Day just around the corner, we're turning to artist and environmentalist Chris Jordan for inspiration. In this large-zoom photograph he has captured 1.14 million brown paper supermarket bags, the number used in the US every hour.
And did you know that 2.7 billion plastic bags are used every day worldwide? Floored by these staggering numbers we were motivated to do a quick and easy DIY, recycling an old t-shirt into a reusable fringed market bag. We hope that it will also inspire you to use less plastic and paper! Lay the t-shirt on a flat surface. DIY Fabric Notepad Cover.
I have been working on fabric covers for steno pads for my children's teachers. They can be made totally reversible. They have a handy spot on the cover for a pen or pencil and an elastic closure. I think these would make great little gifts when you just need a little something. Composition book cover. 5 Super Crafty Eco Etsy Finds for the Home. Pennant rubber stamp roller in Crafts for home stationery and paper for birthdays, anniversaries or dinners. Time capsule in Crafts for decorating and home decor.
---