Les clones dans la littérature et au cinéma
Never Let Me Go (2010 film)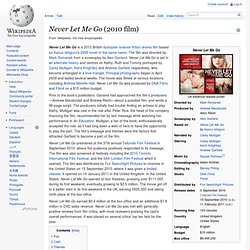 Prior to the book's publication, Garland had approached the film's producers—Andrew Macdonald and Andrew Reich—about a possible film, and wrote a 96-page script. The producers initially had trouble finding an actress to play Kathy. Mulligan was cast in the role after Peter Rice, the head of the company financing the film, recommended her by text message while watching her performance in An Education. Mulligan, a fan of the book, enthusiastically accepted the role, as it had long been a wish of hers to have the opportunity to play the part. The film's message and themes were the factors that attracted Garfield to become a part of the film.
Avec Spike Jonze, David Fincher et Michel Gondry, Mark Romanek faisait partie des réalisateurs de clips les plus admirés et sollicités dans les années 90. Il a notamment travaillé avec Michael Jackson, Lenny Kravitz, Mick Jagger, Beck ou encore Sonic Youth et les Red Hot Chili Peppers.
Never let me go de Mark Romanek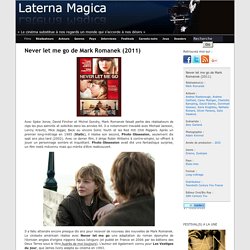 Critique.
Never Let Me Go de Mark Romanek
Never Let Me Go
Kathy, Ruth et Tommy, trois amis élevés dans un pensionnat coupé du monde, découvrent qu'ils ne sont que de simples clones conçus dans le but de donner leurs organes… Adapté du roman éponyme de Kazuo Ishiguro, il ne faut certainement pas prendre pour un film de science-fiction. Le thème du clonage n'est ici qu'une toile de fond, un prétexte aux réflexions sur la vie et la mort.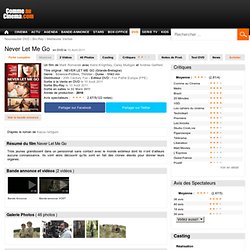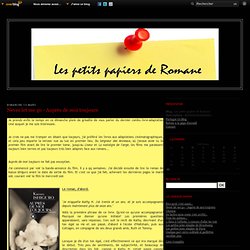 Never let me go - Auprès de moi toujours - Les petits papiers de Romane
Dimanche 13 mars 7 13 /03 /Mars 16:19
Never Let Me Go
Date de sortie : 02/03/2011Année du film : 2010 Pays du film : États-Unis Durée : 1 h 43 Réalisé par : Mark Romanek Avec : Keira Knightley, Carey Mulligan, Andrew Garfield Musique : Jeff Atmajian Public : Adultes et grands ados Notes des internautes : Never Let Me Go (20 notes) Votre note :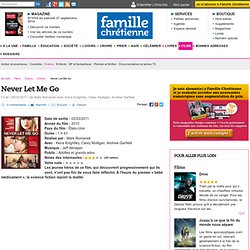 Never Let Me Go | Famillechrétienne.frFilms -
Regard sur la science-fiction (3)
En marge des débats parlementaires sur la bioéthique, deux films viennent nourrir la réflexion. Tandis qu'une société clone des êtres humains pour prélever des organes, une autre traque les mauvais payeurs auxquels elle a vendu un cœur ou des poumons artificiels.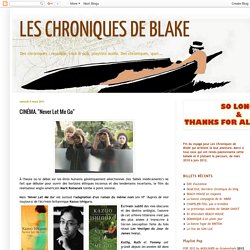 CINÉMA. "Never Let Me Go"
À l'heure où le débat sur les êtres humains génétiquement sélectionnés (les "bébés médicaments") ne fait que débuter pour ouvrir des horizons éthiques inconnus et des lendemains incertains, le film du réalisateur anglo-américain Mark Romanek tombe à point nommé. Mais "Never Let Me Go" est surtout l'adaptation d'un roman du même nom (en VF "Auprès de moi toujours) de l'écrivain britannique Kazuo Ishiguro. Écrivain subtil des vies obscures et des destins ambigüs, l'oeuvre de cet orfèvre littéraire n'est pas des plus aisées à transcrire à l'écran (exception faite du très réussi Les Vestiges du Jour de James Ivory).
Last May, on my way back from a mini-conference in Stockholm, I had a long layover in Munich. Since major airports are now essentially shopping malls with parking for commercial jets, I used a little bit of that time to wander through a pretty impressive airport book store, where I picked up a copy of Never Let Me Go by Kazuo Ishiguro. I had heard a bit about it (maybe in reviews on the radio, if memory serves), and knew that it had some connection to ethical issues around biomedical technologies that seem not to be too far off from where we are now.
Book review: Never Let Me Go. : Adventures in Ethics and Science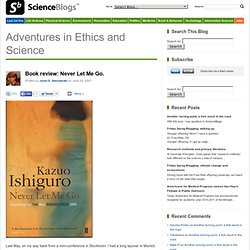 Never let me clone?: Countering an ethical argument against the reproductive cloning of humans
The Cathoholic: Bioethics
Federal Clone Battle NIH Guidelines on Stem-Cell Research Spur Pro-Life Fears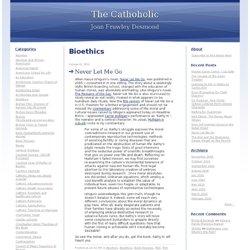 The Hastings Center - Biopower and the Liberationist Romance
Women's Bioethics Project