Les clones dans la littérature et au cinéma
Never Let Me Go (2010 film)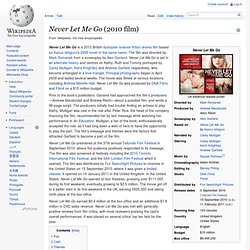 Prior to the book's publication, Garland had approached the film's producers—Andrew Macdonald and Andrew Reich—about a possible film, and wrote a 96-page script. The producers initially had trouble finding an actress to play Kathy. Mulligan was cast in the role after Peter Rice, the head of the company financing the film, recommended her by text message while watching her performance in An Education. Mulligan, a fan of the book, enthusiastically accepted the role, as it had long been a wish of hers to have the opportunity to play the part. The film's message and themes were the factors that attracted Garfield to become a part of the film.
Avec Spike Jonze, David Fincher et Michel Gondry, Mark Romanek faisait partie des réalisateurs de clips les plus admirés et sollicités dans les années 90. Il a notamment travaillé avec Michael Jackson, Lenny Kravitz, Mick Jagger, Beck ou encore Sonic Youth et les Red Hot Chili Peppers. Après un premier long-métrage en 1985 (Static), il réalise son second, Photo Obsession, seulement dix sept ans plus tard (2002). Avec ce denier film, il dirige Robin Williams à contre-emploi, lui offrant à jouer un personnage sombre et inquiétant. Photo Obsession avait été une fantastique surprise, un film resté méconnu mais qui mérite d'être redécouvert. Il a fallu attendre encore presque dix ans pour recevoir de nouveau des nouvelles de Mark Romanek.
Never let me go de Mark Romanek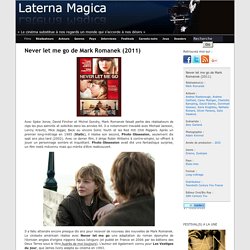 Critique. Entre Incohà Voici ma critique du film. Never Let Me Go – Sortie le 2 mars Derniers articles : Site CinÃ
Never Let Me Go de Mark Romanek
Never Let Me Go
Kathy, Ruth et Tommy, trois amis élevés dans un pensionnat coupé du monde, découvrent qu'ils ne sont que de simples clones conçus dans le but de donner leurs organes… Adapté du roman éponyme de Kazuo Ishiguro, il ne faut certainement pas prendre pour un film de science-fiction. Le thème du clonage n'est ici qu'une toile de fond, un prétexte aux réflexions sur la vie et la mort.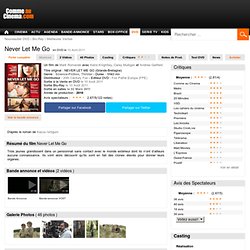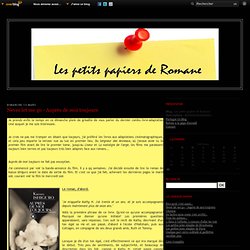 Never let me go - Auprès de moi toujours - Les petits papiers de Romane
Dimanche 13 mars 7 13 /03 /Mars 16:19 Je prends enfin le temps en ce dimanche plein de grisaille de vous parler du dernier combo livre-adaptation ciné auquel je me suis intéressée. Je crois ne pas me tromper en disant que toujours, j'ai préféré les livres aux adaptations cinématographiques, et cela peu importe la version vue ou lue en premier lieu. Du Seigneur des Anneaux, où j'avoue avoir vu le premier film avant de lire le premier tome, jusqu'au Liseur et La nostalgie de l'ange, les films me paraissent toujours bien ternes et pas toujours très bien adaptés face aux romans... Auprès de moi toujours ne fait pas exception.
Never Let Me Go
Kazuo Ishiguro se décrit lui-même comme un « écrivain japonais britannique », double identité qui se traduit par une hybridation de ces cultures, dans des œuvres toujours profondément nostalgiques et épurées. Déjà adapté au cinéma en 1993 avec le brillant Les Vestiges du jour, de James Ivory, c'est au tour de Never Let Me Go (2005, Auprès de moi toujours en français) d'être cinématographié. La complexité narrative : le défit de l'adaptation cinématographique Chronique de la vie de Kathy H., Tommy D. et Ruth G., trois orphelins sans avenir élevés dans le but de donner leurs organes, Never Let Me Go explore les mécanismes de la mémoire et l'ambiguïté des rapports humains. Louvoyant toujours au seuil du fantastique sans jamais y entrer, Ishiguro livre avec ce roman une structure narrative du détail innovante et une surprenante réflexion sur le clonage humain. Sans contrainte de style ni de temps, il s'est appliqué à établir un récit raconté à la première personne.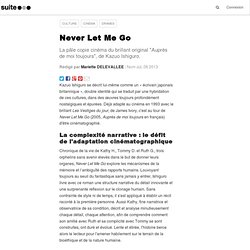 Never Let Me Go | Famillechrétienne.frFilms -
Regard sur la science-fiction (3)
En marge des débats parlementaires sur la bioéthique, deux films viennent nourrir la réflexion. Tandis qu'une société clone des êtres humains pour prélever des organes, une autre traque les mauvais payeurs auxquels elle a vendu un cœur ou des poumons artificiels. Époque oblige, la science-fiction de ces dernières années s'intéresse de plus en plus aux thématiques liées à l'utilisation des organes humains, notamment celle de leur commercialisation, avec la question fondamentale sous-tendue : celle du respect de la vie humaine. Nous avions déjà évoqué le film The Island . Deux autres films, peut-être plus austères, en tout cas plus dramatiques, apportent un éclairage particulier sur ce terrain : Never Let Me Go et Repo Men . Never Let Me Go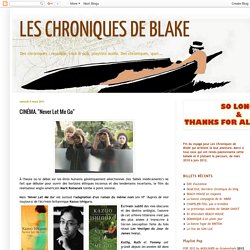 CINÉMA. "Never Let Me Go"
À l'heure où le débat sur les êtres humains génétiquement sélectionnés (les "bébés médicaments") ne fait que débuter pour ouvrir des horizons éthiques inconnus et des lendemains incertains, le film du réalisateur anglo-américain Mark Romanek tombe à point nommé. Mais "Never Let Me Go" est surtout l'adaptation d'un roman du même nom (en VF "Auprès de moi toujours) de l'écrivain britannique Kazuo Ishiguro. Écrivain subtil des vies obscures et des destins ambigüs, l'oeuvre de cet orfèvre littéraire n'est pas des plus aisées à transcrire à l'écran (exception faite du très réussi Les Vestiges du Jour de James Ivory).
Last May, on my way back from a mini-conference in Stockholm, I had a long layover in Munich. Since major airports are now essentially shopping malls with parking for commercial jets, I used a little bit of that time to wander through a pretty impressive airport book store, where I picked up a copy of Never Let Me Go by Kazuo Ishiguro. I had heard a bit about it (maybe in reviews on the radio, if memory serves), and knew that it had some connection to ethical issues around biomedical technologies that seem not to be too far off from where we are now.
Book review: Never Let Me Go. : Adventures in Ethics and Science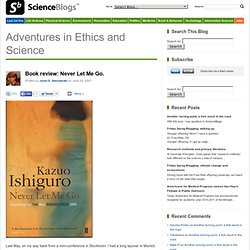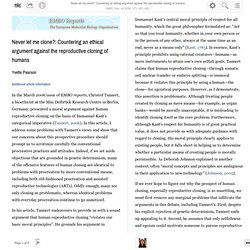 In the March 2006 issue of EMBO reports, Christof Tannert, a bioethicist at the Max Delbrück Research Centre in Berlin, Germany, presented a moral argument against human reproductive cloning on the basis of Immanuel Kant's categorical imperative (Tannert, 2006). In this article, I address some problems with Tannert's views and show that our concerns about this prospective procedure should prompt us to scrutinize carefully the conventional procreative practices and attitudes. Indeed, if we set aside objections that are grounded in genetic determinism, many of the offensive features of human cloning are identical to problems with procreation by more conventional means, including both old-fashioned procreation and assisted reproductive technologies (ARTs). Oddly enough, many see only cloning as problematic, whereas identical problems with everyday procreation continue to go unnoticed.
Never let me clone?: Countering an ethical argument against the reproductive cloning of humans
The Cathoholic: Bioethics
Federal Clone Battle NIH Guidelines on Stem-Cell Research Spur Pro-Life Fears May 10-16, 2009 Issue | Posted 5/1/09 at 8:05 AM WASHINGTON — The fight over stem-cell research funding is far from over. Although it seems the pro-life cause lost a battle when President Obama signed an executive order for federal funding of human embryonic stem-cell research, a new battle looms. That battle may decide whether to create human embryos solely for the sake of medical experiments, putting them at risk of death.
The Hastings Center - Biopower and the Liberationist Romance
Women's Bioethics Project
June 11, 2010 Dear Friends, We launched the Women's Bioethics Project six years ago. With your support, we developed innovative programs, policy recommendations and research on ethical issues pertaining to women's health, reproductive technologies, and neuroethics. We made a difference: our work brought these important issues to new audiences and encouraged women to participate in policy development around bioethics questions.
Addressing the Ethical Challenges in Genetic Testing and Sequencing of Children Written by Ellen Wright Clayton, Laurence B. McCullough, Leslie G. Biesecker, Steven Joffe, Lainie Friedman Ross, Susan M. Wolf & For the Clinical Sequencing Exploratory Research (CSER) Consortium Pediatrics Working Group