Freeware
Free games, Puzzle,freeware games breakout,arcade,racing games,tetris,pinball,3D games,etc - gratis spelletjes,spellekes. ModDB's Top 100 Indie Games and Mods of 2009 « DIYgamer. Polls closed yesterday for the first phase of the 2009 Mod and Indie Game of the Year competition, and today ModDB released the list of the top 100.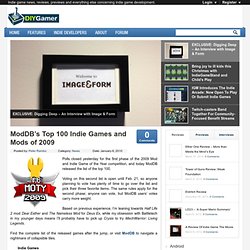 Voting on this second list is open until Feb. 21, so anyone planning to vote has plenty of time to go over the list and pick their three favorite items. The same rules apply for the second phase; anyone can vote, but ModDB users' votes carry more weight. Pixel Prospector | the indie goldmine.
AGS - Adventure Game Studio. Experimental Gameplay Project. Free Games - Download Free Games at Freeware Games.net. Abandonia. Abandonia Reloaded - Download Freeware Games and Retro Remakes. YoYo Games | Home. Game Maker Community. Freeware of 2010 « reasons why it's worth to be a pcgamer. Below is a list of worthwhile freeware games released so far in 2010.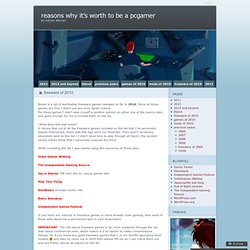 Since all those games are free I didn't use any truly harsh criteria For those games I didn't play myself a positive opinion on either one of the source sites was good enough for me to include them on the list. -What does this sign mean? FreegameArchive.com - 10.000 freeware games / online games / mobile games - download all free. Freeware Database - Retro Remakes. Freeware Games for your Windows XP/Vista/7, Mac and Linux PC | Free Downloadable Games. Top Games - TIGdb - The Indie Game Database.
---