Accents
Les Deschiens - L'appel à la bière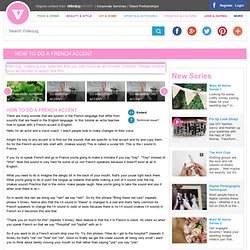 How To Do A French Accent (Accents)
There are many sounds that are spoken in the French language that differ from sound's that are heard in the English language. In this tutorial an actor teaches how to speak with a French accent in English. Hello I'm an actor and a voice coach.
Nicole Ferroni - On cherche la nouvelle James Bond Girl - On n'demande qu'a en rire
Apprendre le Belge
La lecon de quebecois Lynda Lemay
*Comment parler québécois ? Leçon n°1
Pete National - Nos expressions Québecoise
Can you speak Fake English? Please Respond!
Une fille avec 21 accents différents!