NGOs and social projects ideas
Willkommen beim DNR
Führungs-Akademie Deutscher Olympischer Sportbund: 404
Home
mehr dazu Wir haben Agrarindustrie satt! Demo am 18.
Pestizid Aktions-Netzwerk e.V. (PAN Germany) - Home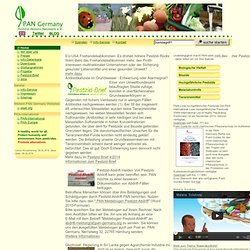 About IUCN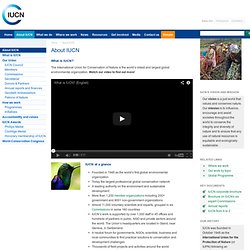 Conserving biodiversity is central to the mission of IUCN. We demonstrate how biodiversity is fundamental to addressing some of the world's greatest challenges such as climate change, sustainable development and food security. To deliver conservation and sustainability at both the global and local level, IUCN builds on its strengths in the following areas: Science – 11,000 experts setting global standards in their fields, for example, the definitive international standard for species extinction risk – the IUCN Red List of Threatened Species™. Action – hundreds of conservation projects all over the world from the local level to those involving several countries, all aimed at the sustainable management of biodiversity and natural resources.
Welcome to the European Business and Biodiversity Campaign!
Deutsche Umwelthilfe e.V.: Home
DBU - Deutsche Bundesstiftung Umwelt
Steigen Sie ein: Das Umweltbundesamt - für Mensch und Umwelt
BfN: Startseite
DSW: Spendenkonto
Deutsches Rotes Kreuz 
Unternehmen - Welthungerhilfe
World Vision
Diakonie Katastrophenhilfe - Japan: Hilfe zwischen Trümmern
Deutschland: Start
Firmen / Sponsoren | Partner | Nothilfe | Entwicklung | Armutsbekämpfung |CARE | Spenden | Hilfsorganisation
Deutschland e. V. | Internationale Hilfsorganisation Entwicklungshilfe Soforthilfe Katastrophenhilfe
entwicklungspolitik online
action medeor Hilfe im Paket, Medikamente, Arzneimittel, Mal
Caritas international - Not- und Katastrophenhilfe
Wenn Sie sich für eine Online-Spende entscheiden, geben Sie bitte im ersten Schritt ihre persönlichen Daten im Spendenformular an. Wählen Sie das gewünschte Spendenstichwort aus um die Verwendung Ihrer Spende festzulegen. Wir bieten Ihnen zwei verschiedene Wege, auf denen Sie die Arbeit von Brot für die Welt unterstützen können, wählen Sie dazu im Feld "Zahlungsmethode" aus, ob Sie sich für eine Spende per Einzugsermächtigung oder für die Nutzung Ihrer Kreditkarte entscheiden.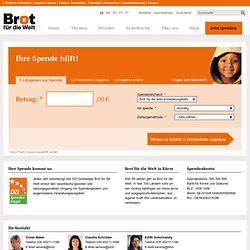 Brot für die Welt - Den Armen Gerechtigkeit - helfen Sie mit Ihrer Spende.
Home