Crochet
Tuto : Fleurs au crochet pour vestes et étoles
Le point Broomstick au crochet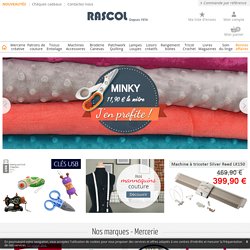 Mercerie en ligne Rascol : Couture, broderie, patchwork, tricot
Rascol : Votre mercerie en ligne Rascol.com, spécialiste mercerie depuis 1974, vous propose plus de 30000 références en art du fil à petits prix. Nous sélectionnons les plus grandes marques reconnues pour la qualité de leurs produits.
Le crochet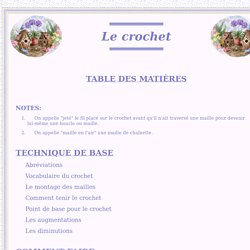 1. On appelle "jeté" le fil placé sur le crochet avant qu'il n'ait traversé une maille pour devenir lui-même une boucle ou maille. 2. On appelle "maille en l'air" une maille de chaînette. AbréviationsVocabulaire du crochetLe montage des maillesComment tenir le crochetPoint de base pour le crochetLes augmentations Les diminutions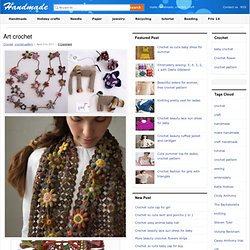 art crochet
Style HaNi design: dress for beachFigure knitting braids Crafts for Spring : colorful hat, crochet pattern If you want to have any crochet products and translate patterns to English , please order, you can see more products in my shop. Thanks. Crochet Ornament craft: cute motif crochet Ornament craft: cute motif crochet Crochet rabbit patterns Crochet fish patterns Crochet butterfly patterns Crochet snail patterns Crochet duckling patterns Crochet ladybug patterns Crochet flowers patterns Crochet apple patterns Crochet cupcakes patterns Crochet owl hair Animal Scarf Crochet Patterns, OOAK Animal ScarvesAnimal Scarf Crochet Patterns, OOAK Animal Scarves Cat Cuddler Scarf - Animal Pet Warm DIY Fashion Tutorial Winter Fall Autumn The Cat Cuddler Scarf Pattern.
Samedi 30 juillet 2011 6 30 /07 /Juil /2011 07:03 Je vous présente une nouvelle Galerie Picasa , celle de " Ursula " , qui nous propose un incroyable choix de catégories et de nombreux modèles gratuits ! De quoi nous satisfaire un moment , nous les passionnées du Crochet d'art .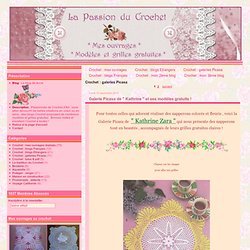 Crochet : galeries Picasa - Galerie Picasa de "… - Une bibliothèque de… - Une bibliothèque de… - Une bibliothèque de… - Une bibliothèque de… - Une bibliothèque de… - Une bibliothèque de… - Une bibliothèque de… - Une bibliothèque de… - Une bibliothèque de…
Tricô sem agulhas | MEU MUNDO CRAFT
Tuto bracelet au crochet , Challenge 12 mois, 12 projets*
Alors voici mon mini tuto pour confectionner ce bracelet au crochet vous aurez besoin de : - Du fils de coton - Un crochet. J'ai utiliser un crochet de grosseur 1.6mm - Une attache à bracelet - De la petite chaîne en métal - De la colle à tissus ( assez liquide et transparente) Commencer par faire 3 cercles au crochet comme ceci: Faire un anneau de 8 ml 1er tour: 12ms ds l'anneau, 1mc ds la 1ère ms. 2ème tour: 1ml, 1ms dans la ml, 2ms ds chq ms suiv, 1mc ds la 1ère ms. 3ème tour: 4ml,[1br,1ml] 23 fois, 1mc ds 3ème ml. 4ème tour: 2ml, sauter 1ml, 1ms ds ms suiv, [1ml,sauter 1ml,1ms ds ms suiv] 22 fois, 1ml, sauter 1ml 1mc ds 1ère ml. 5ème tour: 3ml, sauter 1ms, 1mc ds la ms suiv, [3ml, sauter 1m, 1mc ds la m suiv] 22fois, 3ml sauter 1m, 1mc au pied ds 3ml du début du tour.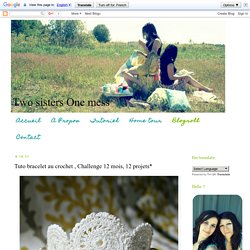 Col Kookaï, le patron complet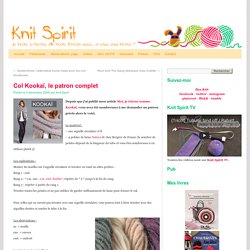 Depuis que j'ai publié mon article Moi, je tricote comme Kookaï, vous avez été nombreuses à me demander un patron précis alors le voici. Le matériel : - une aiguille circulaire n°8 - 4 pelotes de laine Natura de chez Bergère de France (le nombre de pelotes dépend de la longueur du tube et vous êtes nombreuses à en utiliser plutôt 5) Les explications : Monter 80 mailles sur l'aiguille circulaire et tricoter en rond en côtes perlées : Rang 1 : end. Rang 2 : *1 m. env., 1 m. end. double*, répéter de * à * jusqu'à la fin du rang. Rang 3 : répéter à partir du rang 1.
Les cours de crochet en video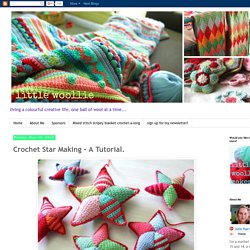 Hello. I have been making crochet stars this week. For no good reason really, just because they're fun to make. So I thought some of you might like to have a bit of crafty fun too. These stars use up tiny amounts of wool, so get your scraps box out!
Crochet Star Making - A Tutorial.
9-Les tutos et les liens très très utiles - Page 10 - Granny mania !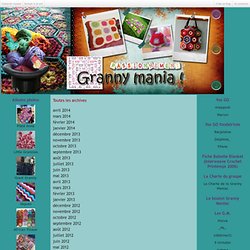 Granny mania ! Le blog des fans de carrés au crochet, objets en crochet afghan, etc ... Albums photos
[Pierrot Yarns]Patterns Club
[Pierrot Yarns]Patterns Club
[Pierrot Yarns]Patterns Club
tuto crazy patchwork crochet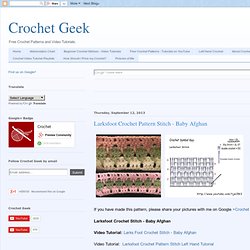 Larksfoot Crochet Pattern Stitch - Baby Afghan
Larksfoot Crochet Stitch - Baby Afghan Video Tutorial: Larks Foot Crochet Stitch - Baby AfghanVideo Tutorial: Larksfoot Crochet Pattern Stitch Left Hand Tutorial Written by Teresa Richardson Extended or Long Double Crochet - This is where you will work a double crochet several stitches below the row you are on. You will need to pull up on the stitch and allow for some additional yarn, so the stitch does not sag. Multiple: 4 You will add 4 chains for each segment of the pattern stitch that you want to add to the width.
62146220
Crochet Facile pour tous - 12. Le Plaid par Carré | crochet-facile.artblog.fr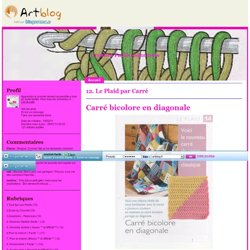 12. Le Plaid par Carré Carré bicolore en diagonale
Free crochet pattern heart ♥
Mijn excuses voor degenen die geen Engels kunnen lezen, deze post gaat over de Engelse vertaling van het hartje van Karin aan de haak. As promissed here is the post of the English translation of the little heart, designed by: Karin aan de haak. Free crochet Pattern HEART en rosa: Espanõl Mi disculpa, yo hablar no Espanõl. Yo esperanza usted lata seguir por diagrama.En 18 enero 2013 yo encontrado: http://tejercito.wordpress.com/2013/01/17/corazones-para-el-14-de-febrero/
Free patterns from crocheters: Community Board
Free patterns from crocheters: Community Board
ta-dah! Hello! I am sooooo happy today because I finally finished my eldest son's blanket. And now I am working on my youngest son's blanket at full speed.
Eda'scrochetroom | Just another WordPress.com site | Page 2
May Roses
This is my pattern for these adorable May Roses, a sweet little floral decoration for all sorts of prettifying projects. Make them into brooches, attach them to hats, bags, hair slides, cardigans. Assemble a whole bunch of them to prettify a tea cosy, a bag, a cushion. String them together to make a pretty floral garland.
I just finished this awesome slate gray crochet purse from my original pattern and now I need to add those important finishing touches of a zipper and lining. I have created this tutorial to show in detail how I did this! To see more images of purses created with this pattern see my earlier blog post. Purchase this crochet purse pattern here! Inserting the zipper: Purchase a zipper that is an inch or two longer than your opening.
How to insert a zipper and line a crochet purse tutorial | carriewolf.net
Jumble Throw | Berroco
Free patterns from crocheters: Community Board
Crochet Books & Magazines
Inside Crochet Issue 19 July 2011 - Alejandra Tejedora - Picasa Albums Web
Free pattern for a Flower Gardan Granny Square
Crochet Facile pour tous - 8. Accessoires ( Facile * ) - page 2 | crochet-facile.artblog.fr
How to Make a Reversible Swiffer Sock
Le site web du tricot ! : debutcrochet
Top 40 Crochet Downloads
Google Traduction
CROCHET - Assemblage de… - Faire un carré - Belle fleur en vidéo - Set de table au… - Chaussons et… - crochach de milicia
crochet ou tricot - Page 2
Fleurs colorées et leurs grilles gratuites , au Crochet ! - Le blog de Anne
art crochet | make handmade, crochet, craft
Aperçu du fichier tutoriel granny etoilé !!!.pdf
Google Traduction
blairpeter typepad
Plaids - Plaids et leurs… - Plaids et leurs… - Plaids et leurs… - Plaids unis ou… - Plaids aux jolis… - Plaids et leurs… - Le blog de Anne
sac au crochet : Tous les messages sur sac au crochet - Madame fait du crochet...
Three Beans in a Pod: Retro Circles - The Tutorial
Fleurs au crochet - Le blog de Anne
Sac Fleur au crochet - Modèles de crochet Meladora gratuits et tutoriels
Crocheter Facile » Blog Archive » Motifs gratuits de crochet pour débutant(e) avancé(e)
crochet idée coussins
Knit Spirit
Attic24
Tejiendo... dos agujas, crochet, telares, horquilla, etc.
Le crochet : les techniques du crochet et le vocabulaire de base expliqués de A à Z en images et en vidéos
Tuto du carré diagonales en crochet
Le crochet
p5.storage.canalblog.com/55/16/827302/86287616.pdf
Porte monnaie...
Pointe paysanne
Petite scarf au crochet
Noeud en crochet facile
Bandeau torsades vagues
Bandeau ou tour de tête en côtes 3/3
Tour de tête Drops en Alaska et Châle en Vienna
Des sacs, rien que des sacs
Mon sac pour la rentrée : tricoté en rangs raccourcis et points d'astrakan
Sac en laine
Sacs - Modèles
Des sacs, rien que des sacs
Points de dentelle
Points expliqués aux débutantes
La maille endroit
La maille double on Vimeo
Le point Broomstick au crochet
Adapter un modèle à sa laine ou à son point
Bordure en i-cord : une méthode de paresseuse
3 façons de monter les mailles
Comment tricoter à toute vitesse !
Col rapporté
Relever des mailles
Remonter les mailles au cours d'un ouvrage
Repérer et coudre les emmanchures
L'art et la manière du tricot
Comment tricoter une augmentation ?
Patron universel pour des chaussettes en toes-up
Montage par la pointe : méthode turque
Explications de base pour des chaussettes commencées par la pointe
Chaussettes ou bas : patrons et trucs pratiques
Tuto en images: tricoter le talon des cho7
Tricoter facilement des chaussettes
Modèles de chaussons Drops
Chaussons de Noël
Chaussottes
Pantoufles pour la famille
Tricotez les couleurs du printemps
Pantoufles de Muriel
Créer des chaussons au tricot
Sweet Heart Crochet Pattern