Webcomics
333. Girls With Slingshots. The Gutterpunch Confessional. Vampire Cheerleaders :: Lori vs Bianca 1. I showed Shiei a cover of Larry Welz's Cherry #12 the other day and asked her to imagine Aoi House's Echiboo in Sandy's hand there instead of a gerbil.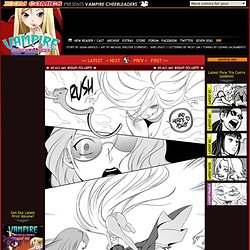 Well, Shiei did better than just imagine... she actually put Echiboo on the cover!! AUGUST 7, 2013 Vampire Cheerleaders returns Monday, August 12 for its fourth crazy story arc! See you then! Blank It - A webcomic. Maximumble - comics for your brain machine. Proof That Password Restrictions Are Pure Malevolent Evil - a Rock, Paper, Cynic comic. Omake Theater – おまけ劇場. Kawaii Not - the webcomic for cute gone bad.
Comics! | Strips. Billy the Dunce - a Webcomic about really smart kids. Blip - Strip for Thursday, 25th August, 2011. Three Panel Soul. The Abominable Charles Christopher - A Webcomic by Karl Kerschl. WTF Comics. Kevin & Kell by Bill Holbrook. Sinfest: The Webcomic To End all Webcomics. MegaTokyo - relax, we understand j00. PvPonline. Urban Jungle Webcomic.
---