Divers
Social Media News and Web Tips – Mashable – The Social Media Guide. Kaamelott - Wikiquote, le recueil de citations libre. Kaamelott est une série télévisée humoristique et dramatique française dont la diffusion originale a eu lieu entre 2005 et 2009 en France.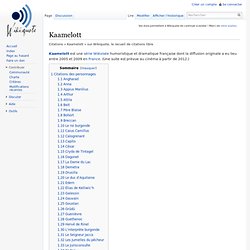 (Une suite est prévue au cinéma à partir de 2012.) Citations des personnages[modifier] Angharad[modifier] Hé ben, si un jour j'oublie que je suis bonniche, vous serez gentils de me le rappeler ! Vanessa Guedj, Kaamelott, Livre I, 37 : La Romance de Lancelot, écrit par Alexandre Astier. Chroniques Judiciaires. The Art of Disney Animation. Laurel Holloman Studio. The How-to Manual That You Can Edit. Née… Vrosée ! - [Sistoeurs, le magazine féminin et très fin] Au-delà du simple stéréotype, les faits se révèlent être véridiques.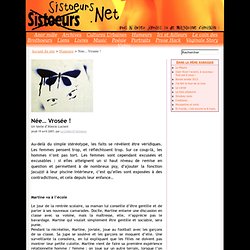 Les femmes pensent trop, et réfléchissent trop. Sur ce coup-là, les hommes n'ont pas tort. Les femmes sont cependant excusées et excusables : si elles atteignent un si haut niveau de remise en question et permettent à de nombreux psy, d'ajouter la fonction jacuzzi à leur piscine intérieure, c'est qu'elles sont exposées à des contradictions, et cela depuis leur enfance… The Official Tim Burton Website. A biography of Fanny Brawne and discussion of her romance with John Keats. A biography of Fanny Brawne & discussion of her romance with John Keats 'Is it not extraordinary?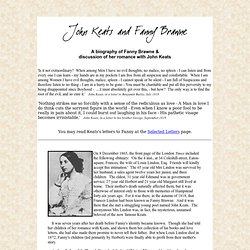 When among Men I have no evil thoughts, no malice, no spleen - I can listen and from every one I can learn - my hands are in my pockets I am free from all suspicion and comfortable. When I am among Women I have evil thoughts, malice, spleen - I cannot speak or be silent - I am full of Suspicions and therefore listen to no thing - I am in a hurry to be gone - You must be charitable and put all this perversity to my being disappointed since Boyhood - ....I must absolutely get over this, - but how? The only way is to find the root of the evil, and so cure it.' John Keats, in a letter to Benjamin Bailey, July 1818. 35 sites pour trouver des photos libres de droits. Il existe de nombreux sites spécialisés qui offrent des photos libres de droits.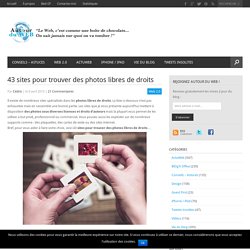 La liste ci-dessous n'est pas exhaustive mais en rassemble une bonne partie. Ceux que je vous présente aujourd'hui mettent à disposition des photos sous diverses licences et droits d'auteurs mais la plupart vous permettent de les utiliser a but privé, professionnel ou commercial. Vous pourrez aussi les exploiter sur de nombreux supports comme : des plaquettes, des cartes de visite ou des sites internet.
---