Art
Meet Dead Man's Bones: Ryan Gosling and Zach Shields. Pictured: Zach Shields, Silverlake Conservatory Children's Choir, Ryan Gosling An Oscar-nominated Hollywood heartthrob and his best friend round up a bunch of instruments-- some of which they don't know how to play-- and a massive children's choir and make a concept album about the supernatural.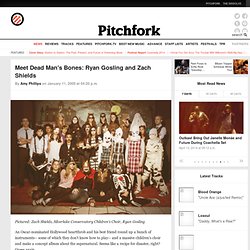 Seems like a recipe for disaster, right? Guess again. Meet Dead Man's Bones, a collaboration between actors Ryan Gosling (Half Nelson, The Believer, The Notebook) and Zach Shields. The duo plan to release their debut album, Never Let a Lack of Talent Get You Down, on their own label, Werewolf Heart, this summer. JTB-Photography.com. 22 Lost Photos From The '80s L.A. Hardcore Scene. Watch Free Movies Online | IndieMoviesOnline. The 50 Greatest American Independent Movies | Features | Empire. Lessons. Drawspace Pro Lessons are designed for artists of all levels and educators, and are logically organized into resources and activities.
Eventually, all lessons and E-books authored by Brenda Hoddinott will be available here: four to eight brand new lessons and newly-revised older lessons are being added every month! Upgrade Now: Download all 248 lessons and 4 e-books! Get inspired. Get motivated. Practice. Improve your drawing skills! Alex Saberi - Nature and Wildlife Photography. Animals Illuminated by the Sun. Google Image Result for.
Powers2.jpg (258×496) Marcus levine. Painting on water. Still life: Bent objects & OWNI.eu, News, Augmented. UPDATE: The Return of Bent Objects Wires transform these objects from inanimate to hilarious works of art.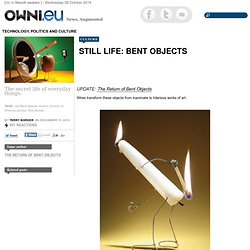 Little polish girl McDonalds as Sculpture Materials Yeah, this is where those come from Dancing Queens. 18-Year-Old Creates Surreal Artworks to Express Emotions. Growing up can be a challenge, especially in the teenage years.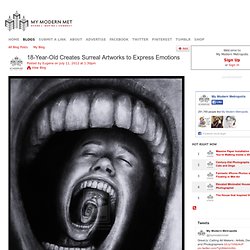 Some people use writing or art as a creative outlet for all the emotions they keep inside. Sebastian Eriksson is an 18-year-old up-and-coming surrealist artist living in Sweden. 50 works of art you should see before you die. A woman from inside out at Pelourinho.com. DeviantART muro. How To Steal Like An Artist by Austin Kleon. 眼技 来自櫻桃小丸子在堆糖网的分享. Mrs.K's classes. Cherry Blossom Art from a Recycled Soda Bottle. Mar01 by Rachel Meeks Pink blossoms will soon appear on trees, and the National Cherry Blossom Festival starts on March 20.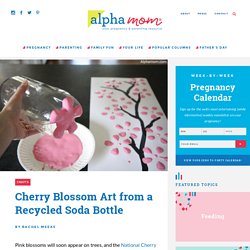 In 1912 the city of Tokyo, Japan, gave Washington, D.C., a beautiful gift of 3,000 cherry blossom trees. Blade Runner In Watercolor. Shulamith Koenig - Exhibition of Sculptures at NYC's ET Modern. Posted by Ray | 1 Jun 2011 | Comments (0) Shulamith Koenig is perhaps best known for her activism as the founding president of PDHRE, the People's Movement for Human Rights Learning (formerly known as the People's Decade for Human Rights Education), which she founded in 1989.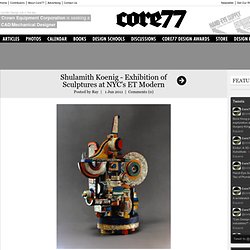 Yet at some point between her two-decade career as an industrial engineer (with a focus on water conservation) and her ongoing human rights activism, Koenig found time to create a fascinating (and largely overlooked, if Google is any indication) body of work as a sculptor. Aesthetically, the work falls somewhere between David Smith and Louise Nevelson—the reference points are perhaps inescapable, insofar as Koenig assembles largely abstract forms out of found objects—but there is another, less obvious meaning to her sculptural forms. In 1982, in an old farm in upstate New York, Shulamith Koenig found a trove of foundry wooden patterns and molds, hand carved by artists over a century ago. Hyperreal art tricks the eye | Photo Gallery. Claire Fontaine. Capitalism Kills Love - Lumiere 2011. Karen Goldfinch, Made To Treasure Made to Treasure, are an Event Management and Decor Services provider.
They designed and created the table decor for the Gala Dinner, which they promise will be instantly recognisable and extremely unique! "Being in the creative industry, and having a young son, we strongly believe events should be accessible to everyone, and were keen to support Lumiere in any way we could. Steve Lambert | About Steve. "I never knew you did _______ too!"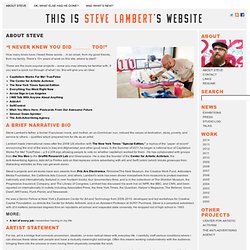 How many times have I heard these words… in an email, from my good friends, from my family. There's 10+ years of work on this site, where to start? These are the more popular projects – some you may already be familiar with. If you want a quick run through of what I do, this will give you an idea: I am the Doctor (Nintendo Remix by Steve.xR1P) - FINAL VERSION by stevexr1p on SoundCloud - Create, record and share your sounds for free - StumbleUpon. Lackadaisy Expressions - StumbleUpon. Boy, I didn't know what I was getting myself into when I started this.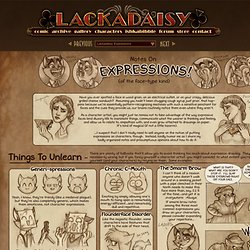 I've had requests for some sort of expressions tutorial dating back a while now, so I figured, "Sure! I can explain expression drawing...and it'll be way better than all those tutorials out there that are nothing but charts of generic expressions. Yeah! Inspiration Gallery #139 - Various quotations & From up North | Design... - StumbleUpon. The Joy of Water... Through a Dog's Eyes. Harmony. Simen Johan - StumbleUpon. SketchBlog.
---