Desserts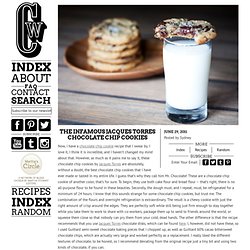 Now, I have a chocolate chip cookie recipe that I swear by. I love it, I think it is incredible, and I haven't changed my mind about that. However, as much as it pains me to say it, these chocolate chip cookies by Jacques Torres are absolutely, without a doubt, the best chocolate chip cookies that I have ever made or tasted in my entire life.
Browned Butter Rice Krispy Treats with Vanilla bean
While stumbling along on the internet, I cam across this post for Browned Butter Rice Krispy Treats on The Merry Gourmet. It was a guest post written by Brian who has the great blog A Thought For Food . At first I thought "Rice Krispy Treats?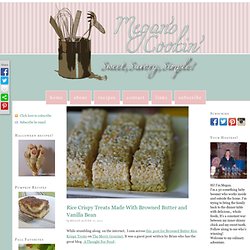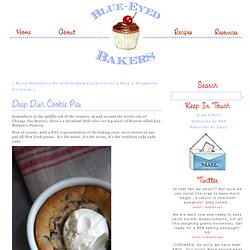 Somewhere in the middle-ish of the country, in and around the lovely city of Chicago (Go Bears!), there's a decadent little slice (or big slice) of heaven called Lou Malnati's Pizzeria. Now of course, with a NYC representative of the baking crew, we're lovers of any and all New York pizzas. It's the water, it's the ovens, it's the tradition yada yada yada. Cupcakes, it's cheese and bread. That's why it tastes so good.
Deep Dish Cookie Pies
Let me start off by saying that viewer discretion is advised for today's post. OK now with the story that preludes possibly the greatest brownie I have ever sunk my teeth in thus far in my life. Last Saturday Mrs. Zesty had a baby shower to attend and she was designated for a dessert/sweet treat for the girls. Last week was a bit of a zoo and I think I forgot about prepping this dessert until Friday afternoon at work. After work I did a quick scan for some ideas and came up with a chocolate caramel brownie .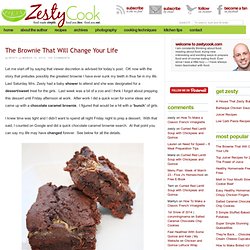 I think I've found my sugar & sprinkles soul sister recently. I really do. The funny thing is, I had popped by Jessica's blog from time to time when I would spot her yummy treats linked by friends on twitter , but I didn't really get a chance to sit down and really take a good long look through her recipes until this past week. That's when I came across the sprinkled masterpiece of epic proportion: her cake batter chocolate bark. Much like Jessica, I wasn't what I'd really consider a "bark person" until this recipe came along, but what's so fabulous about it, aside from the obvious delightfulness, is that it took me 5 minutes active time to make this (and about 5 to eat it–whoops).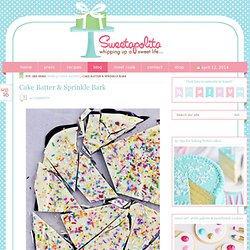 Well these naughty little treats are well….naughty but oh so necessary. There are a bit like my Brownie Covered Oreo's from last Christmas but enhanced with layers of peanut butter and a double decker stack of Oreos in each little brownie cake. They are simply prepared in cupcake liners. Hope you enjoy this ultra sweet little cake Ok, I have to brag about this brownie mix from Trader Joes for a second.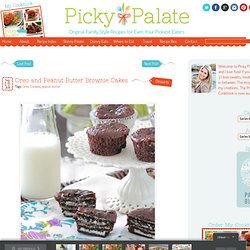 You are welcome. Trust me. Have a great weekend! makes about 2 dozen (depending on the size)
Stephanies Kitchen – Crispy Peanut Butter Marshmallow Truffle Eggs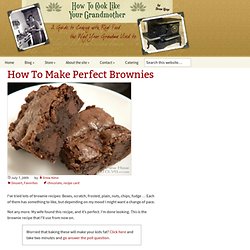 I've tried lots of brownie recipes: Boxes, scratch, frosted, plain, nuts, chips, fudge … Each of them has something to like, but depending on my mood I might want a change of pace. Not any more. My wife found this recipe, and it's perfect. I'm done looking.
No Bake Snickers Pie
I adore Snickers. I try to be very, very good about only eating one once in a long while, though. The other day I was needed to make a quick pie and decided to try and make one that tasted like a Snickers bar.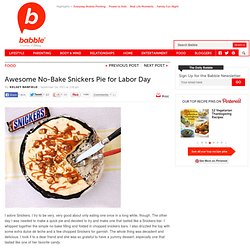 The winner of the Pampered Chef trifle bowl is…. Comment #65: Rodela Family said… "So want to win this one…might make me actually make the trifle, it looks delicious!" So who knew that my last trifle could illicit such joyous and hateful comments at the same time. Yikes.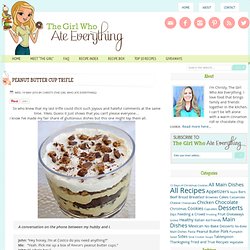 Peanut Butter Cup Trifle and the giveaway winner....
Chocolate Chip Cookie Dough Truffles Oh. My. God. If you could take perfection, roll it in a ball, and dip it chocolate, this would be it.
Peanut Butter Pie Recipe
Happy Thursday, everyone! I'm Lauren from Lauren's Latest and today I am thrilled to be a guest here on EatLiveRun! I was first introduced to Jenna and all her fabulous recipes on Tasty Kitchen . I think Jenna and I speak the same food language because all of her recipes are the kinds of foods I make for my family and seem just so appetizing no matter what time of day it is. Then through twitter we became friends and now here I am guest posting on her blog with a recipe that very well could be life changing: No-Bake Nutter Butter Nutella Pie . Yes, you read that correctly.
I love Hello Dolly's. Love. If you do not know what a Hello Dolly is... let me explain.
SugarBlog - Oh... Hey Dolly!
Every time I go to the grocery store, I think the same thing. "Jonna . . . you ding bat, why don't you ever make yourself a grocery list!" Seriously, I can't seem to get in that habit. I simply think my brain will remember the items I need. Don't get me wrong, I don't go completely clueless, I mentally check the fridge and cupboards before I go.
GRANNY'S APPLE CRISP