Info
Sentido de la luz, El. Ideas, mitos y evolución de las artes y los espectáculos de la luz hasta el cine
EssentialRefGuide_es
05
la_iluminacion_en_el_cine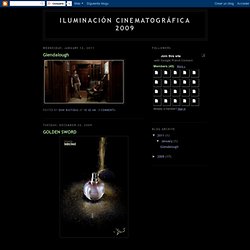 ILUMINACIÓN CINEMATOGRÁFICA 2009
Un saludos a todos. Tras un periodo de silencio causado por el exceso de trabajo, cursos y demás embrollos y compromisos personales, por fin he conseguido hacerme un hueco en mi apretada agenda y dedicarle unas horas a todo el trabajo atrasado que nos queda por mostraros. Así que aquí esta el G4 otra vez dando caña. Aunque mucho G4 y mucha leche, pero aquí el que se pasa las horas delante del ordenador soy yo, así que a ver si mis compis se ponen un poco las pilas y me ayudan un poco con el siguiente post, eh?Ala… ahí queda eso... jejeje...
photivo - Photo processor for RAW and Bitmap images
The krpano Viewer is a small and very flexible high-performance viewer for all kind of panoramic images and interactive virtual tours. The viewer is available as Flash and HTML5 application. The viewer is designed for the usage inside the Browser on Desktop (Windows, Mac, Linux) and on Mobiles/Tablets (iPhone, iPad, Android, ...). In addition to the krpano Viewer there are the krpano Tools - this are small tools and droplets which are helping to automatically prepare the panoramic images for viewing and making them ready-to-use.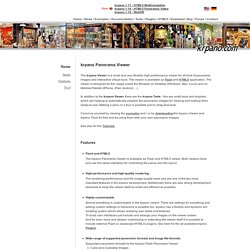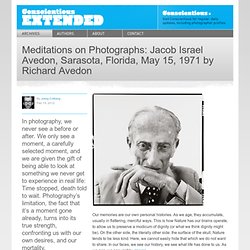 Our memories are our own personal histories. As we age, they accumulate, usually in flattering, merciful ways. This is how Nature has our brains operate, to allow us to preserve a modicum of dignity (or what we think dignity might be). On the other side, the literally other side: the surface of the skull, Nature tends to be less kind. Here, we cannot easily hide that which we do not want to share. In our faces, we see our history, we see what life has done to us.
Conscientious Extended | Meditations on Photographs: Jacob Israel Avedon, Sarasota, Florida, May 15, 1971
Open Source es el término con el que se conoce al software distribuido y desarrollado libremente. Este tipo de software no sólo suele ser gratuito, sino que cualquier persona puede acceder al código y realizar modificaciones. Detrás de este concepto no sólo hay una ideología, sino una forma diferente de producir software. En lugar de una empresa contratando programadores, son estos mismos que deciden dedicar su tiempo a un software. La forma de llegar a decisiones también es diferentes ya que estas no llegan de una cúpula, sino de los propios encargados de desarrollar el proyecto.
La fotografía open source (1 de 2)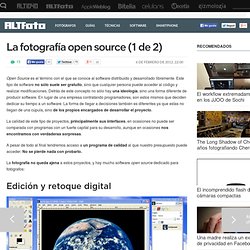 Avelina Lésper: LACHAPELLE Y LOS DELIRIOS DE LA RAZÓN
El Diluvio de David LaChapelle. El lujo también es un esperpento. El sexo, la moda, el fanatismo y dios son esperpentos. La carne de Rubens pasada por los ojos de Lichtenstein. Estas imágenes y puestas en escena, sólo suceden en una sociedad que tiene vicio por amarse y por ridiculizarse. Llevar la voluptuosidad pre pornográfica a la composición renacentista, crear íconos y retablos con desnudos que demuestran los milagros del cirujano plástico, es la obra de uno de los fotógrafos más brillantes de nuestra era.
Crsitina Otero es una pequeña gran fotógrafa. Con sólo 16 años está consiguiendo hacerse un nombre dentro del difícil mundo de la fotografía, gracias a sus fantásticos autorretratos con esa gran fuerza expresiva que consiguen transmitir perfectamente emociones de todo tipo al espectador. La descubrí el otro día por casualidad en Facebook y me encantaron, sobre todo, sus autorretratos. Sus fotografías tienen una gran fuerza expresiva y una madurez impropias de una adolescente.
Entrevista a Cristina Otero | ENFOCAX - Conciertos, fotografía, música, cultura en La Axarquia
hdr photography hdr tutorial, hdr photos dynamic photo hdr high dynamic range photography
Fotografía México: Guía fácil para exponer co
From the Archives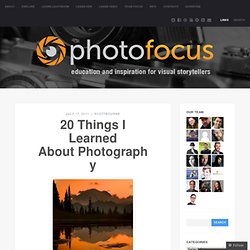 Copyright Scott Bourne 2008 - All Rights Reserved I've been making photographs since I was a teenager. I've learned lots about this process in that time. I decided to isolate 20 of the things I learned and share them with you all in the hopes that someone out there could be helped by this list. Before I get to the list I should give credit where credit is due. I learned most of this from an old photojournalist name Jack Russell.
20 Things I Learned About Photography
» Top 20 Essential Camera Gear
15 Ways To Improve Your Photography Without Buying Gear
Los ojos de la moda (Nuestros fotógrafos de moda favoritos
03 de enero de 2012 Mario Testino Este fotógrafo peruano es, sin duda, uno de los más amados del mundo de la moda. Además de haber trabajado para todas las marcas, editoriales y modelos que importan en la industria, también es el fotógrafo de la Familia Real Británica. Aunque la mayoría de sus obras han sido muy reconocidas, la gente lo recuerda más por su trabajo con Kate Moss.