Vaccine News
Mercola : Dr. Palevsky on #Vaccination... Dr. Palevsky on Vaccination Issues. By Dr.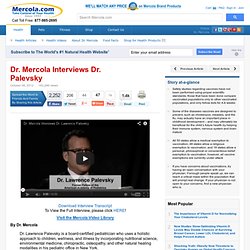 Mercola Dr. Mercola : The Greater Good - Free... Beware of Dangerous Vaccine Effects | The Greater Good. By Dr.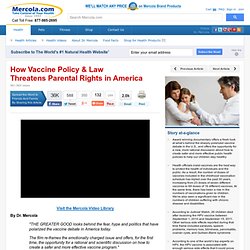 Mercola "THE GREATER GOOD looks behind the fear, hype and politics that have polarized the vaccine debate in America today. The film re-frames the emotionally charged issue and offers, for the first time, the opportunity for a rational and scientific discussion on how to create a safer and more effective vaccine program. " This film recently received the 2nd annual "Koroni Award for a documentary feature addressing an issue of importance to public health" at the Sidewalk Film Festival.
It also received the Cinematic Vision Award at the 2011 Amsterdam Film Festival. Mercola : Your body responds to foreign... New Proof that Flu Shots are Unnecessary and Ineffective. By Dr.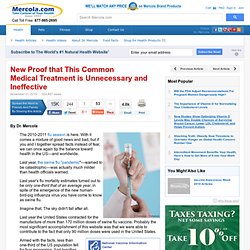 Mercola The 2010-2011 flu season is here. With it comes a mixture of good news and bad, but if you and I together spread facts instead of fear, we can once again tip the balance toward health in the US—and worldwide.Last year, the swine flu "pandemic"—warned to be catastrophic—was actually much milder than health officials warned. Last year's flu mortality estimates turned out to be only one-third that of an average year, in spite of the emergence of the new human-bird-pig influenza virus you have come to know as swine flu.Imagine that. Mercola : The Latest Sneak Attacks in... Coordinated Effort to Eliminate Vaccine Exemption. By Dr.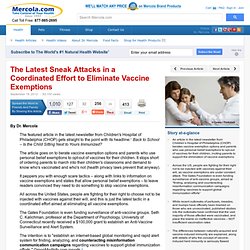 Mercola The featured article in the latest newsletter from Children's Hospital of Philadelphia (CHOP) gets straight to the point with its headline:1 Back to School – Is the Child Sitting Next to Yours Immunized? The article goes on to berate vaccine exemption options and parents who use personal belief exemptions to opt-out of vaccines for their children. It stops short of ordering parents to march into their children's classrooms and demand to know who's vaccinated and who's not (health privacy laws prevent that anyway).It peppers you with enough scare tactics – along with links to information on vaccine exemptions and states that allow personal belief exemptions – to leave readers convinced they need to do something to stop vaccine exemptions. Mercola : Find a Compassionate #Doctor... A Compassionate Doctor Helps Prevent Vaccine Injuries. September 11, 2012 | 36,987 views Email this article to a friend By Barbara Loe Fisher Ever since the first vaccines – smallpox and rabies vaccines – one of the most serious complications of vaccination has been brain inflammation.1, 2, 3, 4, 5, 6, 7 Brain inflammation can cause convulsions, also known as seizures.8 Continuing seizures can permanently damage the brain over time.9 In fact, for the first 40 years that the pertussis vaccine was given to children in the DPT shot, pediatricians were told: "Do not give any more pertussis vaccines to children who develop seizures within 72 hours of a DPT vaccination.
"10, 11,12, 13 Convulsions were an absolute contraindication to more DPT shots, especially if they occurred without a fever. Mercola : #H3N2: The New #SwineFlu... H3N2: The New Swine Flu. By Dr.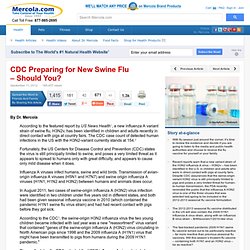 Mercola According to the featured report by US News Health1, a new influenza A variant strain of swine flu, H3N2v, has been identified in children and adults recently in direct contact with pigs at country fairs. The CDC case count of detected human infections in the US with the H3N2-variant currently stands at 154.2 Fortunately, the US Centers for Disease Control and Prevention (CDC) states the virus is still principally limited to swine, and poses a very limited threat as it appears to spread to humans only with great difficulty, and appears to cause only mild disease when it does.
Influenza A viruses infect humans, swine and wild birds. Mercola : A new "#smoking #vaccine"... Formaldehyde: Don't Breathe or Touch – Injecting is Just Fine! The National Institute of Health finally declared formaldehyde a carcinogen yesterday after years of dragging its feet.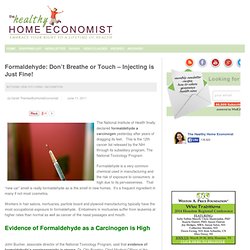 This is the 12th cancer list released by the NIH through its subsidiary program, The National Toxicology Program. Formaldehyde is a very common chemical used in manufacturing and the risk of exposure to consumers is high due to its pervasiveness. That "new car" smell is really formaldehyde as is the smell in new homes. It's a frequent ingredient in many if not most cosmetics. Workers in hair salons, mortuaries, particle board and plywood manufacturing typically have the most occupational exposure to formaldehyde. Mercola : #FDA Approves New #Vaccine... FDA Approves New Vaccine for Babies. July 24, 2012 | 61,569 views Share By Barbara Loe Fisher.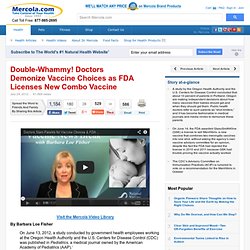 Vaccines Combine to Produce Deadly Virus. 'Vaccines aren't supposed to cause disease.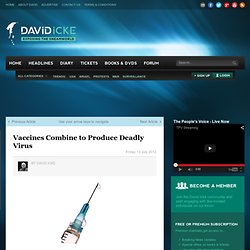 But that appears to be what's happening on Australian farms. Scientists have found that two virus strains used to vaccinate chickens there may have recombined to form a virus that is sickening and killing the animals. "This shows that recombination of such strains can happen and people need to think about it," said Glenn Browning, a veterinary microbiologist at the University of Melbourne, Parkville, in Australia and one of the co-authors on the paper.' Merck Accused of Lying about Vaccine Effectiveness. For related articles and more information, please visit OCA's Health Issues page and our Appetite For a Change page.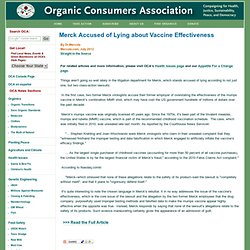 Things aren't going so well lately in the litigation department for Merck, which stands accused of lying according to not just one, but two class-action lawsuits. In the first case, two former Merck virologists accuse their former employer of overstating the effectiveness of the mumps vaccine in Merck's combination MMR shot, which may have cost the US government hundreds of millions of dollars over the past decadei. Merck's mumps vaccine was originally licensed 45 years ago. HealthRanger : #Vaccine madness: New mump... Joanna-karpasea-jones.suite101. According to the California Teratogen Information Service (CTIS) Pregnancy Health Information Line, there are many factors that can cause a man to be infertile and as around half of all infertility cases result from the man, it is important to properly study the causes.
Previous studies have found that radiation and electromagnetic radiation from cell phones and computers have been linked to infertility or sub-fertility as well as chemicals, including heavy metals and solvents, heat and pressure (such as hot baths and tight underwear), environmental pollution, cigarette smoking and sexually transmitted diseases. But in their summary of different causes of infertility, they forgot one: vaccines. Dr. Mercola: Using the First Amendment... How to Legally Get a Vaccine Exemption. By Dr. Mercola In 1905, the U.S. Supreme Court affirmed the legal authority of state governments to pass laws requiring citizens residing in the state to use smallpox vaccine (or other vaccines) if the state considers mass use of the vaccine necessary to protect the "public health". Dr. Mercola: The Dangerous Procedure Do... Where's the Compassion for the Victims of Vaccination? By Barbara Loe Fisher I am grateful for the blessings that I have had in my life, including the hard times, when I learned that faith and hope can overcome fear and doubt.
Adversity can make us stronger but it is also an opportunity to feel and offer compassion to others to ease their suffering. Dr. Mercola: RT @greatergoodfilm: Givin... The debate that won't disappear | school, parents, immunizations - Vaccination safety. As a new school year starts, public health and school officials are issuing their annual reminder to parents to make sure their children are up-to-date on their immunizations. Some parents, however, will ignore the message. Compelled by any number of factors — their religious beliefs, medical evidence that their children can't handle immunizations, concerns that the vaccines will cause more harm than good — they opt out of the recommended immunization schedule. The percentage of opt-outs is small. In 2009, the national immunization rate for children ages 19 months to 35 months was at or above the 90 percent goal set by public health officials, according to the U.S.
Centers for Disease Control and Prevention's National Immunization Survey. 300,000 doses of flu vaccine Preflucel withdrawn in alert over side-effects¿ By Sadie Whitelocks Updated: 12:55 GMT, 27 October 2011 Preflucel has been recalled amid fears it is making people ill A flu vaccine has been recalled from thousands of surgeries and pharmacies across Europe amid fears it is making people ill. The Medicines and Healthcare products Regulatory Agency (MHRA) has issued a warning over Preflucel, a popular influenza vaccine.
Around 300,000 doses of the drug are to be immediately withdrawn following fears from health bosses that the most recent batch, issued last month, is causing side-effects. A high percentage of those vaccinated with Preflucel have reported fatigue, muscle pain and headaches. Profile of a Pertussis Vaccine Injury. Profile of a Pertussis Vaccine Injury. No Value in Any Influenza Vaccine: Cochrane Collaboration Study. U.S. Government Says Vaccines are Dangerous. Dr. Mercola: Vaccines Have Serious Side... Dr. Mercola: Warn Your Friends and Fami... Announces flu shot propaganda photo contest. New Flu Vaccine for Seniors is Ineffective and Dangerous.
---