Economic Statistics
Free Economic Data | Economic, Financial, and Demographic Data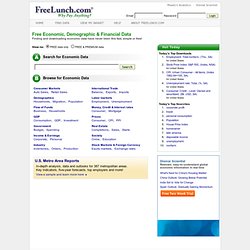 Finding and downloading economic data have never been this fast, simple or free! Dismal Scientist Relevant, easy-to-understand global economic information in real time "Fifteen minutes with Dismal saves you three hours..."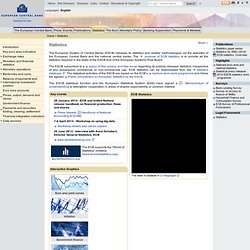 The European System of Central Banks (ESCB) releases its statistics and related methodologies via the websites of the European Central Bank and the national central banks. The purpose of ECB statistics is to provide all the statistics required in the tasks of the ESCB and of the European Systemic Risk Board. The ESCB subscribes to a policy of free access and free reuse regarding its publicly released statistics, irrespective of any subsequent commercial or non-commercial use. ECB statistics can be downloaded from the statistics database. The statistical activities of the ESCB are based on the ECB's medium-term work programme and follow the agreed Public commitment on European Statistics by the ESCB. The ESCB statistical function and the European Statistical System (ESS) have signed a Memorandum of Understanding to strengthen cooperation in areas of shared responsibility or common interest.
Task Force on Finance Statistics (TFFS)
Istat.it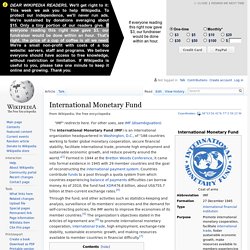 The International Monetary Fund (IMF) is an international organization that was initiated in 1944 at the Bretton Woods Conference and formally created in 1945 by 29 member countries. The IMF's stated goal was to assist in the reconstruction of the world's international payment system post–World War II. Countries contribute money to a pool through a quota system from which countries with payment imbalances can borrow funds temporarily.
The eight Millennium Development Goals (MDGs) – which range from halving extreme poverty rates to halting the spread of HIV/AIDS and providing universal primary education, all by the target date of 2015 – form a blueprint agreed to by all the world's countries and all the world's leading development institutions. They have galvanized unprecedented efforts to meet the needs of the world's poorest. From this site, explore the efforts of the UN and its partners for building a better world. ... more New initiative to improve food security in Zimbabwe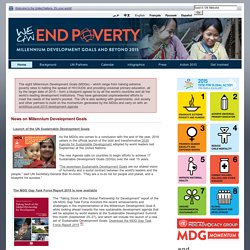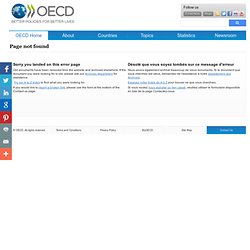 Sorry you landed on this error page Old documents have been removed from the website and archived elsewhere. If the document you were looking for is old, please ask our Archives department for assistance.
Aid statistics
Who enjoys the fastest internet? South Koreans do, according to Ookla- the average South Korean Internet connection is more than 3x faster than the average connection in the US. Eastern European countries like Latvia and Lithuania are also at the top of the pool.