foods
Get flash to fully experience Pearltrees
More Infographics on Good <a href="http://ad.doubleclick.net/N6709/jump/Transparency/;article=submissions-design-the-new-food-pyramid;tag=projects,health,design,food,vegetables,fruits,food-pyramid,calories,carbohydrates,healthy-eating,protein,marion-nestle;pos=baseboard;tile=1;sz=728x90;ord=123456789?" target="_blank"><img src="http://ad.doubleclick.net/N6709/ad/Transparency/;article=submissions-design-the-new-food-pyramid;tag=projects,health,design,food,vegetables,fruits,food-pyramid,calories,carbohydrates,healthy-eating,protein,marion-nestle;pos=baseboard;tile=1;sz=728x90;ord=123456789?" /></a>
Halloween is a big deal at our house. My husband has always had a fine appreciation for all things creepy and I have to admit that I didn't love Halloween until I married him. I've always loved everything about the fall season (like the menu and the wardrobe), but just not the Halloween holiday itself. But that has changed over the years and now I can honestly say that I love Halloween! Almost 5 years ago we brought our first baby boy home from the hospital on Halloween day. Since my little guy's birthday is so close to the holiday, the last couple of years, we've had Halloween-themed birthday parties and I've made quite a collection of easy kid-friendly party food.
When I told my friends I was planning on making homemade mozzarella sticks for a guy's weekend out of town the idea was met with a profound lack of enthusiasm. Everybody knows that I like to experiment in the kitchen, but somehow the idea of making a bar food staple like mozzarella sticks from scratch seemed like a complete waste of time to the group. After being lectured about the innumerable brands available in the freezer section at the grocery store and a heated debate about whether marinara or ranch is the better dipping accompaniment, I decided to risk further heckling and see if I couldn't one-up T.G.I. Friday's in my own kitchen. It might have been the alcohol, but the first batch was gone within a matter of seconds. Simultaneously crispy and gooey, these mozzarella sticks seem to defy the laws of physics and flavor.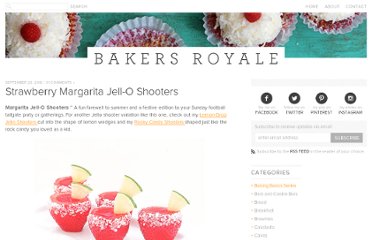 Strawberry Margarita Jell-O Shooters Margarita Jell-O Shooters ~ A fun farewell to summer and a festive edition to your Sunday football tailgate party or gatherings. For another Jello shooter variation like this one, check out my Lemon Drop Jello Shooters cut into the shape of lemon wedges and my Rocky Candy Shooters shaped just like the rock candy you loved as a kid. Strawberry Margarita Jello Shooters As many of you know, my Lemon Drop Jell-O Shooters are my issued dish from my girlfriend who holds the annual tailgate kickoff amongst our friends. This year with Matt being in the hospital, I sent them forward to the gathering in our absence.
Eating out is becoming a more and more popular phenomenon. With fast food taking only minutes out of a day and costing a few dollars, it can be convenient. Likewise, fine dining is also on the rise and can put a considerably larger dent in your wallet.
This was our breakfast Sunday morning. Aren't they cute? They were very, very good. It's the whole egg and the toast combo all together in one nice package. These are so easy to make and wouldn't they be splendid on a brunch buffet table? The best part, you can easily make two, ten, a hundred, whatever your needs are at the moment.
Courtesy of Food Network Magazine 1. Classic Cover 2 pounds whole russet or Yukon gold potatoes with cold salted water; simmer 45 minutes.