Art
Featured Illustrator: The Super Talented Irina Vinnik | Design Shard - StumbleUpon. Au Vieux Panier: French hotel commissions graffiti artist Tilt to design eye-popping Panic Room. By Daily Mail Reporter Updated: 23:30 GMT, 29 February 2012 A French hotel is using street art as a head-spinning design motif.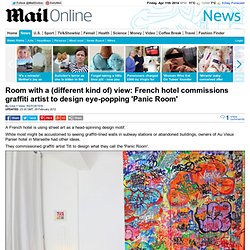 While most might be accustomed to seeing graffiti-lined walls in subway stations or abandoned buildings, owners of Au Vieux Panier hotel in Marseille had other ideas. They commissioned graffiti artist Tilt to design what they call the 'Panic Room'. A restful place to sleep? A hotel in Marseille asked graffiti artist Tilt to design what it calls the 'Panic Room' Sculptures Popping Out of Paintings - My Modern Metropolis - StumbleUpon. Oh, to have been in Tokyo in June!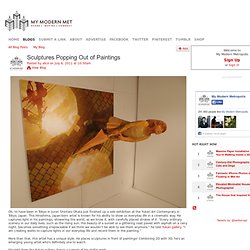 Shintaro Ohata just finished up a solo exhibition at the Yukari Art Contemprary in Tokyo, Japan. This Hiroshima, Japan-born artist is known for his ability to show us everyday life in a cinematic way. He captures light in his paintings, showering the world, as we know it, with carefully placed strokes of it. "Every ordinary scenery in our daily lives, such as the rising sun, the beauty of a sunset or a glittering road paved with asphalt on a rainy night, becomes something irreplaceable if we think we wouldn't be able to see them anymore," he told Yukari gallery.
"I am creating works to capture lights in our everyday life and record them in the painting." GENTRY - StumbleUpon. Quilling - Turning Paper Strips into Intricate Artworks | Oddity Central - Collecting Oddities - StumbleUpon. Quilling has been around for hundreds of years, but it's still as impressive and popular now as it was during the Renaissance.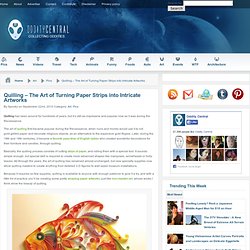 The art of quilling first became popular during the Renaissance, when nuns and monks would use it to roll gold-gilded paper and decorate religious objects, as an alternative to the expensive gold filigree. Later, during the 18th and 19th centuries, it became a favorite pass-time of English ladies who created wonderful decorations for their furniture and candles, through quilling. Basically, the quilling process consists of cutting strips of paper, and rolling them with a special tool. It sounds simple enough, but special skill is required to create more advanced shapes like marquises, arrowheads or holly leaves. All through the years, the art of quilling has remained almost unchanged, but new specialty supplies now allow quilling masters to create anything from detailed 3-D figures to wall-sized museum installations.
The Illustration &Design World of Zach Johnsen - StumbleUpon. Drowning Beautiful | - StumbleUpon. - StumbleUpon. Peter stanick. 20 awesome examples of street art - StumbleUpon. Envisioning Disney Characters in Real Life on the Behance Network - StumbleUpon.
---