Flipping
Flipped Learning Journal - Welcome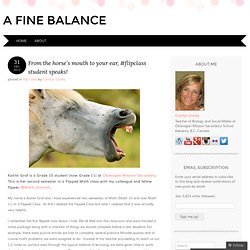 Kaitlin Graf is a Grade 10 student (now Grade 11) at Okanagan Mission Secondary. This is her second semester in a Flipped Math class with my colleague and fellow flipper, @Math_Johnson. My name is Kaitlin Graf and I have experienced two semesters of Math (Math 10 and now Math 11) in a Flipped Class. At first I disliked the Flipped Class but later I realized that it was actually very helpful. I remember the first flipped class lesson I had. We all filed into the classroom and were handed a notes package along with a checklist of things we should complete before a test deadline.
From the horse's mouth to your ear, #flipclass student speaks! | A Fine Balance
Professional Development
If you would like Tom to conduct a training session for your staff or speak at your event, please contact Dana Borrelli-Murray (contact info below) of the Highlander Institute to discuss event/package options and scheduling. Dana Borrelli-Murray, Executive Director 401-831-7323 x13 (April 9) Leveraging Instructional Technologies to Democratize Learning, NERC (MA)(May 3) Gamification / Advanced Flipping, Blended Learning Conference, (RI)(June 23-25) Gamification / EdTech for Flipping / Flipping 2.0 / Book Panel, 7th Annual Flipped Learning Conference, (PA)
Flipped Classroom Resources
Flipped Class Webinar 08.14.12_0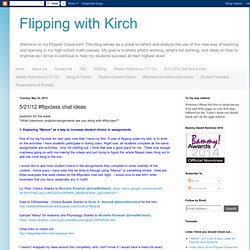 Flipping with Kirch
Question for the week: "What classroom projects/assignments are you doing with #flipclass?" 1. Exploring "Menus" as a way to increase student choice in assignments. One of my big focuses for next year, now that I have my first .5 year of flipping under my belt, is to work on the activities I have students participate in during class.
Flipped Classroom: Beyond the Videos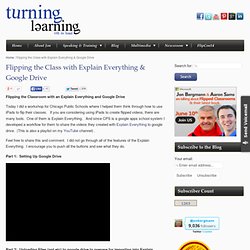 Flipping the Classroom with an Explain Everything and Google Drive Today I did a workshop for Chicago Public Schools where I helped them think through how to use iPads to flip their classes. If you are considering using iPads to create flipped videos, there are many tools. One of them is Explain Everything. And since CPS is a google apps school system I developed a workflow for them to share the videos they created with Explain Everything to google drive.
Welcome to the Flipped Learning Network™ Ning, the first online community of practice FOR and BY Flipped Educators! ________________________________________________________________ Want to Join? Send a request now. (Approval may take 24-48 hours; we check each request to keep out spammers.) Already a Member?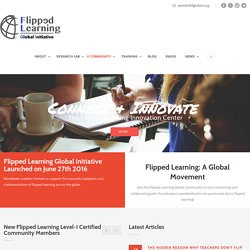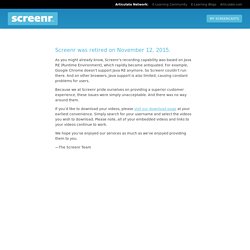 Using @Screenr to create and embed some kick butt training vignettes for a presentation. *LOVE* this website by @Articulate! #rocks —ross_sanders
"My students and I love Collaborize Classroom! They are much more involved, the quality of their work has improved and their discussions are more thoughtful because they've had time to work on it online before presenting it in class." - Catherine Fryzel, High School English Teacher "In-class participation has increased across the board. I'm not getting the blank stares I used to. My students are excited to voice their opinions." - Nico Saldana, High School History Teacher "With Collaborize Classroom, students engage and interact in ways that I never thought were possible. The best thing about Collaborize Classroom is the amount of support they offer teachers." - Mike Tokarczyk, High School Language Arts Teacher "My students and I love Collaborize Classroom!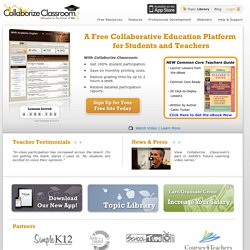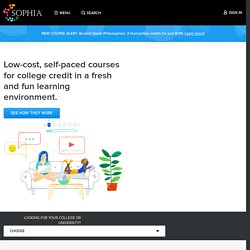 Sophia was created with a vision of transforming education through a vibrant online community of teachers and learners. Our goal is to provide self­-paced, inspirational and relevant curriculum to learners of all stages and ages. To achieve our vision, we've built a customizable education platform that offers more than 37,000 academic tutorials. Taught by thousands of teachers using our Many Ways model, learners can choose teaching styles that appeal to their own unique way of learning.
Inside the Flipped Classroom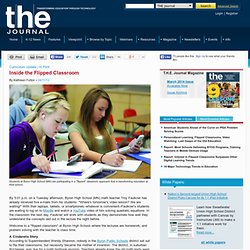 Curriculum Update | In Print Inside the Flipped Classroom By Kathleen Fulton04/11/12 Students at Byron High School (MN) are participating in a "flipped" classroom approach that is transforming education at their school. By 5:01 p.m. on a Tuesday afternoon, Byron High School (MN) math teacher Troy Faulkner has already received five e-mails from his students: "Where's tomorrow's video lesson? We are waiting!"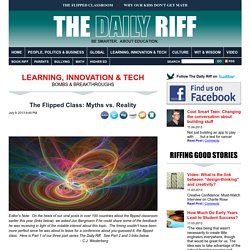 Editor's Note: On the heels of our viral posts in over 100 countries about the flipped classroom earlier this year (links below), we asked Jon Bergmann if he could share some of the feedback he was receiving in light of the notable interest about this topic. The timing couldn't have been more perfect since he was about to leave for a conference about you-guessed-it, the flipped class. Here is Part 1 of our three part series The Daily Riff. See Part 2 and 3 links below. - C.J. Westerberg The Flipped Class: What it is and What it is Not
Two years ago I "flipped" my high school Anatomy & Physiology class. Read my previous post for the full story. I learned by trial and error. I have also found some very helpful resources that I would like to share with you. 1. : The leading screen casting software title on the market. Easily zoom, pan, and create call-outs on your screen captures.
Keys To Success