Flipping
Flipped Learning Journal - Welcome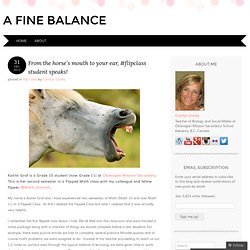 Kaitlin Graf is a Grade 10 student (now Grade 11) at Okanagan Mission Secondary. This is her second semester in a Flipped Math class with my colleague and fellow flipper, @Math_Johnson.
From the horse's mouth to your ear, #flipclass student speaks! | A Fine Balance
Professional Development
If you would like Tom to conduct a training session for your staff or speak at your event, please contact Dana Borrelli-Murray (contact info below) of the Highlander Institute to discuss event/package options and scheduling.
Flipped Classroom Resources
Flipped Class Webinar 08.14.12_0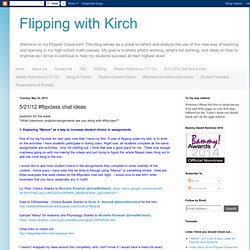 Flipping with Kirch
Question for the week: "What classroom projects/assignments are you doing with #flipclass?"
Flipped Classroom: Beyond the Videos
Flipping the Class with Explain Everything & Google Drive - Turning Learning On Its Head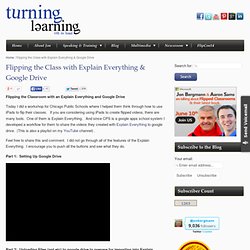 Flipping the Classroom with an Explain Everything and Google Drive
Inside the Flipped Classroom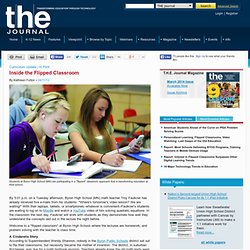 Curriculum Update | In Print Inside the Flipped Classroom
models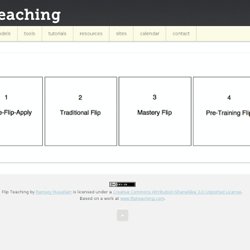 Step 1: Classroom exploration.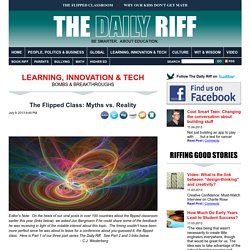 Editor's Note: On the heels of our viral posts in over 100 countries about the flipped classroom earlier this year (links below), we asked Jon Bergmann if he could share some of the feedback he was receiving in light of the notable interest about this topic. The timing couldn't have been more perfect since he was about to leave for a conference about you-guessed-it, the flipped class.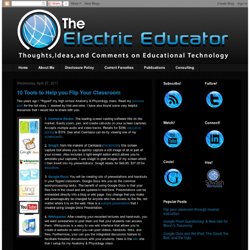 Two years ago I "flipped" my high school Anatomy & Physiology class.
Keys To Success