News/Opinions/Politics
Newspaper map. We have indexed all newspapers and plotted their correct locations, in 39 countries.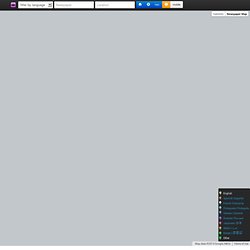 Might have missed some. And most newspapers in another 199 countries, a bunch of them not in their correct locations. Add new ones here: add/correct. News Consumption Tilts Toward Niche Sites. Apart from the specific business issues feeding those travails — sinking traffic and profits at both — they provided yet another lesson of the Internet age: as news surges on the Web, giant ocean liners like AOL and Yahoo are being outmaneuvered by the speedboats zipping around them, relatively small sites that have passionate audiences and sharply focused information.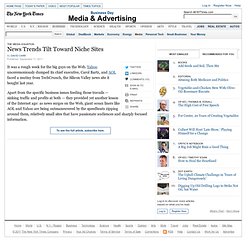 AOL's acquisition of TechCrunch last year for a reported $30 million was an acknowledgement that scale, once the grail of the Web, can be a disadvantage when it comes to attracting the kind of audiences advertisers want. Last year, Yahoo hired writers who had a made a name for themselves at smaller sites — including Mark Lisanti, Courtney Reimer and Will Leitch — for the same reasons. But it is difficult to successfully transplant insurgent energy into a vast conglomerate, because the big blog tends to consume or destroy whatever it is fed. Just a Humble Tradesman, Trapped in a World He Never Made. This morning, NPR's Yuki Noguchi wanted to know how an ordinary small business owner feels now that the Obama health care law has been upheld.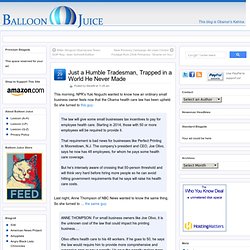 So she turned to this guy: The law will give some small businesses tax incentives to pay for employee health care. Starting in 2014, those with 50 or more employees will be required to provide it.That requirement is bad news for businesses like Perfect Printing in Moorestown, N.J. The company's president and CEO, Joe Olivo, says he now has 48 employees, for whom he pays some health care coverage.But he's intensely aware of crossing that 50-person threshold and will think very hard before hiring more people so he can avoid hitting government requirements that he says will raise his health care costs. How Mitt Romney Followed Me Around the Internet. Republican presidential candidate Mitt Romney speaks during a campaign event in Stratham, N.H., on June 15, 2012.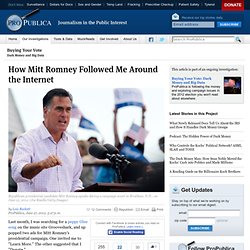 (Joe Raedle/Getty Images) But it turns out the campaign wasn't advertising to Grooveshark listeners or a capella fans. They were targeting me. As a reporter covering how campaigns use voter data [3], I spend a fair amount of time on Romney's official website. Joel Burns tells gay teens "it gets better" Two Lesbians Raised A Baby And This Is What They Got. 2012: The Year in Graphs. As 2012 draws to a close, Wonkblog asked our favorite professional wonks — economists, political scientist, politicians and more — to see what graphs and charts they felt did the best job explaining the past year.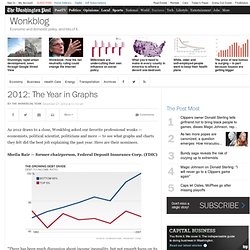 Here are their nominees. Sheila Bair — former chairperson, Federal Deposit Insurance Corp. (FDIC) Wait but why: Putting Time In Perspective. Humans are good at a lot of things, but putting time in perspective is not one of them.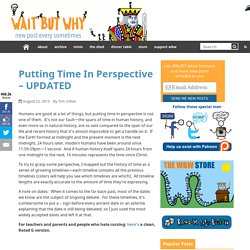 It's not our fault—the spans of time in human history, and even more so in natural history, are so vast compared to the span of our life and recent history that it's almost impossible to get a handle on it. If the Earth formed at midnight and the present moment is the next midnight, 24 hours later, modern humans have been around since 11:59:59pm—1 second. And if human history itself spans 24 hours from one midnight to the next, 14 minutes represents the time since Christ. 2011 in 11 graphs. Culture Connoisseur Badge Culture Connoisseurs consistently offer thought-provoking, timely comments on the arts, lifestyle and entertainment.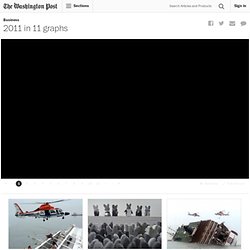 More about badges | Request a badge Washingtologist Badge. The 14 Biggest Ideas of the Year. A guide to the intellectual trends that, for better or worse, are shaping America right now.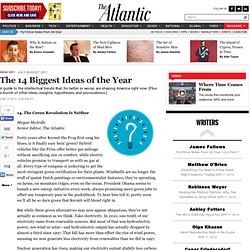 (Plus a bunch of other ideas, insights, hypotheses, and provocations.) 14. Bloom's Taxonomy: The 21st Century Version. So much have been written about Bloom's taxonomy; one click in a search engine will flood your page with hundreds of articles all of which revolve around this taxonomy.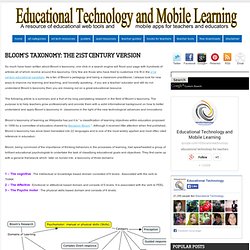 Only few are those who have tried to customize it to fit in the 21st century educational paradigm. As a fan of Bloom's pedagogy and being a classroom practitioner, I always look for new ways to improve my learning and teaching, and honestly speaking , if you are a teacher/ educator and still do not understand Bloom's taxonomy then you are missing out on a great educational resource. The following article is a summary and a fruit of my long painstaking research in the field of Bloom's taxonomy. The purpose is to help teachers grow professionally and provide them with a solid informational background on how to better understand and apply Bloom's taxonomy in classrooms in the light of the new technological advances and innovations. Average Is Over.
The Rise of Popularism. The Start-Up of You. How to Spot the Future | Epicenter. Photo: Brock Davis Thirty years ago, when John Naisbitt was writing Megatrends, his prescient vision of America's future, he used a simple yet powerful tool to spot new ideas that were bubbling in the zeitgeist: the newspaper.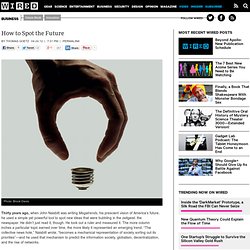 He didn't just read it, though. He took out a ruler and measured it.
Foreign Affairs. Politics. Why Generation Y Yuppies Are Unhappy | Wait But Why. Say hi to Lucy. Lucy is part of Generation Y, the generation born between the late 1970s and the mid 1990s. She's also part of a yuppie culture that makes up a large portion of Gen Y. I have a term for yuppies in the Gen Y age group -- I call them Gen Y Protagonists & Special Yuppies, or GYPSYs.
A GYPSY is a unique brand of yuppie, one who thinks they are the main character of a very special story. Why Are American Kids So Spoiled? In 2004, Carolina Izquierdo, an anthropologist at the University of California, Los Angeles, spent several months with the Matsigenka, a tribe of about twelve thousand people who live in the Peruvian Amazon. The Matsigenka hunt for monkeys and parrots, grow yucca and bananas, and build houses that they roof with the leaves of a particular kind of palm tree, known as a kapashi.
At one point, Izquierdo decided to accompany a local family on a leaf-gathering expedition down the Urubamba River. A member of another family, Yanira, asked if she could come along. Izquierdo and the others spent five days on the river. Although Yanira had no clear role in the group, she quickly found ways to make herself useful. Moving Home: When College Grads Face Uncertain Futures. LANSDALE, Pa. -- One midnight in April, Sabrina Malik pulls her red Chevy Blazer into her mother's asphalt driveway, removes the keys from the ignition, and stops to take a deep breath.
Alone in the darkness, a sense of defeat courses through her body -- disappointment about her past and uncertainty about what lies ahead. This, she thinks to herself, is surely what failure feels like. Six years ago, Malik fled this town for Syracuse University. Since graduating in 2009 with a bachelor's degree in art history, she has yet to find a decent job. Census: Everybody's moving into their parents' basements. Daniel Sherrett, 28, prepares dinner with his mother as part of his deal to live at home.
Parents and children are sharing homes for longer than expected. (Michael Temchine/The Washington Post) Ever since the financial crisis hit, Americans have found it harder and harder to live on their own. Are Today's Youth Really a Lost Generation? - Derek Thompson - Business. The Associated Press and other news outlets have assigned the World War I tag line to the Millennial Generation. Is it deserved? Cynulliad Cymru. A Nation of Wimps. The Start-Up of You. Trickle-Down Distress: How America's Broken Meritocracy Drives Our National Anxiety Epidemic. All Work and No Pay: The Great Speedup.
Measuring Future U.S. Competitiveness. The 'Busy' Trap. Are We Truly Overworked? An Investigation—in 6 Charts - Derek Thompson.
---