PhotoShop
Coloring Tutorial by *kureo95 on deviantART
Mit Photoshop teure Tilt-Shift-Objektive simulieren - Video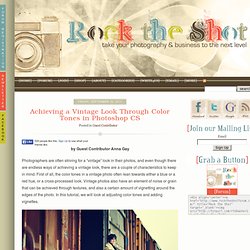 by Guest Contributor Anna Gay Photographers are often striving for a "vintage" look in their photos, and even though there are endless ways of achieving a vintage look, there are a couple of characteristics to keep in mind. First of all, the color tones in a vintage photo often lean towards either a blue or a red hue, or a cross-processed look. Vintage photos also have an element of noise or grain that can be achieved through textures, and also a certain amount of vignetting around the edges of the photo. In this tutorial, we will look at adjusting color tones and adding vignettes. This photo is the result of adjusting the color curves, adding two vignettes, and a color fill, which we will walk through step-by-step.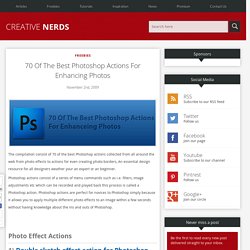 The compilation consist of 70 of the best Photoshop actions collected from all around the web from photo effects to actions for even creating photo borders, An essential design resource for all designers weather your an expert or an beginner. Photoshop actions consist of a series of menu commands such as i.e. filters, image adjustments etc which can be recorded and played back this process is called a Photoshop action. Photoshop actions are perfect for novices to Photoshop simply because it allows you to apply multiple different photo effects to an image within a few seconds without having knowledge about the ins and outs of Photoshop. Photo Effect Actions
Sep 10 2010 Working on a Futuristic Design on a graphics or web design in Photoshop mostly requires more tech feeling. Using circuits,linings,wiring or even blueprints could help achieve a better futuristic results but will take time doing all the details needed. To work more with ease and save time, why not use brushes instead? Now check out this 850+ Super Cool Tech Brushes for Photoshop.