ELT Jobs NZ
Cambridge CELTA English New Zealand Member Schools ABC College of English, Queenstown AIS St Helens Auckland English Academy CCEL (Christchurch College of English)
Jobs at NZ Language Schools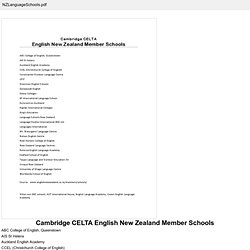 Teacher of English to Speakers of Other Languages (ESOL): How to get into this job - Careers New Zealand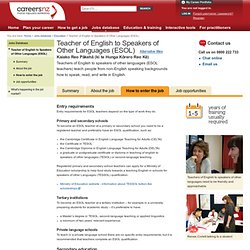 Entry requirements Entry requirements for ESOL teachers depend on the type of work they do. Primary and secondary schools To become an ESOL teacher at a primary or secondary school you need to be a registered teacher and preferably have an ESOL qualification, such as: the Cambridge Certificate in English Language Teaching for Adults (CELTA)the Certificate in TESOLthe Cambridge Diploma in English Language Teaching for Adults (DELTA)a graduate or postgraduate certificate or diploma in teaching of english to speakers of other languages (TESOL) or second-language teaching.
Job Search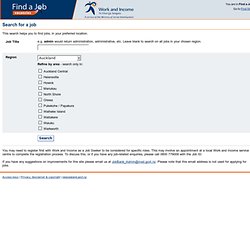 This search helps you to find jobs, in your preferred location. You may need to register first with Work and Income as a Job Seeker to be considered for specific roles. This may involve an appointment at a local Work and Income service centre to complete the registration process. To discuss this, or if you have any job-related enquiries, please call 0800 779009 with the Job ID. If you have any suggestions on improvements for this site please email us at JobBank_Admin@msd.govt.nz.
Go English New Zealand Member Schools ABC College of English, QueenstownACG English SchoolAuckland English AcademyAuckland Institute of Studies English Language CtrCCEL Christchurch & AucklandCornell - School of EnglishCPIT School of EnglishDominion English SchoolsDynaSpeakEF International Language SchoolKaplan International CollegesLanguage Schools New ZealandLanguage Studies International (NZ) LtdLanguages InternationalMt.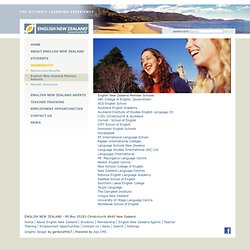 English New Zealand member language schools | English New Zealand
Good School Guide - New Zealand - EFL schools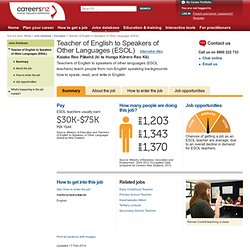 Teacher of English to Speakers of Other Languages (ESOL): (summary) - Careers New Zealand
You are here: Home > Jobs database > Education > Teacher of English to Speakers of Other Languages (ESOL) Kaiako Reo Pākehā (ki te Hunga Kōrero Reo Kē) This job is sometimes referred to as: ESOL Teacher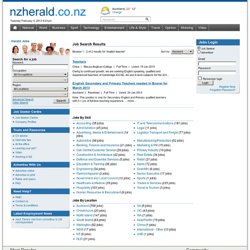 Saturday March 30, 2013 3:47pm Auckland , 23° 17° Change Dannevirke , 23° 10° Change Dargaville , 22° 15° Change
english teacher: Jobs Search Results - NZ Herald Jobs
Job search results - Find NZ jobs on Trade Me Jobs
Keywords: 'English teacher' 24 listings, showing 1 to 24 Amazing Pre-School Teacher Hummingbirds - St Johns | Auckland City | Listed Sun, 29 Jul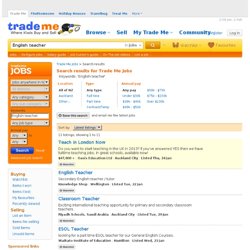 English teacher Jobs - Wow Jobs New Zealand
craigslist: auckland, NZ classifieds for jobs, apartments, personals, for sale, services, community, and events
Education Gazette
English Schools New Zealand
Job Vacancy
SEEK - Job Search - Find jobs using multiple job search options
English Schools New Zealand - Search Schools
Closed 04 Nov 2011 NZQA National Qualifications Services (NQS) has worked in partnership with the sector on the development of New Zealand qualifications in ESOL. Sector consultation is now closed.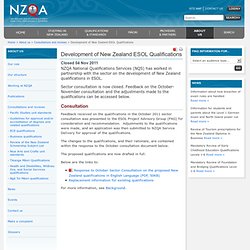 Development of New Zealand ESOL Qualifications
English teacher jobs in New Zealand | careerjet.co.nz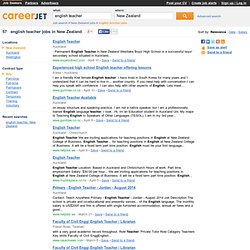 English Teacher Auckland : Permanent English Teacher in New Zealand Westlake Boys' High School is a successful boys' secondary school situated in Auckland... www.expatsdirect.com - April 10 - Save - Send to a friend
Classifieds – Gumtree Auckland Free Classified Ads – Gumtree Auckland Online Community