По видео
Шрифты Скачать Бесплатно. БЛОГ ДМИТРИЯ ЕВТИФЕЕВА - Мои эксперименты в области фотосъемки, практические навыки и статьи. Аудиозаписи Алины Хитрук | 993 аудиозаписи. - Final cut pro plugins & video effects – CrumplePop FCP effects. Видеоуроки | Nix Studio Edition| Download NewBlueFX | Free trial downloads of audio filters and video effects and transitions plugins for Avid Media Composer, Adobe Premiere/After Effects, Apple Final Cut Pro/Motion, Corel VideoStudio, Pinnacle Studio, Sony Vegas, Canopus Edius... - NewB. HandBrake. HandBrake.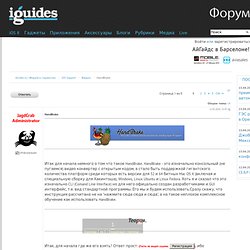 Итак для начала немного о том что такое HandBrake. HandBrake - это изначально консольный (не пугаемся) видео конвертер с открытым кодом, а стало быть поддержкой гигантского количества платформ среди которых есть версии для 32 и 64 битных Mac OS X (включая и специальную сборку для Хакинтоша), Windows, Linux Ubuntu и Linux Fedora. Хоть я и сказал что это изначально CLI (Comand Line Interface) но для него офицально создан разработчиками и GUI интерфейс, т.е. вид стандартной программы. Trapcode Cs5 Mac. Уроки по Apple Final Cut Pro. Новости Apple: Встречаем Apple Logic Pro X.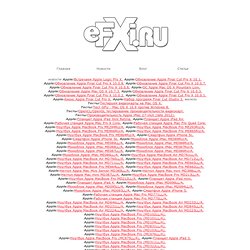 Apple: Обновление Apple Final Cut Pro X 10.1. Apple: Обновление Apple Final Cut Pro X 10.0.8. Ayato@web. AlexSoft.ru - сериалы и софт от Алекс. Software training online-tutorials for Adobe, Microsoft, Apple & more. VIDEO COPILOT | After Effects Tutorials, Plug-ins and Stock Footage for Post Production Professionals. Digieffects - Plug-ins - After Effects, Final Cut Pro, Premiere Pro and Edius. Aetuts+ | Adobe After Effects tutorials from beginner to advanced. After Effects Projects, Motion Graphics, C4D Templates. Компьютерные видеокурсы | Обучающие видео и видеоуроки | TeachVideo.
Обучающие видео
ConstantQuality. With the average bitrate or target size methods, you control the size of the output file but give up control over the video's quality.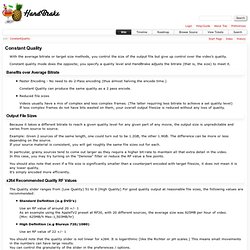 Constant quality mode does the opposite; you specify a quality level and HandBrake adjusts the bitrate (that is, the size) to meet it. Benefits over Average Bitrate ¶ Faster Encoding - No need to do 2-Pass encoding (thus almost halving the encode time.) Constant Quality can produce the same quality as a 2 pass encode. Reduced file sizes.
---