Ed Tech
Today Online > Raising Readers YouTube Video Series for Parents. #ECEtechCHAT Weekly Topic 1.18.2012- Overcoming Resistance « 140+: In the Moment. #ECEtechCHAT Weekly Topic 1.18.2012- Overcoming Resistance The (temporary) home of the official Early Childhood Education Technology Chat on Twitter Wednesdays at 9 PM EASTERN TIME!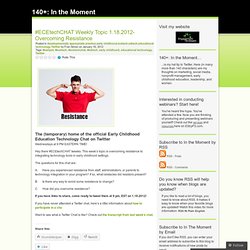 Kinderchatplay - Google Earth Projects. Google Earth Play Project Classroom Project The goal of the Google Earth Play Project is for students to be able to share important landmarks in their communities and learn about places important to other students around the globe.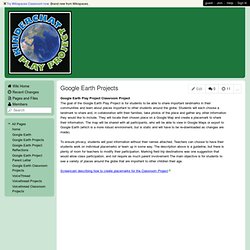 Students will each choose a landmark to share and, in collaboration with their families, take photos of the place and gather any other information they would like to include. They will locate their chosen place on a Google Map and create a placemark to share their information. The map will be shared with all participants, who will be able to view in Google Maps or export to Google Earth (which is a more robust environment, but is static and will have to be re-downloaded as changes are made). Seeking Female Founders In The Tech Startup Scene. Hide captionThe founders of startup accelerator Women Innovate Mobile (clockwise from top right: Deborah Jackson, Kelly Hoey and Veronika Sonsev) aim to boost the profile of tech companies founded by women.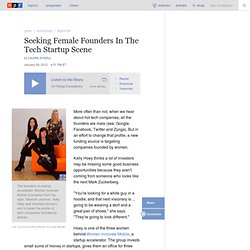 Lisa Tanner/Courtesy Women Innovate Mobile The founders of startup accelerator Women Innovate Mobile (clockwise from top right: Deborah Jackson, Kelly Hoey and Veronika Sonsev) aim to boost the profile of tech companies founded by women. More often than not, when we hear about hot tech companies, all the founders are male (see: Google, Facebook, Twitter and Zynga). But in an effort to change that profile, a new funding source is targeting companies founded by women. Kelly Hoey thinks a lot of investors may be missing some good business opportunities because they aren't coming from someone who looks like the next Mark Zuckerberg. Great #GlobalEd Sites / Connecting classroom with Skype. EngVid · Free English Video Lessons. *Recently Added. Piazza - The New, Free Way to Q&A for Classrooms.
Tweetdoc. Search, plus Your World. Google Search has always been about finding the best results for you.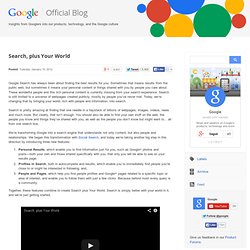 Sometimes that means results from the public web, but sometimes it means your personal content or things shared with you by people you care about. These wonderful people and this rich personal content is currently missing from your search experience. Search is still limited to a universe of webpages created publicly, mostly by people you've never met.
Today, we're changing that by bringing your world, rich with people and information, into search. Search is pretty amazing at finding that one needle in a haystack of billions of webpages, images, videos, news and much more. Social Media & Tech / A great video explaining HTML5 in under 2 minutes. Pinterest: 13 Tips and Tricks for Cutting Edge Users. On Pinterest?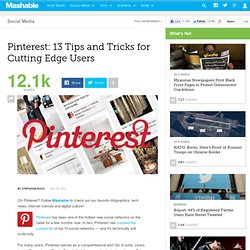 Follow Mashable to check out our favorite infographics, tech news, internet memes and digital culture! Pinterest has been one of the hottest new social networks on the radar for a few months now. Some Tech Goals for 2012. Last week, I wrote some reflections on 2011 and after looking back on the past year, I decided it would be good to also think about 2012 and some of the tech goals I hope to accomplish.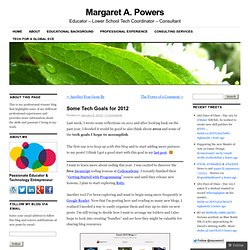 The first one is to keep up with this blog and to start adding more pictures to my posts! I think I got a good start with this goal in my last post. :) I want to learn more about coding this year. In the Bronx, a New School Combines Tech Skills and Cultural Literacy - Education. Digital literacy is a required skill for the 21st century, but in today's globalized economy, knowing how to work with diverse groups of people is just as critical.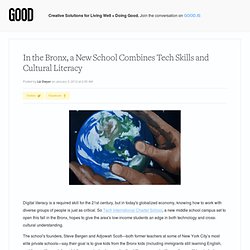 So Tech International Charter School, a new middle school campus set to open this fall in the Bronx, hopes to give the area's low-income students an edge in both technology and cross-cultural understanding. The school's founders, Steve Bergen and Adjowah Scott—both former teachers at some of New York City's most elite private schools—say their goal is to give kids from the Bronx kids (including immigrants still learning English, and those with special needs) the same technology and cultural literacy opportunities as the wealthier students they've worked with. They hope that setting high academic standards and "clear expectations of international responsibility through experiential learning" will help put the students on the college track and build an understanding of our "shared humanity and cultural differences.
" Vizualize.me: Visualize your resume in one click. Infographic: Get More Out Of Google. 1:1 iPad use in Full Day Kindergarten. Background This is the first year of 1:1 iPads in my kindergarten classroom.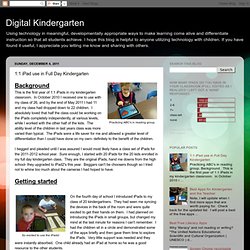 In October 2010 I received one to use with my class of 26, and by the end of May 2011 I had 11 and my class had dropped down to 22 children. New Course-Management Software Promises Facebook-Like Experience - Wired Campus. Three University of Pennsylvania students who recently dropped out to start an upstart course-management system today unveiled their software, called Coursekit, after having raised more than $1-million in venture capital.
The trio, frustrated with the systems offered by universities, such as Blackboard, decided to team up and design their own online course platform, which emphasizes social networking and an easy-to-use interface. By May, the founders, Joesph Cohen, Dan Getelman, and Jim Grandpre, had raised so much start-up cash, from sources including the Founder Collective and IA Ventures, that they decided to quit school to focus on developing Coursekit. Thirty universities tested Coursekit this fall, including Stanford and the University of Pennsylvania. The Year in Education: Seven Innovations Changing the Way the World Learns - Education. Another Year Gone By. Wow, another year has gone by and we're already three days into 2012!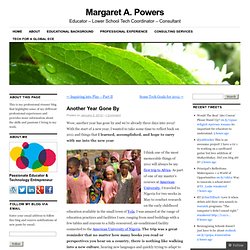 With the start of a new year, I wanted to take some time to reflect back on 2011 and things that I learned, accomplished, and hope to carry with me into the new year. I think one of the most memorable things of 2011 will always be my first trip to Africa. 11 Tech Factors That Changed Education in 2011. Michael Staton is the founder of Inigral, which develops social software for student recruitment and higher education retention.
Inigral recently brought on the first PRI as a venture investment from the Bill & Melinda Gates Foundation, and has been named one of the top 10 innovative companies in education by Fast Company. In 2011, entrepreneurs and startup activity sprouted up everywhere. 10 Ways to Enable Student Collaboration. Well, another semester has come and gone. As always, I've learned so much from my students. One of the things I have started doing in my classes (remember, I teach online) is to make just about every activity and assignment collaborative. Monday Matters: Lavaca Teacher, Class Embrace Social Media - The Times Record: News.
Twitter as a Mobile Learning Platform. It's been almost 5 years since Twitter came into existence and it has become quite the versatile platform. I remember when I first joined Twitter 4 years ago, there were heckling comments abound about 'tweeting' and how people didn't care to know someone's ever movement. Since then, and resulting from a series of key improvements to the service, we have a tool that can be shaped and molded to whatever the need may be. In the case of teacher PD, Twitter can be used as: - a networking tool to link with other educators to discuss ideas and issues with like minded colleagues around the world - an information gateway where teachers can stay current with the cutting edge as it happens and is discussed. Lingibli. How Educators Teach Geography with Tech Tools. In 2006, the National Geographic-Roper literacy survey showed that only 37 percent of college-age students could identify Iraq on a map of the Middle East.
But U.S. troops had been in Iraq since 2003. And last week, student scores on the 2010 National Assessment of Educational Progress were released in a report on geography. Create Your Own Space Program. Textbooks Finally Take a Big Leap to Digital. Light-bot-20-6061.
Welcome to My Resource Cloud. More pedagogic change in 10 years than last 1000 years – all driven by 10 technology innovations. My Wish List for Education in 2012. 9 in 10 Teens Have Witnessed Bullying on Social Networks [STUDY] Soundboard2. Embracing Continuous Improvement with EdTech. So Far, 27 States Sign On to Digital Learning Day - Digital Education. Richland Parish School Board. Wikis. Social Media in Ed. Google. Ipads. Ed Tech Tools. Exploring Ed Tech @ the Bi-Co. Journal of Technology Education. On Demand Learning Center. Examples of Student Innovation - home. Architect Studio 3D, from the Frank Lloyd Wright Preservation Tr. Wallwisher: Free ESL Materials.com | Websites | Lesson Plans.
LESTER: Learning Science and Technology Repository : Browse Syllabi. Schoology learn.together. Next Textbooks are… QR Codes In Education. Interesting Ways. Many educators find Twitter a useful tool. Find shapes in clouds and draw them online / Klowdz. The NATURE OF SOCIAL NARRATIVE by @cumulusguy Gamified Transmedia. Geek.teacher » Blog Archive » Two week iPad trial: Part 1. Mothers Days ideas for the Classroom using Big Huge Labs. Building the Backchannel: How to Use Twitter in Large Classrooms Part I. The New York Times' R&D Lab has built a tool that explores the life stories take in the social space. Lafz̤ • Would you believe that there are some people out... Top 100 Social Media Colleges. James Gee: Assessment Drives Learning: How to Drive to a New Place. Tina Barseghian: Why Parents Should Both Monitor And Empower Kids Using Social Media. QR Codes in the Classroom. Blogging: Why Aren't You Doing It? New online high school free to Ga. residents.
What Does "Technology Integration" Mean? 28 Interesting Ways to use an iPod Touch in the Classroom. Should Cell Phones Be Allowed in Classrooms? Most Parents Say Yes. Va. Board of Education urges policy on social networks as teaching tools. Skype Launches a Dedicated Network for Teachers. Learning, Digital Media and Creative Play in Early Childhood. Five Skills for 21st Century Learners. Podcast Library. MIT World | Distributed Intelligence.
---