Gold rush
28 Jul 1951 - 5 men start a 'gold rush' Sydney, Friday. 5 men start a 'gold rush' Sydney, Friday.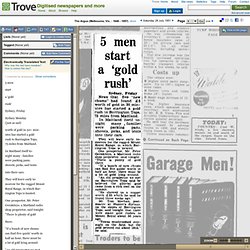 Sydney Gold Rush Period. Maps Related to New South Wales Sydney, Australia Sydney is the most populated city of Australia, and is the capital of New South Wales.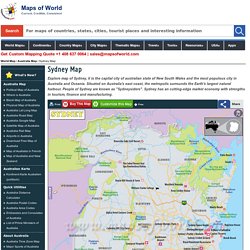 It is also the site of the first British colony in Australia and is a huge natural harbor. Ancient Australian History. After a long trek on foot or horseback by coach or dray from Sydney or Melbourne, new miners were thankful and excited when they reached the goldfields.
On the larger fields they saw hundreds or even thousands of tents clustered around creeks or near the site of earlier discoveries. There were horses and bullocks, wagons and carts and everywhere people bustling around, digging, panning, washing gravel, moving mounds of dirt or gently rocking their cradles from side to side. Gold Rush. Australian gold rush timeline, Discovering gold, Gold and mining, SOSE Year 6, SA | Online Education Home Schooling Skwirk Australia. The first major mineral discovery - gold - was a watershed (a turning point or landmark) for Australian society.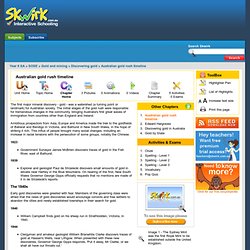 The initial stages of the gold rush were responsible for tremendous changes in the community, bringing Australia's first great waves of immigration from countries other than England and Ireland. Ambitious prospectors from Asia, Europe and America made the trek to the goldfields of Ballarat and Bendigo in Victoria, and Bathurst in New South Wales, in the hope of striking it rich.
This influx of people brought many social changes, including an increase in racial tensions with the persecution of some groups, notably the Chinese. Government Surveyor James McBrien discovers traces of gold in the Fish River, east of Bathurst. Explorer and geologist Paul de Strzelecki discovers small amounts of gold in silicate near Hartley in the Blue Mountains. Australian Gold Rush. In fact they only got worse.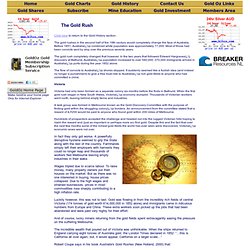 A powerfully disruptive hysteria seemed to grip the State along with the rest of the country. Farmhands simply left their employers with harvests they could no longer reap and thousands of workers fled Melbourne leaving empty industries in their wake. Wages tripled due to scarce labour. To raise money, many property owners put their houses on the market. But as there was no one interested in buying, house prices collapsed. Australia - The Gold Rush & The Eureka Stockade  for Kids - FREE Presentations in PowerPoint format, Free Interactives and Games. The Australian gold rush. JCF Johnson, A Game of Euchre, col. wood engraving, Australasian Sketcher Supplement [Melbourne], 25 December, 1876.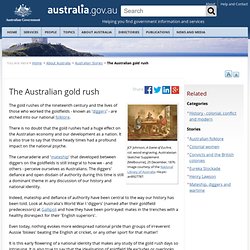 Image courtesy of the : nla.pic-an8927787. The gold rushes of the nineteenth century and the lives of those who worked the goldfields - known as '' - are etched into our national . There is no doubt that the gold rushes had a huge effect on the Australian economy and our development as a nation. Life on the Australian Goldfields. On hearing that there was gold to be found, thousands of people left their homes and jobs and set off to the diggings to find their fortune.
At the start of the gold rush, there were no roads to the goldfields, and no shops or houses there. People had to carry everything they needed. Eureka! The rush for gold. The gold rushes and the diggers who worked the goldfields are etched into Australian folklore.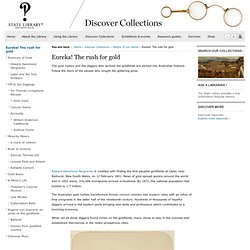 Follow the story of the people who sought the glittering prize. Edward Hammond Hargraves is credited with finding the first payable goldfields at Ophir, near Bathurst, New South Wales, on 12 February 1851. News of gold spread quickly around the world and in 1852 alone, 370,000 immigrants arrived in Australia. Photo Galleries | Australian 1850s Gold Rush Colony Mogo South Coast NSW.
There are 76 images in this gallery Fri, 24/02/2012 - 10:24pm Take a photo tour of the Gold Rush Theme Park which is a reproduction of an original 1800s village offering an experience of what live was like in the Australian Gold Rush Era.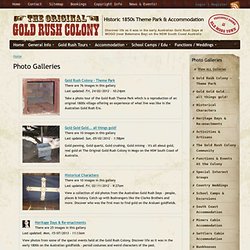 There are 10 images in this gallery Sun, 05/02/2012 - 1:58pm Gold panning, Gold quartz, Gold crushing, Gold mining - it's all about gold, real gold at The Original Gold Rush Colony in Mogo on the NSW South Coast of Australia. There are 10 images in this gallery Fri, 02/11/2012 - 9:27am View a collection of old photos from the Australian Gold Rush Days - people, places & history. Catch up with Bushrangers like the Clarke Brothers and more.
Discover who was the first man to find gold on the Araluen goldfields. There are 25 images in this gallery Mon, 15/07/2013 - 11:13am View photos from some of the special events held at the Gold Rush Colony. Gold rush australia pictures. Australian gold rushes. An Australian gold diggings circa 1855 After the California gold rush began in 1848, causing many people to leave Australia for California to look for gold there, the New South Wales government rethought its position, and sought approval from the Colonial Office in England to allow the exploitation of the mineral resources and also offered rewards for the finding of payable gold.[2] The first gold rush in Australia began in May 1851 after prospector Edward Hargraves claimed to have discovered payable gold near Bathurst, at a site he called Ophir.[3] Hargraves had been to the Californian goldfields and had learned new gold prospecting techniques such as panning and cradling.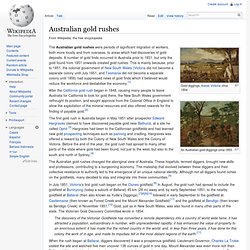 Hargraves was offered a reward by both the Colony of New South Wales and the Colony of Victoria. Before the end of the year, the gold rush had spread to many other parts of the state where gold had been found, not just to the west, but also to the south and north of Sydney.[4] Gold Rush in Australia! The transportation of convicts to Australia was phased out between 1840 and 1868. By 1860, the continent of Australia had been divided into FIVE separate colonies (not officially states yet, mate but seperation away from New South Wales), each not seeing eye-to-eye and exhibiting more loyalty to London to each other. A major force within the colonies was the "squatocracy" – the rich officers and settlers a.k.a. opportunists who had followed the explorers into fertile hinterlands. GoldRush. Gold rush – Flash interactive.
---