Archi
Qualifying for most hilarious licensing deal of the month, The Guggenheim Museum in New York is licensing paint colors. It's a natural, from a focus group viewpoint. Think about it. Museums have both paint-ings and they also paint their walls.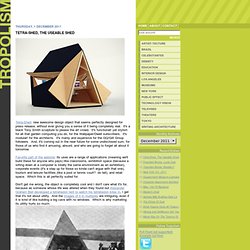 Tropolism
Dezeen architecture and design magazine
AMNP
We can only wish. Yesterday a coworker sent me a link to this New York Observer article describing mayor Bloomber's desire for 10 additional buildings by Frank Gehry by the end of his term. Bloomberg is out of office in two years. By the mayor's own estimation, that means Gehry has 70 days to crank out each project – which we know isn't really how things work, but is still a crazy thing to think about. But even crazier, I'd argue, is the idea of 10 more buildings by America's favorite "hey, I know that guy" starchitect, pseudo-commissioned by the mayor.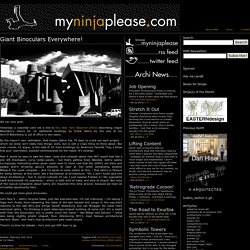 Architecture Design for Architects
Architecture Competitions, Events & News
The Silk Road provides inspiration for winning competition entry to Ningbo Yinzhou Southern CBD Portal Project Competition amphibianArc has been awarded first prize in the Ningbo Yinzhou Southern CBD Portal Project Planning Design Competition. The competition was commissioned by Ningbo Yinzhou Urban Construction Investment and Development Corporation, who is responsible for successfully implementing the Ningbo Museum project designed by Wang Shu. The subject of the competition was the fourth phase of the Ningbo Yinzhou Southern CBD, the Portal Project. The winning plan is not only a successful summary of the first three developing phases of the CBD, but a driving force for the area's future dynamic urban life. Six international design firms from China, U.S. and France participated in the competition.
World Architecture News, Official Home Page, architecture news, architecture jobs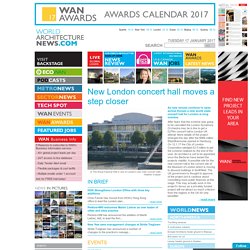 World Architecture News, Official Home Page, architecture news, architecture jobs
Screen/Print #11: OASE's "Building Atmosphere" 7 days 2 "Building Tomorrow" Exhibit 5 mins The Architectural League NY - First Friday... 10 mins
Archinect | Connecting Architects Since 1997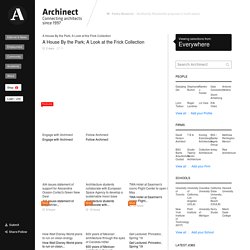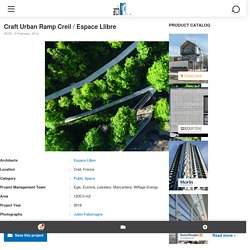 ArchDaily | Broadcasting Architecture Worldwide
This article by Marc Kristal from Metropolis Magazine, originally titled "Digital Details," looks at the work of NRI, a New York company that is leading the way when it comes to 3D Printing (or rather, additive manufacturing) – finding that there is a craft in these machine-produced models after all. First things first: The term "3-D printing" is a misnomer according to Arthur Young-Spivey, the digital fabrication specialist at NRI—a 116-year-old, New York–headquartered supplier of reprographic services to architects and their tradespeople. "The correct term is 'additive manufacturing,'" he explains. "People call it 3-D printing because it enables you to wrap your head around it, but in some ways it's confusing." Young-Spivey has a point, as the process by which a digital file is converted into an object isn't "printing" in the commonly understood sense of applying pigment on a substrate.
NOTCOT.ORG
BLDGBLOG
I interviewed novelist Sol Yurick back in March 2009. Rather than publish the interview on BLDGBLOG as I should have, however, I thought I'd try to find a place for it elsewhere, and began pitching it to a few design magazines. Yurick, after all, was the author of The Warriors—later turned into the cult classic film of the same name, in which New York City is transformed into a ruined staging ground for elaborately costumed gangs—and he was a familiar enough figure amidst a particular crowd of underground readers and independent press aficionados, those of us who might gravitate more toward Autonomedia pamphlets, for example, where you'd find Yurick's strange and prescient Metatron: The Recording Angel, than anything on the bestseller list.
Architecture,World Architecture Community-Architects,World Architects,Building Database
world-architects.com | Profiles of Selected Architects | International Architecture | Welcome
AIA Homepage
Architonic | architecture and design
MoCo Loco - Modern contemporary design & architecture
Dezeen architecture and design magazine
If you need a quick and simple measurement of a space, RoomScan is the must have app for your Apple iPhone and iPad. To draws floor plans, just touch each wall with your phone! Like most room measurement apps, this is just another app that scans the room and output a rough estimation of the […] This is not exactly a good documentary, more like a conspiracy by History Channel. If you are into architecture, especially ancient architecture such as the pyramids, the Inca monuments and many more, you will love this 'Ancient Aliens' theories.
How to, Architecture Tutorials, 3Dmax Library Download AutoCAD ArchiCAD | mirage.studio.7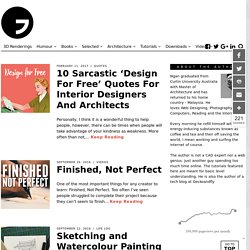 Ever wonder why there are different glasses for different wines? The idea is that each wine deserves its own type of glass to enhance its unique flavor, aroma and color. It's an often overlooked part of the experience that every vino-enthusiast has come to appreciate. Inspired by this concept, the Doublet incorporates not one, but two of the more common types into one beautiful, seamless, stemless piece. Even if you're not a wine snob, you can clear out some cabinet space with this artistic two-in-one alternative!
Yanko Design - Modern Industrial Design News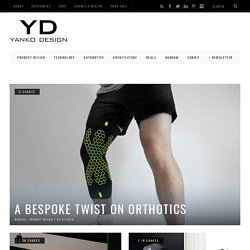 Furniture Fashion Online Home Magazine
Furniture Fashion Online Home Magazine
apr 04, 2014 WATCH: naoto fukasawa elaborates on the company's attention to craftsmanship, and his own approach to » 0 shares last week designboom attended the inaugural mextropoli architecture festival in mexico city. the balloon-powered internet system will begin its 2nd lap, where it will traverse over the pacific ocean »
since 1999 home of design culture, leading independent publication for design, architecture, art, photography and graphics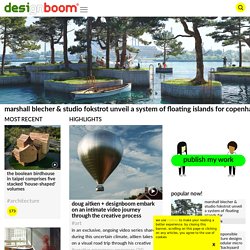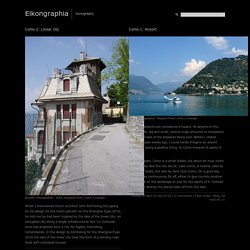 Como 2: Linear city Brunate (Photographer: Short Journeys/Flickr) (click-2-enlarge) When I interviewed Dutch architect John Körmeling this spring on his design for the Dutch pavilion on the Shanghai Expo 2010, he told me he had been inspired by the idea of the linear city: an elongated city along a single infrastructural line.
Eikongraphia
Architecture news from the architects' favourite weekly newspaper - Building Design
> 3.000 Facebook likes! Author: Mieke, Posted: March 12th, 2014 Filed under: Uncategorized The MIMOA Facebook fanpage counts 3.000 likes. To all of our dedicated fans: thanks for following us! On a daily base we tweet about all the new added projects on MIMOA. A selection of these projects will be featured on our Facebook fanpage.
MIMOA | Modern Architecture Guide | Contributed, organised, and mapped by you.
A Daily Dose of Architecture
Architect Magazine: Architectural Design | Architect Online: A premier site for Architecture Industry News & Building Resources
plusMOOD