Marketing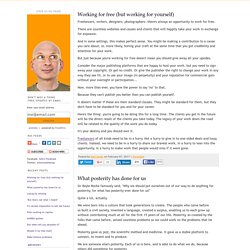 At a recent conference, I was talking with Ed Snowden about the range of data that's now available, not just to the government, but by extension, to servers in the cloud. We got to thinking about just how much worry is wasted. Combine this with Google's work on the self-driving car, and with the increasing use of wearable computers,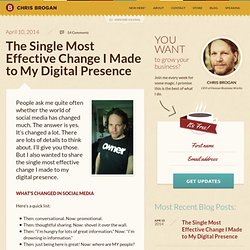 Wow! So, Wiley had to push the book back a few weeks to deal with some last minute stuff (probably my fault), and so that gives me just a little more time to lay some groundwork. For YOU, that means if you're thinking of having an event and if you want to take advantage of the absolutely most affordable way to have me speak live and in person to your community and event, there's still time. Hire Me to Speak for Only 300 Books
January 12, 2014 molly published this at 3:00 am How many of you would willingly let another person put you in shackles and chains? How many of you would gladly accept the chore of carrying a 50 pound bag of sand with you throughout your daily tasks? Probably few of you, if any. And yet, when you cling to grudges and refuse to forgive others, the psychological weight you carry restricts your growth and development.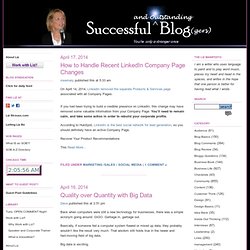 Charlene Li: - Founder of Altimeter Group, Author of Open Leader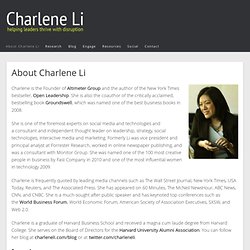 Charlene is the Founder of Altimeter Group and the author of the New York Times bestseller, Open Leadership. She is also the coauthor of the critically acclaimed, bestselling book Groundswell, which was named one of the best business books in 2008. She is one of the foremost experts on social media and technologies and a consultant and independent thought leader on leadership, strategy, social technologies, interactive media and marketing.
Christopher S. Penn's Awaken Your Superhero
If you are one of the many people out there who hate it each time Facebook makes a change to how you view it, each time it violates your privacy or tweaks your settings – brace yourself. Facebook is about to change things up again in a big way with two new iterations of the way you use their service. In a blatant bid to compete with Twitter, Google+ and Google Search, Facebook is introducing changes to the News Feed and adding something called Facebook Graph Search. Facebook users are already freaking out about the potential privacy issues both changes will bring, and with Facebook's past history of being cavalier with our privacy I think a healthy dose of pre-emptive adjustment to your settings is completely warranted before each new thing rolls out.
Social Media, New Media and Digital Strategies and Business Deve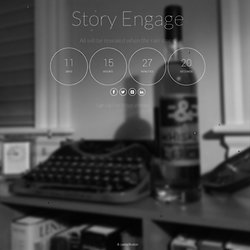 The Optimus G Pro marked the beginning of a shift in design for LG. That shift continues with the minimal, glossy and beautiful LG G2. Continue reading
SheGeeks - Keep Up With The Best In Social Media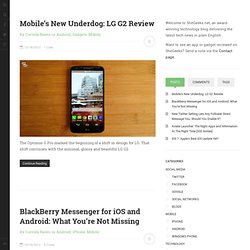 Amazon start selling the paperback edition of my latest book, APE: Author, Publisher, Entrepreneur. APE explains how to publish a book by breaking the process down into three stages: Author explains how to write a book. Publisher explains how to produce both ebooks and printed books.Entrepreneur explains how to market and sell your book with an emphasis on social media. You can order APE here:
How to Change the World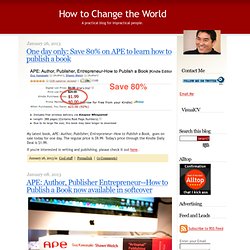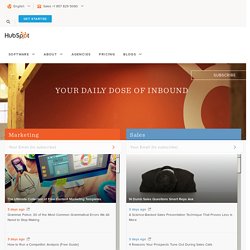 Why Marketing Is So Hard Marketing is hard. But the problem is that too many people think it isn't.