Marketing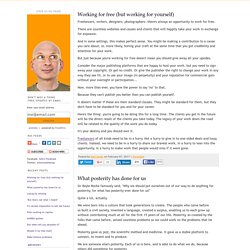 Most people, most of the time, aren't creative, generous or willing to stand up and contribute worthwhile work to the community. At least not the contributions you're hoping for. The myth of wikipedia is that, when given the chance, hordes of people stepped up and built it. In fact, 5,000 people contribute most of the value on the site.
Charlene Li: - Founder of Altimeter Group, Author of Open Leader
Christopher S. Penn's Awaken Your Superhero
Social Media, New Media and Digital Strategies and Business Deve
SheGeeks - Keep Up With The Best In Social Media
Amazon start selling the paperback edition of my latest book, APE: Author, Publisher, Entrepreneur . APE explains how to publish a book by breaking the process down into three stages: Author explains how to write a book. Publisher explains how to produce both ebooks and printed books. Entrepreneur explains how to market and sell your book with an emphasis on social media .
How to Change the World