Social 1
Foursquare. Report: Social Media Marketing Up During Recession. I'm sitting across the street from the SXSW convention center, yesterday the organizer Hugh Forrest told me that attendees to the Interactive portion (a great deal with a focus on social) was up aprox 20% (just an approximation).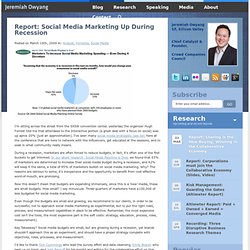 I've seen many social media strategists (see list) here at the conference that are here to network with the influencers, get educated at the sessions, and to soak in what community really means. During a recession, marketers are often forced to reduce budgets, in fact, it's often one of the first buckets to get trimmed. In our latest research: Social Media Playtime is Over, we found that 53% of marketers are determined to increase their social media budget during a recession, and 42% will keep it the same, a total of 95% of marketers bullish on social media marketing. When Brands Get Punk'd: Social Media Remediation. Do you know any brands that are hated or are getting social media wrong?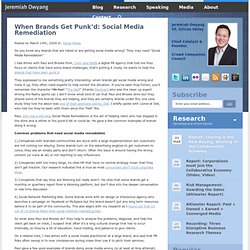 They may need "Social Media Remediation" I had drinks with Paul and Brooke from, Cohn and Wolfe a digital PR agency that told me they focus on clients that have some brand challenges, that's putting it nicely, he wants to help the brands that have been punk'd. They expressed to me something pretty interesting: when brands get social media wrong and mess it up, they often need experts to help correct the situation. If you've seen Pulp Fiction, you'll remember the character "Mr Fox" "The Wolf" (thanks Darshan) who was the clean up expert driving the flashy sports car.
How To Use Social Proof For Social Content Promotion. You've heard it before, "Content is king", but is it really?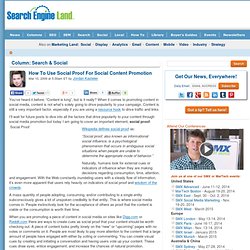 When it comes to promoting content in social media, content is not what's solely going to drive popularity to your campaign. Content is still a very important factor, especially if you are using a resource hook to drive traffic and links. I'll wait for future posts to dive into all the factors that drive popularity to your content through social media promotion but today I am going to cover an important element, social proof. Wikipedia defines social proof as: "Social proof, also known as informational social influence, is a psychological phenomenon that occurs in ambiguous social situations when people are unable to determine the appropriate mode of behavior." Search and Social Media Marketing Consulting | Stuntdubl SEO Con. Linkbaiting is all about the bait.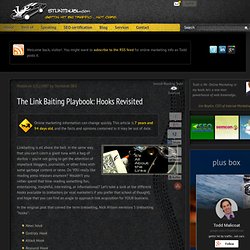 In the same way that you can't catch a giant tuna with a bag of doritos – you're not going to get the attention of important bloggers, journalists, or other folks with some garbage content or news. Do YOU really like reading press releases anymore? Wouldn't you rather spend that time reading something fun, entertaining, insightful, interesting, or informational? Netpop | Connect: Media Shifts to Social 2009 Preview.
Boyd :: Publications. Multi Platform Social Media - diagram-by-diagram | PERSONALIZE M. Over the years I have been creating lots of confusing, busy yet at the same time, meaningful and insightful emergent media diagrams.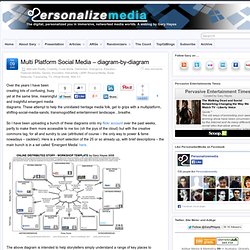 These attempt to help the uninitiated heritage media folk, get to grips with a multiplatform, shifting-social-media-sands, transmogodified entertainment landscape…breathe. So I have been uploading a bunch of these diagrams onto my flickr account over the past weeks, partly to make them more accessible to me too (oh the joys of the cloud) but with the creative commons tag, for all and sundry to use (attributed of course – the only way to power & fame nowadays – cackles!). Here is a short selection of the 25 or so already up, with brief descriptions – the main bunch is in a set called 'Emergent Media' here.
The above diagram is intended to help storytellers simply understand a range of key places to distribute their story fragments or triggers online. Gary Hayes Emerging Media Diagrams. Social Networking's New Global Footprint. Social Network Software by Telligent | Enterprise Online Communi. 50 Essential Strategies For Creating A Successful Web 2.0 Produc. UberVU - Track conversations wherever they go on the Web and rep. Social Media for Business: The Dos. Sarah Evans is the director of communications at Elgin Community College (ECC) in Elgin, Illinois.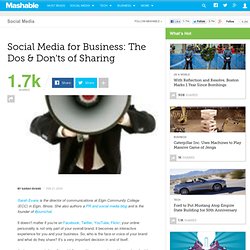 She also authors a PR and social media blog and is the founder of #journchat. It doesn't matter if you're on Facebook, Twitter, YouTube, Flickr; your online personality is not only part of your overall brand, it becomes an interactive experience for you and your business. So, who is the face or voice of your brand and what do they share? SocNets Grow 93% Since 2006. The report, "Social Networkers US: Who they are and what they mean for next generation advertising," draws from a projectable sample of 4,384 broadband users to pinpoint the specific demographics, online behaviors, preferences and "passions" of online contributors and social networkers.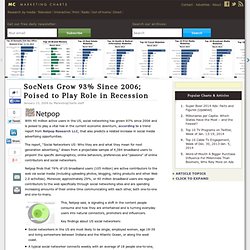 Netpop finds that 76% of US broadband users (105 million) are active contributors to the web via social media (including uploading photos, blogging, rating products and other Web 2.0 activities). Moreover, approximately 29%, or 40 million broadband users are regular contributors to the web specifically through social networking sites and are spending increasing amounts of their online time communicating with each other, both one-to-one and one-to-many. IAB UK : News and comment : Engage for Social Media. Is it possible to hold a social media conference without someone mentioning Barack Obama?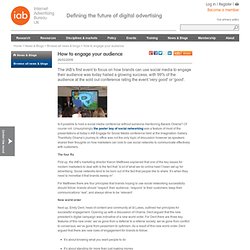 Of course not. Unsurprisingly the poster boy of social networking was a feature of most of the presentations at today's IAB Engage for Social Media conference held at the Imagination Gallery. F | Social Media (p. 1) Advertising - Tropicana Discovers Some Buyers Are Passionate Abo. Logic Emotion: The Collective Is The Focus Group. Originally posted at Experience MattersWe've been thinking about the current economic climate and the pressure, not to mention scrutiny digital (if not all) initiatives are currently under.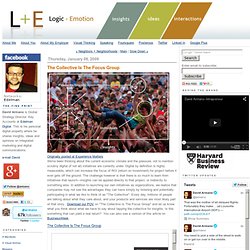 Digital by definition is highly measurable, which can increase the focus of ROI (return on investment) for project before it ever gets off the ground. The challenge however is that there is so much to learn from initiatives that launch—insights can be applied directly to that project, or indirectly to something else. In addition to launching our own initiatives as organizations, we realize that companies may not see the advantages they can have simply by listening and potentially participating in what we like to think of as "The Collective". Every day, millions of people are talking about what they care about, and your products and services are most likely part of that story.
Plugging in to Social Networkers' Behavior. In the social media arena, marketers know that traffic is high and increasing, but social networks have yet to find a solid revenue stream.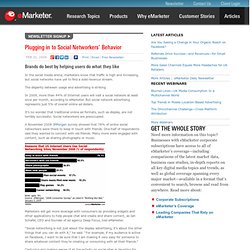 The disparity between usage and advertising is striking. In 2009, more than 44% of Internet users will visit a social network at least once per month, according to eMarketer. But social network advertising represents just 5% of overall online ad dollars. It's no wonder that traditional online ad formats, such as display, are not terribly successful. Social networkers are preoccupied. Why Big Brands Struggle With Social Media. Tom Smith is the founder of Trendstream, a research consultancy that specialises in providing research and consultancy on social media, web and mobile. He formerly worked as Head of Consumer Futures at Universal McCann. Social media continues to grow globally in terms of adoption, usage, interest and impact in a massive way. It's undeniably changing the way that content and information work particularly in terms of the publishing of consumer opinion.
This has transformed the way that consumers relate to brands and the way that brands should operate, driving direct interaction, transparency and a more consultative approach. How to Reach Baby Boomers with Social Media - ReadWriteWeb. A new report from Forrester Research revealed some surprising information: apparently Baby Boomers aren't exactly the technology Luddites that people think they are. In fact, more than 60 percent of those in this generational group actively consume socially created content like blogs, videos, podcasts, and forums. What's more, the percentage of those participating is on the rise. Facebook Launches Commenting Widget - ReadWriteWeb. Facebook launched its first social widget for use outside of Facebook's own site today: the Comments Box. The Comments Box is a comments widget that was built on top of Facebook Connect, and that will allow bloggers and publishers to easily implement a Facebook Connect enabled commenting system on their sites.
A number of sites already used Facebook Connect to make it easier for their users to sign in to their services and leave comments, but this is the first time that Facebook itself ventures into this business. Competition Google, of course, already offers a similar service with Google Friend Connect, though this offers far more features than just the ability to leave comments. The Vitrue 100 - Top Social Brands of 2008 « Vitrue Blog - we ma. Yes, LinkedIn is a very different social network with very different users and a very different purpose than the likes of Facebook, Twitter and Pinterest. But, that doesn't mean it's not a platform that's always experimenting, evolving and changing like the others. In the past few months alone, LinkedIn has made alterations that you, especially if you're B2B, must be aware of in case they affect current strategy or serve as inspiration for new LinkedIn tactics for your brand.
Congratulations! You're a Publisher! A Top 25 List of Social Media, Web 2.0. User-Generated Content Draws Fans. Web and Social Networking Use in Latin America. Social Network User Demographics. SOCIAL NETWORKING GOD: 350 Social Networking Sites. The Top 10 Social Networks for Generation-Y. Tony-b Machine. Sapient Vending Machine: First Look Reviews. A Collection of Social Network Stats for 2009. NpTech Summary: Best (free) Sources To Get Social Media Audience. Focused Social Networks Build Community. Blogs Can Ease Customer Communication. Think Social Influence Marketing in 2008. Academia meets Social Marketing. Portable Social Graphs - Imagining their Potential - SlideShare. Bank On It: Facebook Will Pass MySpace in US Popularity. The Secrets of Marketing in a Web 2.0 World. Social Networks and 40-Something Women. 130 Social Media Marketing Examples From Major Brands | SocialCo. All about Google - SlideShare.