Art
22 Unbelievable Places that are Hard to Believe Really Exist. Our world is so full of wonders that new and amazing places are discovered every day, be that by professional photographers or amateurs.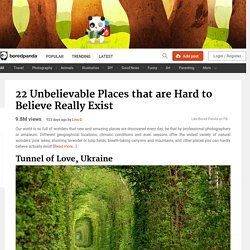 Different geographical locations, climatic conditions and even seasons offer the widest variety of natural wonders: pink lakes, stunning lavender or tulip fields, breath-taking canyons and mountains, and other places you can hardly believe actually exist! Some of the pictures in this collection will be of all natural sights you can find while traveling around the world, while the others have experienced human interference – but even in these cases, the result of such collaboration is spectacular. The Japanese learned how to tame thousands of orchids and form a romantic tunnel out of them; another one was formed all the way in Ukraine by a passing train; and what eventually ends up as hot tea in our mugs, first grows in stunning tree fields in Asia. Minimiam: Little People in the World of Food. Do you remember the little people from the Tiny Street Art Project by Slinkachu?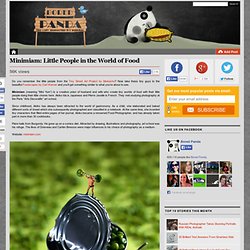 Now take these tiny guys to the beautiful Foodscapes by Carl Warner and you'll get something similar to what you're about to see. Minimiam (meaning "Mini Yum") is a creative union of husband and wife who create tiny worlds of food with their little people doing their little chores here. Akiko Ida is Japanese and Pierre Javelle is French. They met studying photography at the Paris "Arts Decoratifs" art school. The Lion City. Very Little Stars. Projection mapping live performance art - The Alchemy of Light by a dandypunk.
Symmetry. TEDxSUMMIT - The Power of X. Where the Hell is Matt? 2008. Where the hall is Matt? 2012. EXISTENCE A TIMELAPSE PROJECT. The Manhattan Project HD1080P. Little BANGALORE. Hayaku: A Time Lapse Journey Through Japan.
---