Comunity
Unite 11: Serious Games Showcase - Unity Videos
Erik Bethke and The World of GoPets
The DICE Conference was a good one for me this year. It was truly great after 5 years in Korea to be back living here in LA again and catching up with so many people that I have not seen for years. I also got a chance to meet a lot of cool people for the first time. I met Richard Garfield of MTG fame, and I am looking forward to having a chance to play some games with him in Seattle this week. When playing in the poker tournament was very cool to be seated between Greg Zeschuk of Bioware and Mike Mohraine of Blizzard. Greg and I chatted affably and I enjoyed hearing what are the things that Greg is thinking about lately (it has been over 5 years since he co-edited my book on game development), Mike on the other hand had to suffer my fan boy shock of sitting next to him and I think he had decided a while ago he just did not need to add any more friends.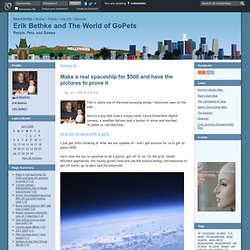 Our Director, Dr. Katherine Isbister recently addressed an audience at the Google Tech Talk series. Check it out. Emotion and Motion: Using Movement Design to Shape User Experience (Katherine Isbister) Posted by: SGL Category: Uncategorized Tags: Add Comment » Permalink / Full Article
Social Game Lab
Virtual Experiences Research Group - University of Florida
Welcome to the Virtual Experiences Research Group (VERG) at the University of Florida. Our goal is facilitate individual training through the use of human-computer interactions via virtual humans. Please visit our Projects page to see type of work we do, learn some more about or collaborations with highly talented individuals both inside and outside our field, and see what literature has been published as a result of our research. We urge you to contact us at verg@cise.ufl.edu if you are interested in learning more or have any questions.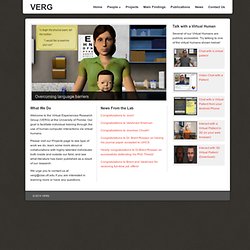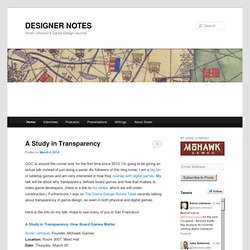 DESIGNER NOTES
A few weeks ago and with little fanfare, Spore turned five-years-old. The game was announced at GDC 2005 during Will Wright's annual mind-blowing speech on whatever floats through his head. The initial concept – of a game in which the player evolves a species from cellular development to galactic dominion – generated an immense amount of hype, which the game struggled to fulfill upon its 2008 release. Spore received middling reviews from the gaming press, who found the gameplay weak and unfocused, and harsh criticism from the scientific press, who felt tricked by the promise of a game built from real science. For myself, the time is now right to put down my own thoughts on Spore's development – my memories of the project are still fresh, yet enough time has passed to ensure that criticism doesn't impact active teams.
MODSIM World Conference 2011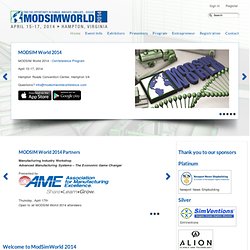 Find the opportunity in change. Innovate, simulate....Evolve! Connect @ MODSIM World 2014 More than ever, decision makers, solution providers and ModSim professionals have a need to innovate, adapt and evolve to respond to changing environments.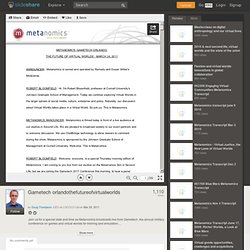 Gametech orlandothefutureofvirtualworlds
1,110 views Join us for a special date and time as Metanomics broadcasts live from Gametech, the annual military conference on games and virtual worlds for training and simulation.... Join us for a special date and time as Metanomics broadcasts live from Gametech, the annual military conference on games and virtual worlds for training and simulation. Virtual worlds have become an important technology to support training and community outreach.
Gaming
Gaming Education and Scholarly Communication Competition to Create Games that Make Learning Fun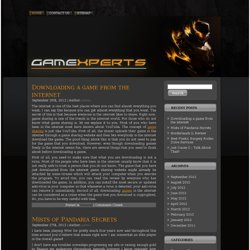 I have been playing Wow for pretty much four years now and throughout this time around you'd believe that means right now I am somewhat an élite player in the overall game! I don't have any troubles nowadays progressing my alts or raising enough gold to finance my endeavors throughout Azeroth however i know precisely how tough it may be trying to maintain the overall game and remain on top particularly with the brand new Mists of Pandaria expansion which will begin to see the WoW economy get into over-drive. I am the kind of player who likes to achieve the best gear possible whenever possible for nearly every achievable every situation. I love to be perfectly outfitted to ensure that I'm able to rapidly blast through areas with no difficulty! It isn't that I am bad at the overall game, and should not progress without getting this stuff, it is simply Personally i think I Have To ask them to. That is what brings me pleasure in the overall game, a standing kinda factor.
Home - VS Games 2010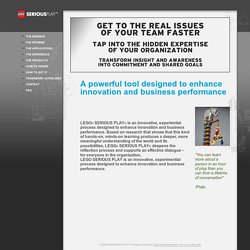 LEGO® SERIOUS PLAY® is an innovative, experiential process designed to enhance innovation and business performance. Based on research that shows that this kind of hands-on, minds-on learning produces a deeper, more meaningful understanding of the world and its possibilities, LEGO® SERIOUS PLAY® deepens the reflection process and supports an effective dialogue – for everyone in the organization.LEGO SERIOUS PLAY is an innovative, experimential process designed to enhance innovation and business performance.
since 2005)
About this original series Learning Without Frontiers is a global platform for disruptive thinkers and practitioners from the education, digital media, technology and entertainment sectors who come together to explore how new disruptive technologies can drive radical efficiencies and improvements in learning whilst providing equality of access. Episodes of Learning Without Frontiers This is Learning Without Frontiers Learning Without Frontiers (LWF) is a global platform that facilitates the ongoing dialogue about the future of learning. LWF attracts an engaged and open-minded audience who are forward thing, curious and receptive to new ideas and perspectives about education, teaching and learning. They are an international audience of thought leaders, policy makers, innovators, entrepreneurs and leading practitioners from across the education, digital media and technology sectors.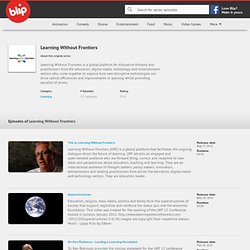 Game Based Learning 2010 - Video - Video from Game Based Learning 2009
MIT's Education Arcade Releases Online Game for STEM Learning Seeks High School Math and Biology Teachers to Participate in Research Pilot CAMBRIDGE, Mass. – MIT's Education Arcade has spent two years collaborating with teachers and game developer, Filament Games, to develop an immersive virtual environment to support high school math and biology instruction. The result is The Radix Endeavor, an online multi-player game released today. The Education Arcade researchers will study implementation of the game in high school classrooms across the country through the end of the academic year.The Radix Endeavor places students in an Earth-like world with a technical and social situation similar to our 1400s. Players are adventurers on an island at a crucial juncture. As political forces make arbitrary and greedy decisions that threaten the health of the island and its inhabitants, a group of dedicated and curious rebels are rising to oppose them.
The Education Arcade
Ian Bogost on Serious Games
For more information visit http://members.ImmersiveEducation.org The Immersive Education Initiative is a non-profit international collaboration of universities, colleges, research institutes, consortia and companies that are working together to define and develop open standards, best practices, platforms, and communities of support for virtual reality and game-based learning and training systems. Thousands of faculty, researchers, staff, administrators and students are members of the Immersive Education Initiative, which is growing at the rate of over 100 new members every month. Initiative members have early access to , where they can conduct classes and meetings within a growing collection of virtual worlds. Initiative members can also use to build custom virtual learning worlds, simulations, and learning games.
Indie Game Challenge - How to Enter
The Registration Period is now closed for the 2012 Indie Game Challenge. Check back on 1.17.12 for the finalists announcement. How to Enter the 2012 Indie Game Challenge Ready for your chance to show the gaming industry what you've got? Here's how to enter the 2012 Indie Game Challenge: 1) Read the Official Contest Rules and register online using the button below
Coventry University - Serious Games and Virtual Worlds
Untitled Document
The Digital Games Research Association (DiGRA) announces the Call for Participation for DiGRA 2014 to be hosted by the University of Utah's Entertainment Arts & Engineering program and held at Snowbird Ski & Summer Resort in Snowbird, Utah, August 3-6, 2014. Continue reading Interest in (and use of) digital learning environments has increased over the last decade, leading to a proliferation of designs for simulation andgame-based learning. One important characteristic of such designs is the extent to which they model the epistemological norms of real practices. Shaffer, for example, describes epistemic games as learning environments that are designed explicitly to help players develop "ways of seeing and solving problems that matter in society" and "…have the power to help shape how young people see themselves and the world around them."
Welcome to Under the Mask - Under the Mask 2010
Under the Mask is a conference series at the University of Bedfordshire that focuses upon the multi-faceted issue of the gamer. Culturally, socially, psychologically, professionally, the list of masks worn by the gamer is endless. This conference series aims to penetrate these masks, investigating why they are worn, how they are used, and how they are constructed by gaming culture, game developers, and by the gamers. Under the Mask 6 is scheduled to take place in June 2014. Under the Mask 6 is organized by the University of Bedfordshire, UK, in association with the University of Hertfordshire, UK and the Swinburne University of Technology, Australia. The 'Under the Mask' conference series also provides a unique opportunity to play, watch and make games amongst fellow gamers.
JVRC 2010
Interactive Systems and User Experience Lab
Issue 1001, 2010
Game Research » Spieleforschung in Deutschland
Game Research - The art, business, and science of video games » Home