Deserts
Cinnamon Sugar Pull-Apart Bread. Looks yummy, right?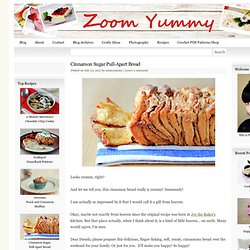 And let me tell you, this cinnamon bread really is yummy! Immensely! I am actually so impressed by it that I would call it a gift from heaven. Okay, maybe not exactly from heaven since the original recipe was born in Joy the Baker's kitchen. But that place actually, when I think about it, is a kind of little heaven… on earth. 2-Minute Chocolate Chip Cookie For One. This is one of those 'I-need-a-cookie-right-now-or-I-die' recipes that can be prepared in almost no time.We all know that kind of situation, don't we?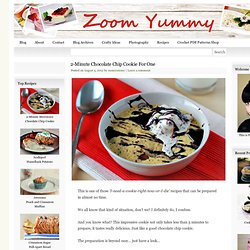 I definitely do, I confess.And you know what? This impressive cookie not only takes less than 5 minutes to prepare, it tastes really delicious. Www.thesweetslife.com/2011/08/cheesecake-stuffed-strawberries.html. These aren't anything complicated.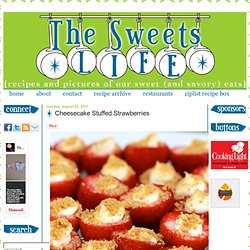 With five ingredients, they take only a few minutes to put together. In fact, these were probably the least time-intensive food at my Cheesecake Extravaganza. Yet, I had more than a few people come up and proclaim their love for the finger food. You don't have to throw a cheesecake party to serve these....I imagine they'd be welcomed just about anytime! Another great party food, these can be made ahead of time. Popsicles!
Jun29 Not to sound full of myself, but I'm pretty sure this is the be all, end all of popsicle roundups.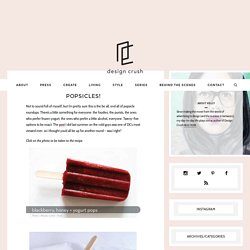 There's a little something for everyone: the foodies, the purists, the ones who prefer frozen yogurt, the ones who prefer a little alcohol, everyone. Tweny-five options to be exact. Apple Pies. I know, I've made a few pies lately.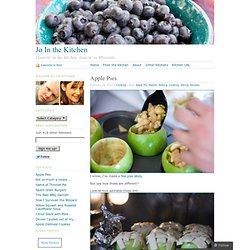 But see how these are different? Look at how adorable these are! I mean, come on. Could you resist? I sure couldn't. Mint Chocolate Chip Cookies Recipe. Oreo and Peanut Butter Brownie Cakes. So, after being gone all last week, this has been catch up on the house week.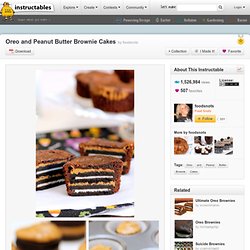 Mostly laundry actually. Man, who knew that a weeks worth of laundry from 5 people could be so daunting. Yikes!! But I am kind of behind on my cooking and baking as well since I've been gone and cleaning. Mini Peanut Butter and Nutella Cheesecakes | Just Everyday Me. 28 Dec 2011 One of the perks of being a student (and right now as I'm in the middle of college applications and interviews there don't seem to be many) is that you get a long Christmas break.
This is what I've done since Christmas: Stayed in my PJs all day. Better-Than-Crack-Brownies. I'm sorry for doing this to you.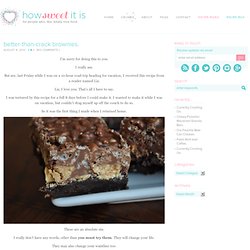 I really am. But see, last Friday while I was on a 10-hour road trip heading for vacation, I received this recipe from a reader named Liz. Liz, I love you. That's all I have to say. I was tortured by this recipe for a full 8 days before I could make it. Red Velvet Cheesecake Brownies. Red Velvet Cheesecake Brownies These Red Velvet Cheesecake Brownies are rich, decadent and so perfect for Valentine's Day!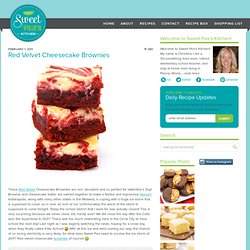 Brownie and cheesecake batter are swirled together to make a festive and impressive dessert. Indianapolis, along with many other states in the Midwest, is coping with a huge ice storm that is supposed to cover us in over an inch of ice. Unfortunately the worst of the storm is supposed to come tonight. How To Make Perfect Brownies. I've tried lots of brownie recipes: Boxes, scratch, frosted, plain, nuts, chips, fudge … Each of them has something to like, but depending on my mood I might want a change of pace.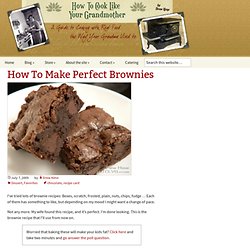 Not any more. My wife found this recipe, and it's perfect. I'm done looking. Cute & Easy Mini Santa Hat Brownies. *Post Edit:- I had forgotten to mention the step where the sugar goes in the recipe image below….as pointed out by several people in the comments. So, Add the sugar when you melt the chocolate in the butter. =) I have now edited the image to include that and I hope this clears things up. Sorry again for the accidental omission.
Three Safe-to-Eat Cookie Doughs: Chocolate Chip, Sugar, and Cake Batter! I'm siiiiick. If you follow Willow Bird Baking on Facebook or Twitter (you do, right?) , you've probably heard me whining about it lately (okay, maybe this isn't the best way to encourage you to follow). It started with a sore throat and has turned into a beastly, phlegmatic ogre of a cold that has taken up residence in my chest and commenced hanging draperies and such. The Infamous Jacques Torres Chocolate Chip Cookies.
Now, I have a chocolate chip cookie recipe that I swear by. I love it, I think it is incredible, and I haven't changed my mind about that. However, as much as it pains me to say it, these chocolate chip cookies by Jacques Torres are absolutely, without a doubt, the best chocolate chip cookies that I have ever made or tasted in my entire life. I guess that's why they call him Mr. Pumpkin Cupcakes With Cinnamon Cream Cheese Frosting. I couldn't believe my eyes this week when I saw the ad for Pumpkin Spice Lattes in my local Starbucks. Pumpkin Spice already? But there's still a little more summer to be had, isn't there? Of course, it was impossible to stay upset for too long; after all, this is lovely pumpkin -- one of my favorite flavors of all time -- that we're talking about!
So, I ransacked my pumpkin-flavored recipes to find this one for Pumpkin Cupcakes. Chocolate Chip Cookie Dough Cupcakes. If a diabetic coma induced by cupcakes is something you're searching for… you're in luck! I'm kidding, but this sweet treat might take you pretty darn close. These little guys deliver tons of surprises in every bite.
They are quite simply – magical! Cool Mint Patties. Cinnamon Toast Rolls. Raspberry Cupcakes -DK.
---