Society
Facebook and BlackBerry maker Research in Motion (RIM) are set to meet with Home Secretary Theresa May and other UK officials as the government investigates what roles the platforms played in organizing recent riots in London. When asked whether Twitter would be joining the talks, a spokesperson said merely, "We'd be happy to listen." Facebook's official statement read a little differently: "We look forward to meeting with the Home Secretary to explain the measures we have been taking to ensure that Facebook is a safe and positive platform in the UK at this challenging time."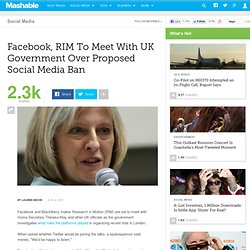 Facebook, RIM To Meet With UK Government Over Proposed Social Media Ban
www.spunk.org/texts/otherpol/critique/sp000713.txt
www.spunk.org/library/intro/sp000283.txt
I went to a dinner party at a friend's home last weekend, and met her five-year-old daughter for the first time. Little Maya was all curly brown hair, doe-like dark eyes, and adorable in her shiny pink nightgown. I wanted to squeal, "Maya, you're so cute! Look at you! Turn around and model that pretty ruffled gown, you gorgeous thing!"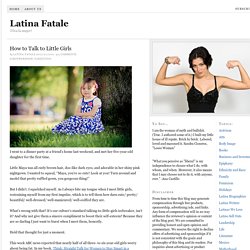 (Photo by Alex Martin/The Fulcrum) For more stories from this school visit The Fulcrum . Email OTTAWA (CUP) — "And then we went back to my place and fucked," the girl ahead of me in line at the coffee shop triumphantly declared, catching her friend up on the weekend's events. "I can't believe you did that," responded the second girl, incredulously.
Emma Goldman, Anarchism and Other Essays (Third revised edition, New York: Mother Earth Publishing Association, 1917)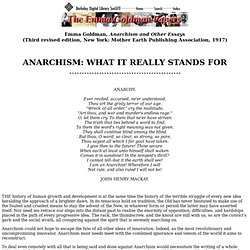 The War on Video Games
Swearing to Make Your Point: A Tale of F**k and Sh*t
Profanity is a divisive subject. Some think obscenities have no place in any polite conversation, ever; some feel, judiciously applied, profanity is the best flavor in their communication spice rack; others lob expletives like they're trying to unlock a coveted F**k-Yeah Four-Letter Words badge. It's a touchy subject, and one at the focus of some enjoyable debate in the past week. So let's talk about it, shall we? Note: This post is centered around a bunch of developers arguing about cursing in presentations, but the discussion is applicable beyond those bounds, so if you aren't a developer, don't let that turn you off. Also, since this post is about profanity, you're likely to find some ahead.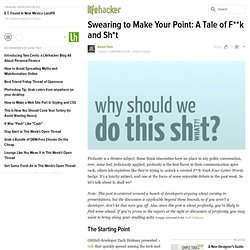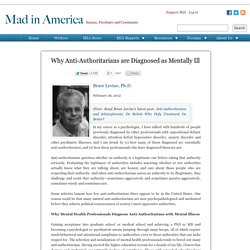 (Note: Read Bruce Levine's latest post: Anti-Authoritarians and Schizophrenia: Do Rebels Who Defy Treatment Do Better? In my career as a psychologist, I have talked with hundreds of people previously diagnosed by other professionals with oppositional defiant disorder, attention deficit hyperactive disorder, anxiety disorder and other psychiatric illnesses, and I am struck by (1) how many of those diagnosed are essentially anti-authoritarians , and (2) how those professionals who have diagnosed them are not. Anti-authoritarians question whether an authority is a legitimate one before taking that authority seriously. Evaluating the legitimacy of authorities includes assessing whether or not authorities actually know what they are talking about, are honest, and care about those people who are respecting their authority.
Why Anti-Authoritarians are Diagnosed as Mentally Ill | Mad In America
You're inundated with new contracts, Terms of Service, privacy policies, and disclaimers for every new service you use, but reading them all is next to impossible for a normal human being. To help solve this problem, we've looked at the language of most Terms of Service agreements to come up with the main words and sections everyone should pay attention to. A recent paper from Carnegie Mellon suggests it would take the average Internet user about 76 days to read all their privacy policies . The researchers found that of the top 75 websites, the average length of a privacy policy is 2,514 words. Of course, for every privacy policy a Terms of Service, end user agreement, or other contract also exists.
How to Quickly Read a Terms of Service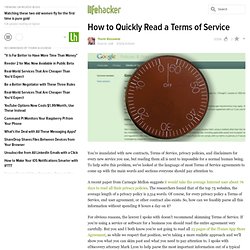 Docracy is a free web service that not only provides legal documents for anything from a non-disclosure agreement to an apartment lease (and more), but it also lets you sign the documents as well. It's expensive to hire a lawyer when you need a legal document drafted, but you don't want to craft an agreement that won't hold up. While an actual lawyer will almost always be a better option than modifying an existing legal document from a database, if you're on a budget or just need something standard you can probably find it at Docracy and save yourself some cash.
Docracy Provides Free Legal Documents for Many Common Situations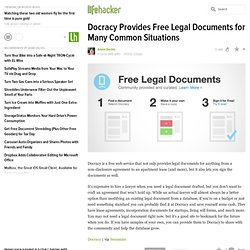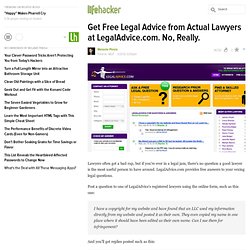 Lawyers often get a bad rap, but if you're ever in a legal jam, there's no question a good lawyer is the most useful person to have around. LegalAdvice.com provides free answers to your vexing legal questions. Post a question to one of LegalAdvice's registered lawyers using the online form, such as this one: I have a copyright for my website and have found that an LLC used my information directly from my website and posted it as their own.
Get Free Legal Advice from Actual Lawyers at LegalAdvice.com. No, Really.
Eric Blair "It has been written" as the saying goes. For many generations there have been small groups of people who have researched and protested the criminal nature of our rulers who cast their disease on civilization. These activists screamed truth to the masses about humanity's hidden slavery, yet few listened.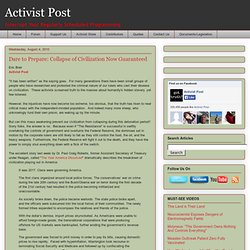 Dare to Prepare: Collapse of Civilization Now Guaranteed
And the nominees for the Push Girls hall of fame are…
Once you start looking, you see Push Girls everywhere. That's what we learned when we asked fans on the PUSH GIRLS Facebook page , "Who's your Push Girl?" After 215 nominees (and counting) , we can honestly say that push girls are young and old, athletes and artists, students and teachers, and everything in between. There's Brittney Kitchens, whose awesome tattoo sums up her attitude: "I don't let my disability get in the way of my happiness… and like my tattoo says, 'Life rolls on.' "
For the suffix, see holism . Holism (from ὅλος holos , a Greek word meaning all , whole , entire , total ), is the idea that natural systems (physical, biological, chemical, social, economic, mental, linguistic , etc.) and their properties, should be viewed as wholes, not as collections of parts. This often includes the view that systems somehow function as wholes and that their functioning cannot be fully understood solely in terms of their component parts. [ 1 ] [ 2 ]
Grandiosity is chiefly associated with narcissistic personality disorder , but also commonly features in manic or hypomanic episodes of bipolar disorder . [ 1 ] It refers to an unrealistic sense of superiority, a sustained view of oneself as better than others that causes the narcissist to view others with disdain or as inferior. It also refers to a sense of uniqueness, the belief that few others have anything in common with oneself and that one can only be understood by a few or very special people. [ 2 ]
Grandiosity
Megalomania
Megalomania is a psychopathological disorder characterized by delusional fantasies of power , relevance, or omnipotence . 'Megalomania is characterized by an inflated sense of self-esteem and overestimation by persons of their powers and beliefs'. [ 1 ] Historically it was used as an old name for narcissistic personality disorder prior to the latter's first use by Heinz Kohut in 1968, and is used these days as a non-clinical equivalent. [ 2 ] [ 3 ] It is not mentioned in the Diagnostic and Statistical Manual of Mental Disorders (DSM) [ 4 ] or the International Statistical Classification of Diseases (ICD). [ edit ] Etymology The word megalomania is derived from the Greek words "μεγαλο": megalo-, meaning large or great, and "μανία": mania , meaning madness, frenzy. The first attested use of the word "megalomania" in English is in 1890 as a translation of the French word "mégalomanie". [ edit ] Proposed distinction from narcissism: Bertrand Russell
A god complex is an unshakable belief characterized by consistently inflated feelings of personal ability, privilege, or infallibility. A person with a god complex may refuse to admit the possibility of error or failure, even in the face of complex or intractable problems or difficult or impossible tasks, or may regard personal opinions as unquestionably correct. [ 1 ] [ 2 ] The individual may disregard the rules of society and require special consideration or privileges. [ 1 ] God complex is not a clinical term or diagnosable disorder, and does not appear in the Diagnostic and Statistical Manual of Mental Disorders (DSM) . The first person to use the term god-complex was Ernest Jones (1913/51) [ 3 ] His description, at least in the contents page of Essays in Applied Psycho-Analysis describe the God Complex as belief that one is a god [ 4 ] [ edit ] In fiction
God complex
San Francisco Blocks Cell Service To Thwart Protest, Draws Ire of Anonymous