People
Get flash to fully experience Pearltrees
Timothy Francis Leary (October 22, 1920 – May 31, 1996) was an American psychologist and writer, known for his advocacy of psychedelic drugs . During a time when drugs such as LSD and psilocybin were legal, Leary conducted experiments at Harvard University under the Harvard Psilocybin Project , resulting in the Concord Prison Experiment and the Marsh Chapel Experiment . Both studies produced useful data, but Leary and his associate Richard Alpert were fired from the university nonetheless because of the public controversy surrounding their research.
Scientists are perhaps the most influential people in the world today. They are responsible not only for the great practical advances in medicine and technology, but they also give us a deep understanding of what the world is and how it works.
Women intellectuals have been playing an increasingly important role in shaping thought and culture.
Albert Einstein ( pron.: / ˈ æ l b ər t ˈ aɪ n s t aɪ n / ; German: [ˈalbɐt ˈaɪnʃtaɪn] (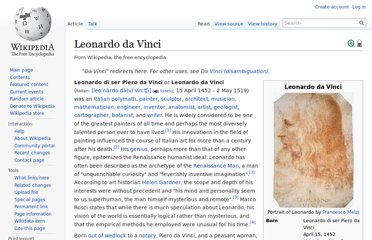 Signature of Leonardo da Vinci Leonardo di ser Piero da Vinci ( Italian pronunciation: [leoˈnardo da ˈvintʃi]
Edison as a boy Thomas Alva Edison (February 11, 1847 – October 18, 1931) was an American inventor and businessman . He developed many devices that greatly influenced life around the world, including the phonograph , the motion picture camera , and a long-lasting, practical electric light bulb .
" In almost every step of progress in electrical engineering, as well as radio, we can trace the spark of thought back to Nikola Tesla " - Ernst F. W. Alexanderson
Benjamin Franklin (January 17, 1706 [ O.S.