Vogue
» Miroir 8 bits
CYBERDOLL: site de l'Artiste France Cadet
ratsi.free
URBAN A&O
XEFIROTARCH
Statistiques Internet, Etienne Cliquet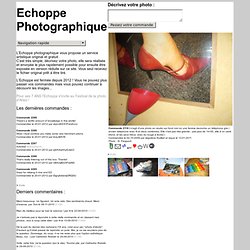 E c h o p p e P H O T O G R A P H I Q U E
Echoppe Photographique L'Echoppe photographique vous propose un service artistique original et gratuit . C'est très simple, décrivez votre photo, elle sera réalisée et envoyée le plus rapidement possible pour ensuite être exposée en version réduite sur ce site.
dIMANCHE eXPOSITION
Ludovic Burel : Another Picture of Me as Dracula 288 p. Broché. 280 photographies noir et blanc. Format : 148 x 210 mm. Design : Regular & Matthieu Mermillon. Isbn : 978.2.917053.00.3.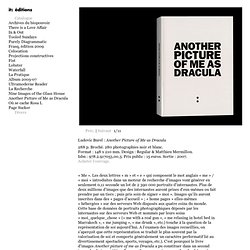 Another Picture of Me as Dracula : readit
Brice Dellsperger's Body Doubles - Reprise, Effects, Doubles&More...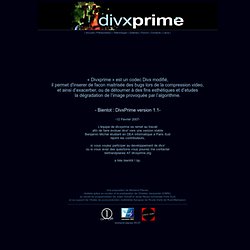 | Accueil | Présentation | Télécharger | Galeries | Forum | Contacts | Liens | « Divxprime » est un codec Divx modifié, il permet d'inserer de facon maitrisée des bugs lors de la compression video, et ainsi d'exacerber, ou de détourner à des fins esthétiques et d'etudes la dégradation de l'image provoquée par l'algorithme. - Bientot : DivxPrime version 1.1- -12 Fevrier 2007- L'équipe de divxprime se remet au travail afin de faire évoluer divx' vers une version stable Benjamin Michel étudiant en DEA informatique à Paris Sud rejoint les contributeurs,
DivX Prime Official WebSite
Desktop II
net art : adwords happening
Christophe Bruno, avril 2002 http://www.christophebruno.com Honorary Mention at the Prix Ars Electronica 2003 >>> press-book >>> Google.Art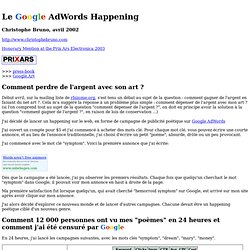 Jason Bruges Studio | Projects Index
Bengt Sjölén
Reflexion Dossier Art Numérique
Proposition Rubrique Hebdo
anouk de clercq
Marius Watz - mariuswatz.com
carsten nicolai
artificiel : installation - performance / arts numériques
eventstructure
anfischer.com | Andreas Nicolas Fischer