Vogue
» Miroir 8 bits
CYBERDOLL: site de l'Artiste France Cadet
ratsi.free
URBAN A&O
XEFIROTARCH
Statistiques Internet, Etienne Cliquet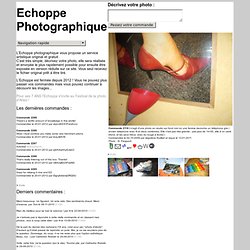 E c h o p p e P H O T O G R A P H I Q U E
Echoppe Photographique L'Echoppe photographique vous propose un service artistique original et gratuit . C'est très simple, décrivez votre photo, elle sera réalisée et envoyée le plus rapidement possible pour ensuite être exposée en version réduite sur ce site.
dIMANCHE eXPOSITION
JODI netart video walkthrough by me On the occasion of JODI's exhibition at Mama Rotterdam, I created a movie. It's a screenrecording of me browsing their chaotic body of work, checking which works are still online, which works still run, exploring…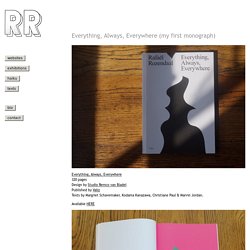 Ludovic Burel : Another Picture of Me as Dracula 288 p. Broché. 280 photographies noir et blanc. Format : 148 x 210 mm. Design : Regular & Matthieu Mermillon. Isbn : 978.2.917053.00.3.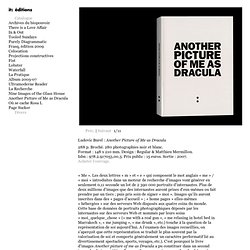 Another Picture of Me as Dracula : readit
Brice Dellsperger's Body Doubles - Reprise, Effects, Doubles&More...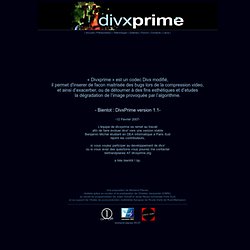 | Accueil | Présentation | Télécharger | Galeries | Forum | Contacts | Liens | « Divxprime » est un codec Divx modifié, il permet d'inserer de facon maitrisée des bugs lors de la compression video, et ainsi d'exacerber, ou de détourner à des fins esthétiques et d'etudes la dégradation de l'image provoquée par l'algorithme. - Bientot : DivxPrime version 1.1- -12 Fevrier 2007- L'équipe de divxprime se remet au travail afin de faire évoluer divx' vers une version stable Benjamin Michel étudiant en DEA informatique à Paris Sud rejoint les contributeurs,
DivX Prime Official WebSite
Desktop II
net art : adwords happening
Christophe Bruno, avril 2002 http://www.christophebruno.com Honorary Mention at the Prix Ars Electronica 2003 >>> press-book >>> Google.Art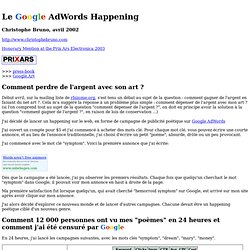 Jason Bruges Studio | Projects Index
Bengt Sjölén
Reflexion Dossier Art Numérique
Proposition Rubrique Hebdo
Anouk De Clercq studied piano in Ghent and film at the Sint Lukas Brussels University College of Art and Design. Her works explore the audiovisual potential of computer language to create possible worlds, many of which have a strongly architectonic character. She has received several awards, including the International Backup Award New Media in Film in 2004 and the Illy Prize at Art Brussels in 2005. Her work has been shown in Tate Modern, Centre Pompidou, Museo Nacional Centro de Arte Reina Sofia, MAXXI, Centre d'Art Contemporain Genève, International Film Festival Rotterdam, Ars Electronica, among others. Anouk De Clercq is affiliated to the School of Arts University College Ghent as an artistic researcher.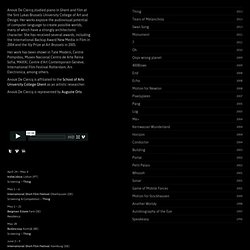 anouk de clercq
Fall 2013: Adjunct professor and research resident at NYU ITP. Also teaching occasional independent workshops in New York, see the code blog for details. Sept 13-Oct 13: All Your Vectors Are Belong To Us, solo show at TM51, Oslo Jul 15-28: CIID, CPH: Quantified Self and Digital Frabrication workshop May 14-Jul 13: Run Computer, Run, GLITCH Festival, Rua Red, Dublin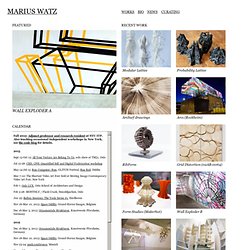 Marius Watz - mariuswatz.com
carsten nicolai
a r t i f i c i e l en : fr search... contact ical : xml current events condemned_bulbes > interstice, caen [fr] Impacts > Wood Street Gallery, pittsburgh [us]
artificiel : installation - performance / arts numériques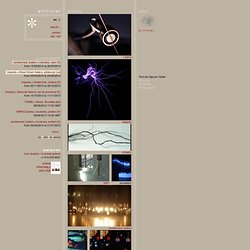 eventstructure
anfischer.com | Andreas Nicolas Fischer