Recipe
Cinnamon Roll Pancakes. Cinnamon Roll Pancakes Updated 9/22/11 to Add: If you're coming here to sample these delicious Cinnamon Roll Pancakes, you just might like the latest recipe that I've posted for Pumpkin Cinnamon Roll Pancakes too.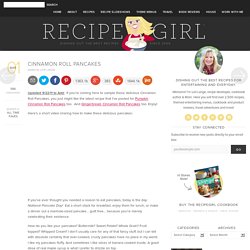 And Gingerbread- Cinnamon Roll Pancakes too. Enjoy! If you've ever thought you needed a reason to eat pancakes, today is the day: National Pancake Day. Eat a short stack for breakfast, enjoy them for lunch, or make a dinner out a manhole-sized pancake… guilt free… because you're merely celebrating their existence. Mint Chocolate Chip Cake. Chocolate cake and I have had a very interesting romance.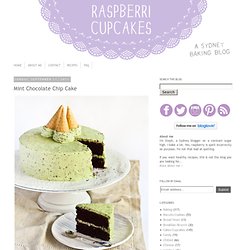 I started off with quite an intense dislike of chocolate cake. I KNOW. But try not to judge me too harshly, I had many bad experiences with store-bought dry, dense mudcakes covered in grainy baking chocolate icing. Nutella Cheesecake Brownies « The Teenage Taste. Nutella Cheesecake Brownies August 28, 2011 § Doesn't that sound like the best dessert ever?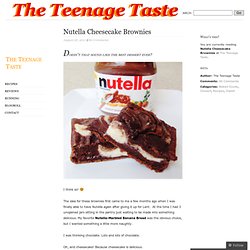 I think so! ;-) The idea for these brownies first came to me a few months ago when I was finally able to have Nutella again after giving it up for Lent. The best new recipes from Smitten Kitchen | punchfork.com. Chocolate Nutella Scotcheroos. Chocolate Nutella Scotcheroos This spin on the classic Rice Krispies Treats is kicked up with the addition of peanut butter, chocolate, Nutella and butterscotch.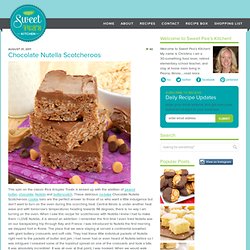 These delicious no-bake Chocolate Nutella Scotcheroos cookie bars are the perfect answer to those of us who want a little indulgence but don't want to turn on the oven during this scorching heat. Central Illinois is under another heat wave and with tomorrow's temperatures heading towards 98 degrees, there is no way I am turning on the oven. When I saw this recipe for scotcheroos with Nutella I knew I had to make them.
---