phonics
Get flash to fully experience Pearltrees
Look at this: [ə]. Do you see a phonetic symbol between the square brackets? (You should see a schwa.) Displaying IPA symbols
This list contains the main sounds of standard British English (the one that's associated with southern England, also often called Received Pronunciation). See the bottom of the page for some important notes. The following letters have their usual values in English: b, d, f, h, k, l, m, n, p, r, s, t, v, w, z. International Phonetic Alphabet (IPA) symbols appear on our Web pages; the text equivalents are for our weekly e-mail newsletters.
Pronunciation of Verbs Ending in - ed These pronunciation rules are for verbs ending in ed: The ending -ed is pronounced as an extra syllable /id/, or as /t/ or /d/ at the end of the simple past and past participle forms of verbs. The pronunciation depends on the final sound of the simple form of the verb:
Phonemic chart
Follow these links descriptions to over 3000 free resources for ESL Lesson plans Board games : Teach and practice English grammar and structure in a communicative way. Grammar worksheets - Teach & practice grammar lessons with these worksheets Vocabulary Worksheets : Teach Vocabulary with carefully planned worksheets
We use Cisco wireless in all our buildings for convenient and immediate online access. You will need the following for the files below: English Pronunciation/Listening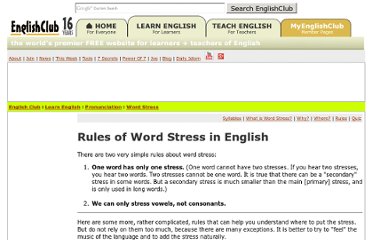 There are two very simple rules about word stress: One word has only one stress. (One word cannot have two stresses.
back to the title page Vowels and Consonants (2nd edition) Peter Ladefoged 1.
This web page is for people interested in learning the International Phonetic Alphabet (IPA) symbols.