Midory
Ada Ramos
How to Nest for Less™ — My Life as a DIY Wannabe. Mix 20 millions songs ! The Can-Do Updo | Spark. SleepTiming: Sleep Calculator. What is the single greatest thing we can do for our health? Great Ideas. 6 of the best ... 6-pack challenge | The Sun |Features|Six of the best. Sorry ... the page you requested could not be found.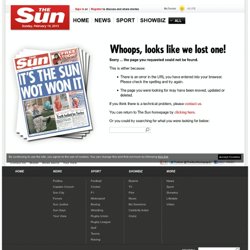 This is either because: There is an error in the URL you have entered into your browser. Please check the spelling and try again. The page you were looking for may have been moved, updated or deleted. If you think there is a technical problem, please contact us. 12 Dozen Places To Educate Yourself Online For Free. Post written by: Marc Chernoff Email All education is self-education.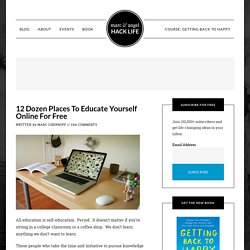 Period. It doesn't matter if you're sitting in a college classroom or a coffee shop. 20 Awesome Do It Yourself Projects. Thursday, June 14, 2012 4:30 am, Posted by Chris Groves | Internet 20 Awesome Do It Yourself Projects Topics: At Home Project Ideas , Creative DIY Home Projects , Do It Yourself Projects for 2012 , Fun How To Projects , What to Do with Extra Stuff Are you bored and have a bunch of extra little items hanging around here and there?
Well we were in the same boat so we decided to round up 20 different awesome at home projects you can do. 10 Awesome Dips Even You Can Make. Home Made Laundy Soap | DIY Laundry Detergent is Cheap and Easy [VIDEO] 12 Amazing DIY Nail Art Designs Using Scotch Tape. 31 Insanely Easy And Clever DIY Projects. Musicovery. Online Fitness Classes. Amazing exercise options are just a mouse-click away—from yoga to ballet to bootcamp.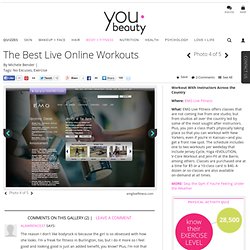 Here are four live online workout sites that are worth their weight in sweat. Check them out! MORE: Toning Shoes: Do They Really Work? Get a Dancer's Body. Refurbish: From Drab to Fabulously Simple Home. Posted by rd on Wednesday, November 2, 2011 · Finally!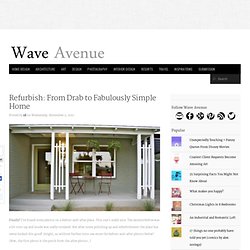 I've found some photos on a before-and-after place. Get inspired. Get motivated. Practice. Improve your drawing skills! Tape trick for perfect winged eyeliner. Happy Monday to ya….hope y'all had a fabulous weekend!!!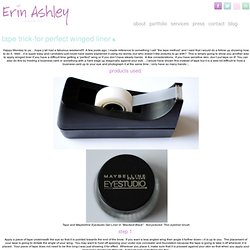 A few posts ago, I made reference to something I call "the tape method" and I said that I would do a follow up showing how to do it. Well…it is super easy and I probably just could have easily explained it using my words–but who doesn't like pictures to go with? FromJapanWithLove: Japanese Bento Box Lunch Box Bento Accessories. Nibeth Ramos - Messages. Pattern search results. Foundation Routine Flawless Skin (Full Coverage Tutorial) Cystic Acne & Scaring Cassandra Bankson. Forever Baby Dresses Rose Bud. Summer Satin Dress Crochet Pattern #13. Short Jacket Baby Crochet Pattern JC54P. Fur Fur Coat Baby Crochet Pattern JC18NB.
Justcrochet Designs by Heather Davidson.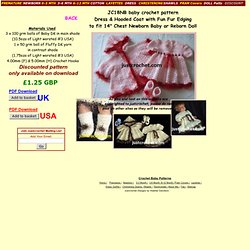 JC18NB baby crochet pattern Dress & Hooded Coat with Fun Fur Edging to fit 14" Chest Newborn Baby or Reborn Doll Materials Used Crochet Baby Patterns PDF Download. *PRECIOUS* 4 piece dress cardigan bonnet and booties for baby girl or reborn doll. pattern by Karen Ashton-Mills. This is a four piece dress set for a newborn baby girl.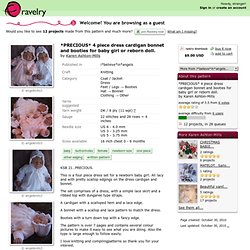 All lacy and with pretty scallop edgings on the dress cardigan and bonnet. The set comprises of a dress, with a simple lace skirt and a ribbed top with dungaree type straps. A cardigan with a scalloped hem and a lace edge. A bonnet with a scallop and lace pattern to match the dress. Angel Dress Crochet Pattern #11. Crocheting patterns from independent designers. Surprising Cleaning New Uses - Real Simple. Follow the Trend With Colorblocked Nails! Why not try it out on your nails instead?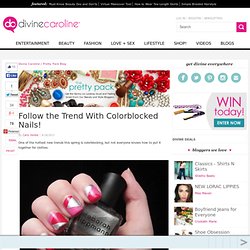 You can keep it simple within the same color family or go bold and crazy—whatever suits your mood! Step 1: Get Your Supplies Together To start, make sure you have all of your supplies handy. For this manicure, you will need three different nail polishes (make sure that at least two of them are thick enough that they can cover the base color), Scotch tape, and a fast-dry topcoat like Seche Vite. GameBoy Color Games | Gamenert | Only The Best Free Online Games. Vietnamese Food, Recipes, and More: Homemade Laundry Detergent. With the rising costs and smaller packaging of almost everything these days, I decided to try my hand at making my own laundry detergent.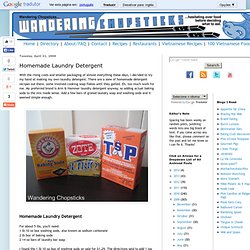 There are a slew of homemade detergent recipes out there, some involved cooking soap flakes until they gelled. Eh, too much work for me. My preferred brand is Arm & Hammer laundry detergent anyway, so adding actual baking soda to the mix made sense. Add a few bars of grated laundry soap and washing soda and it seemed simple enough. A Simple Kindle Fire Slip Case: kindle sewing tutorial series. I received a Kindle Fire for Christmas, it was the perfect present for me, both unexpected and practical. I read that Amazon sold at least 4 million of these for the holidays – so there's a good chance you got one, too. Besides reading books and magazines on the go, Kindles can play on the Internet. If you're in the middle of a great book and find yourself with time to kill during your busy day you'll want to take it with you. And if it's leaving the house, you probably should put it in a pretty carrying case.
How To Mix Chalkboard Paint in Any Color. We love using chalkboards as backdrops for displays and parties (like this one here!). So we were super excited to learn that you can create your own custom colors-and it's really easy! We first learned how from Martha Stewart whose tutorial you can read here. She recommends that you use latex paint, but we tried it out with acrylic paints with much success.
Here's how you too can create your own chalkboard paint... Supplies: 1/2 cup acrylic paint (choose any color you like, or mix colors together to make the perfect shade!) Credit Card Reader and Mobile Credit Card Processing with PayPal Here™ PayPal Here is currently available for iOS (iPhone 3GS and later) and optimized for iPad devices running iOS version 5.0 and later. It is also available for Android smartphone platforms.
In order to run PayPal Here, an Android device must include the following specifications: Android version 2.3.3 (Gingerbread) or later 3.5 mm headset jack with microphone Support for Location Services Internet access (via WiFi or cellular data network) At this time, PayPal Here is not supported on Android tablets. 300 clothing labels for $20. Luckysundae's Photostream. Page 2. A Modern Take on the Doily - $850 Lamp for less than $50. How To Tie a Wind and Fushnicken Resistant Scarf Knot. How to Develop a Photographic Memory. How to Market Your Small Business With No Budget. 20 Best Adele Quotes. Decor du jour: pom poms – DUJOUR MAGAZINE. Riding Hood Coat in Charcoal.
Colorectal personalized ankle boots wedge heeled Oxford shoes. DH-Swimwear-4269-Black Daring Open-Back Plunging One Piece Swimsuit. Sexy Black Halter Neckline Club Dress: Clothing. Homemade Hair Treatments - At Home DIY Hair Treatments. Natural looking beach curls in under 20 minutes! No Heat Curls - Moms Who Wear High Heels and Swear. DIY! 7 new stylish ways to de-clutter your beauty closet. 1980s Hair Tutorial. 25 Headband Tutorials - darlingadventures.com. Feather stamp carving tutorial in Crafts for decorating and home decor. Justcrochet index.htm.
Plumeria. How to Make a Bow Headband. Re-purposing: Tshirts into 5-strand-braided-headbands. Thanks For Your Purchase! Gigantic pom pom in Crafts for decorating and home decor. T-shirt latch hook rug tutorial. Despicable Me Minion. Featured: Giant Doily Rug. The Hunger Games Inspired ArrowMockingjaytree and by qizhouhuang.
Fire Mockingjay Fitted Hoodie by nskiny- 615800637.
Pearltrees videos
---