Art
Oil, Acrylic and Water Color Pigments, Don Jusko. If you can't read my handwriting :-P Here are the oil colors and brands in 8 rows and 10 columns.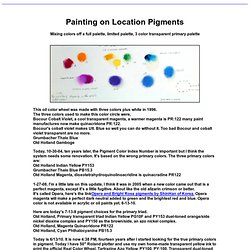 Row 1 1-Blockx Byryum Yellow, 2-Mussini Zinc Yellow, 3-Mussini Cad Yell Med, 4-Mussini Cad Yell Lt, 5-Mussini Cad Yell Med, 6-Mussini Naples Yell Lt, 7-Mussini Cad Orange, 8-Shiva Naples Yell (too soft), 9-Blockx Trans Yellow, 10-Old Holland Gamboge Lake 11-Grumbacher Cad Yell Pale, 12-Mussini Perm Yell Lt, 13-Grum Cad Yell Med, 14-Grum Aureolin Row 2 1-Grum Cad Red Lt, 2-Blockx Venetian Red, 3-Muss Raw Sienna, 4-Muss Raw Umber, 5-Muss Burnt Umber, 6-Muss burnt Sienna, 7-Muss Yell Raw Ocher, 8-Sheva Venetian Red (too cool), 9-Muss Golden Ocher, 10-Old Holland Translucent Yell Oxide, 11-Old Holland Indian Yellow Brown Lake Extra, 12-Old Holland Yellow Orange Lake Extra, 13-W/N Indian Yellow, 14-W/N Indian Red.
Skull-A-Day. Altered Books :: Altered Books Gallery. Art of the Day. Welcome julia and how to make a repeat pattern. Hello hello. thank you Grace for having me this week!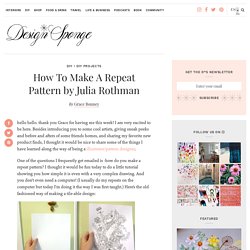 I am very excited to be here. Besides introducing you to some cool artists, giving sneak peeks and before and afters of some friends homes, and sharing my favorite new product finds, I thought it would be nice to share some of the things I have learned along the way of being a illustrator/pattern designer. One of the questions I frequently get emailed is -how do you make a repeat pattern? I thought it would be fun today to do a little tutorial showing you how simple it is even with a very complex drawing. And you don't even need a computer! A painting a Week. Artinfo | The Premier Global Online Destination for Art and Culture. Vintagraph - Vintagraph Fine-Art Wall Prints and Posters.
Japanese Fart Scrolls. I was doing research for another post a while back, and found something a bit…unusual.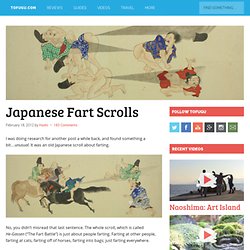 It was an old Japanese scroll about farting. No, you didn't misread that last sentence.
Reference. Supply.
---