Dumb Fun
Whack
Loading... Made by Evan Wallace This demo requires a decent graphics card and up-to-date drivers. If you can't run the demo, you can still see it on YouTube.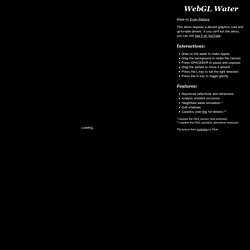 Toren van beren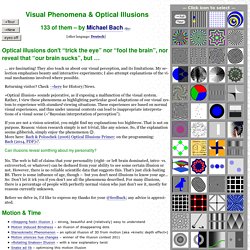 Op­ti­cal il­lu­sion are fas­ci­nat­ing while teach­ing us about our vi­sual per­cep­tion, and lim­its thereof. My em­pha­sis here is on the beauty of per­cep­tual phe­nom­ena, on in­ter­ac­tive ex­per­i­ments, and ex­pla­na­tion of the vi­sual mech­a­nisms in­volved – to the de­gree that they are un­der­stood Be­friend­ing mo­bile de­vices: >50 in­ter­ac­tive demos now with­out Flash, but re­quire up-to-date browser ver­sions. Don't let it irk you if you don't see all the phe­nom­ena de­scribed. For many il­lu­sions, there is a per­cent­age of peo­ple with per­fectly nor­mal vi­sion who just don't see it, often for rea­sons cur­rently un­known.
Wow, if you thought working at your white-collared job, sitting in your well equipped air-conditioned office, thinking that this is probably one of the safest place to be… you may just want to think twice about that. The office is a jungle. Beside having to watch your back against office colleagues who may be wolf in sheep's clothes, you may just have to watch out for those seemingly utilitarian office supplies, because in conjuncture with other seemingly innocent office supplies, they may just result to be one of the deadliest office weapon yet. Below is an example of our favorite office supplies- binder clips, turned into office weapons.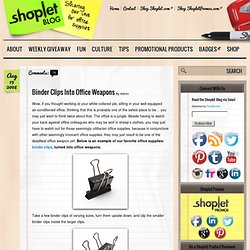 florito.net
Acrobots