Dumb Fun
Whack. WebGL Water. Loading...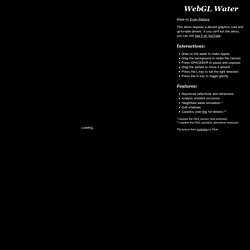 Made by Evan Wallace This demo requires a decent graphics card and up-to-date drivers. If you can't run the demo, you can still see it on YouTube. Toren van beren. Webgl - particles. String spin v.2 - zefrank. Spacializer :: visual sound mixer | flash experiment :: seb chevrel. Particles :: physics simulation | dhtml experiment :: seb chevrel. Optical Illusions and Visual Phenomena. Forked from: [Stardust] KiraKira Waypoints.
Falling Sand Game - hosted by Chirag Mehta @ chir.ag. Draw a Stickman. Create Your Own Snowflakes on zefrank. Binder Clips into Office Weapons.
Wow, if you thought working at your white-collared job, sitting in your well equipped air-conditioned office, thinking that this is probably one of the safest place to be… you may just want to think twice about that.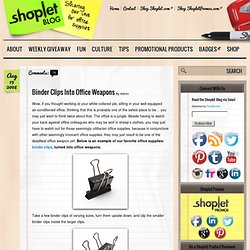 The office is a jungle. Beside having to watch your back against office colleagues who may be wolf in sheep's clothes, you may just have to watch out for those seemingly utilitarian office supplies, because in conjuncture with other seemingly innocent office supplies, they may just result to be one of the deadliest office weapon yet. Below is an example of our favorite office supplies- binder clips, turned into office weapons. BallDroppings. Attractors Flash Game | The Cleverest. Florito.net. Acrobots.
---