Gamedevelopment
G4C Toolkit. SCVNGR's Secret Game Mechanics Playdeck. Some companies keep a playbook of product tips, tricks and trade secrets.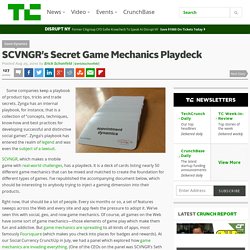 Zynga has an internal playbook, for instance, that is a collection of "concepts, techniques, know-how and best practices for developing successful and distinctive social games". Zynga's playbook has entered the realm of legend and was even the subject of a lawsuit. SCVNGR, which makes a mobile game with real-world challenges, has a playdeck. It is a deck of cards listing nearly 50 different game mechanics that can be mixed and matched to create the foundation for different types of games. I've republished the accompanying document below, which should be interesting to anybody trying to inject a gaming dimension into their products. Made by Pixelate – Understanding Games. Understanding Games is series of four games explaining the basic concepts of video games.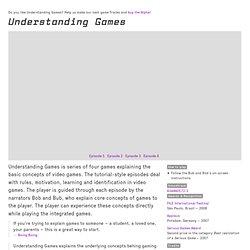 The tutorial-style episodes deal with rules, motivation, learning and identification in video games. The player is guided through each episode by the narrators Bob and Bub, who explain core concepts of games to the player. The player can experience these concepts directly while playing the integrated games. If you're trying to explain games to someone – a student, a loved one, your parents – this is a great way to start.
---