Quotes
Listen_v2_IMG_0006_bw.jpg (JPEG Image, 400x291 pixels) Do not stand at my grave and weep. Do Not Stand at My Grave and Weep is a poem written in 1932 by Mary Elizabeth Frye.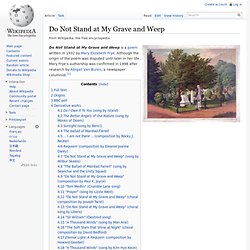 Although the origin of the poem was disputed until later in her life, Mary Frye's authorship was confirmed in 1998 after research by Abigail Van Buren, a newspaper columnist.[1] Full text[edit] The-holstee-manifesto1.jpg (JPEG Image, 600x803 pixels) - Scaled (80%) Find quotes about anything and everything. nEVer DoUBT For A SEconD HOw truLy BEAutIful you aRe. Change_by_jeffrey.png (PNG Image, 900x900 pixels) - Scaled (71%) I'm a lady...pt 1. 6a00d83451b3d069e20133f037aa86970b-pi (PNG Image, 444x444 pixels) Love,johnny,depp,quotes,text,johnny,depp,quote,love-82a8106df5c223a32e94c5dd344d0441_h.jpg (JPEG Image, 500x346 pixels)
Popular Quotes. Tumblr on we heart it / visual bookmark #1856200. Chasing Vivid Dreams. Wisdom Bits - Musical Wisdom from Songsmiths. "If" Rudyard Kipling.
---