Side Dishes
I'll admit it—my workday lunches can get pretty boring. I always think I'm going to finally make use of all those delicious recipes I've been pinning away, but then nighttime rolls around and I'm too busy watching really important things like The Bachelorette and Vampire Diaries. And then morning comes, and I'm running around like a headless chicken and I'm lucky if I remember my keys and bus pass on the way out the door, let alone find time to throw a tasty lunch together. But with a teensy amount of planning, delicious lunches can be just a few easy steps away. All it takes is a trip to the grocery store on a Sunday afternoon, a couple pantry staples, some mason jars, and an hour of your time.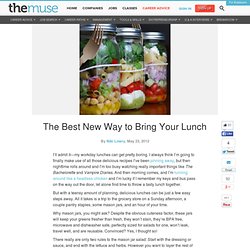 The Best New Way to Bring Your Lunch
A few years ago I did a post on how to make edible spoons and bowls from dough. I thought it was a great idea, but just not with my method and recipe. I searched online to see if anyone else had done something similar and stumbled across a small handful of ideas, but then found this little gem… Roy, the inventor of the Edible Spoon Making Kit has indeed thought of a really simple and clever way to make edible spoons. Roy kindly sent me a kit to try (and will be giving one lucky reader a free kit!). Since receiving the kit, I've made well over 100 spoons (maybe 200 by now) and have enjoyed sitting around a spread of dips and toppings munching away on the spoons.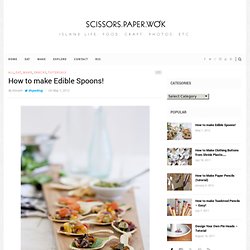 There's nothing like a french fried potato. The taste, the texture, the dip-ability; it's probably one of my favorite go-to comfort foods. However, I don't need the fat of an actual deep fried potato, and I certainly do not favor processed french fries that come from the frozen food section of the grocery store. Enter: Healthy French Fries* Step 1: Peel your 'taters.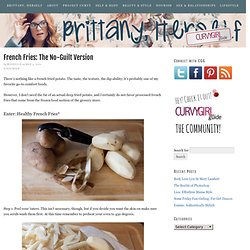 I once made the driest pancake in the world. I can see you sitting at home, staring at your computer screen, and scoffing at my bold statement. Driest pancake in the world? Yeah, right.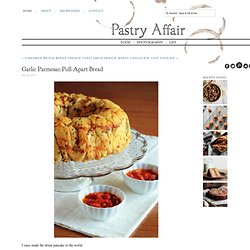 Steven and Chris | Stefanos Seafood Mixed Grill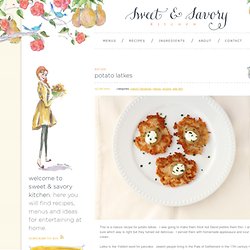 Sweet & Savory - by Virginia Drader
This is a classic recipe for potato latkes. I was going to make them thick but David prefers them thin; I am not sure which way is right but they turned out delicious. I served them with homemade applesauce and sour cream. Latke is the Yiddish word for pancake. Jewish people living in the Pale of Settlement in the 17th century had a diet that consisted mainly of potatoes and bread.
TGIF, friends. Hope that you all have had a lovely week, and that a relaxing weekend lies ahead. I'm looking forward to some friend's-birthday-celebrating, farmers-marketing, coffee-(friends)-dating, cake-baking, church-enjoying, and sleeping-inning here in my little corner of the world this weekend. OH, and the thing I'm perhaps most excited about — choir-directing. Did I mention on here that I'm leading an Easter choir at my church?! I'm kind of over the moon about it.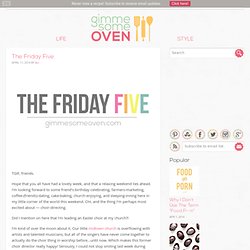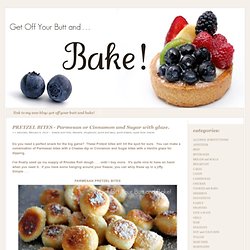 Do you need a perfect snack for the big game? These Pretzel bites will hit the spot for sure. You can make a combination of Parmesan bites with a Cheese dip or Cinnamon and Sugar bites with a Vanilla glaze for dipping.
Sooner or later, all my conversations inevitably turn to food. Don't believe me? Call me up sometime and try to, say, sell me some insurance.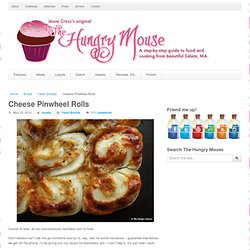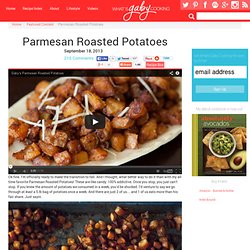 Ok fine. I'm officially ready to make the transition to fall. And I thought, what better way to do it than with my all time favorite Parmesan Roasted Potatoes! These are like candy. 100% addictive. Once you stop, you just can't stop. If you knew the amount of potatoes we consumed in a week, you'd be shocked.
Mashed potatoes are one of my favorite things to eat on Thanksgiving, but this year since I am pregnant and on a really strict low carb diet (for my diabetes) real mashed potatoes are out (bummer). I recently started researching alternatives to some of my favorite dishes because there is NO way my plate will be without a big ole pile of mash potatoes. I came across this recipe that uses cauliflower instead of potatoes. Hmmm not a big cauliflower fan so I wasn't sure.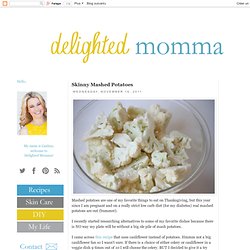 photo credit Who says our favorite cheesy foods have to be off limits? Mozzarella sticks are awesome for every occasion, and make for a delightful snack that most of us have been accustomed to since childhood. Now that we're mature college girls who are more health conscious, we can still have the cheesy snack we all love, guilt-free! What you need