Wacky stuff
The Pirate Queen's Booty Bag Aye, mates, when our Jezebel ain't swabbin' the decks o' this site, her weapons o' choice be pointy sticks an' string. She recently designed this fine booty bag, and is offerin' it free fer the downloadin' to all fans o' Talk Like A Pirate Day. Download 590k .pdf pattern here
International Talk Like A Pirate Day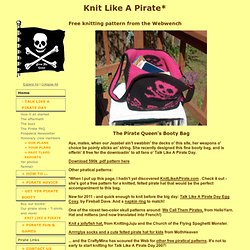 crafty_tardis: Would you like a jelly baby?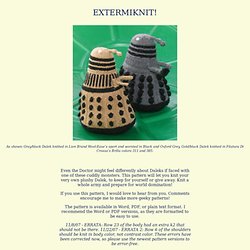 Even the Doctor might feel differently about Daleks if faced with one of these cuddly monsters. This pattern will let you knit your very own plushy Dalek, to keep for yourself or give away. Knit a whole army and prepare for world domination! If you use this pattern, I would love to hear from you.
Tonight in the pantry I was visited by his Pasta-ness Himself: He landed on the counter and waved a Noodly Appendage at me and then he gave me a Knitting Pattern, to distribute freely among the masses so everyone can bask in his glory- raMEN! Flying spaghetti Monster God YARN:Noodles: About 100 feet of Knitpicks Wool of the Andes in natural, dyed with Cushings Perfection Acid Dye in color "Aqualon Yellow"Meatballs: Plymouth Indiecita Alpaca Boucle, color #12 OTHER SUPPLIES:Size 4 and 7 DPNSPolyester stuffing (or use yarn or fabric scraps)Google eyesLight colored thin pipe cleaners, or any craft wireCraft glueDarning needle
FSM sighted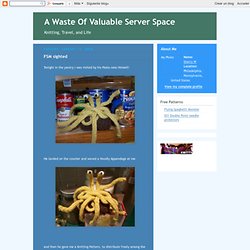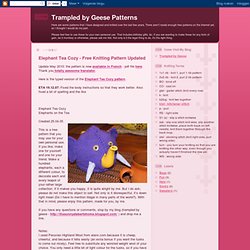 Here is the typed version of the Elephant Tea Cozy pattern. ETA 19.12.07: Fixed the body instructions so that they work better. Also fixed a bit of spelling and the like Elephant Tea CozyElephants on the Tea Created 25.04.05 This is a free pattern that you may use for your own personal use.
Elephant Tea Cozy - Free Knitting Pattern Updated
The pattern for Elefante is finally here for the taking. This pattern came to be when a knitter emailed me after spying a tiny striped elephant on a shelf in Itty-Bitty Hats on page 18. She wanted to know where to get the pattern.
Page 18 Elefante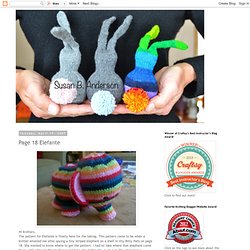 Fall 2007 - Woodins
WOODIN (one skein of yarn will make up to 5) First Foot: Using color A, CO 4 sts. Divide sts between 3 double-point needles and join to begin working in the round, being careful not to twist.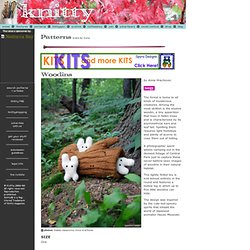 Instructable: Knit dishrags out of old clothes