Creative ideas
{ Ambrosia Girl }
When OhJoy debuted her finished studio renovation, I think there may have been a collective exploding of the minds over the internet. In my mind, Emily Henderson can do no wrong. A California print (part of her studio's wall gallery) called out to me, and seeing that it was a commissioned piece from a friend, I thought up some ways I could make a similar poster for my home. As much as our family is starting to really enjoy (dare I say love? what?!)
You may have heard: it's really, really cold in Minnesota right now--some sort of polar vortex weather phenomena is hovering over the state--just like a dementor waiting to suck out all of your happy. Luckily, I have figured out that doughnuts are the perfect antidote to happiness-sucking weather. Makes perfect sense, no? When a tornado hits, head to the basement, and when a besieged by a polar vortex, make doughnuts.
Chez Beeper Bebe
January 16, 2014 By Jen 3 Comments This post is brought to you by Shutterfly. I just love Valentine's Day!! And this year I thought it would be so fun to go with a traditional red and white Valentine decor! I created THREE different hearts with bold happy patterns in stripes, polka dots and houndstooth. I printed them on canvases and mounted them on my vintage door mantel!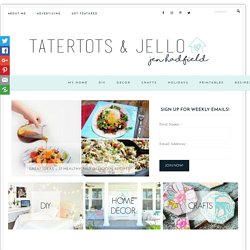 Tatertots and Jello
Made by Joel
julia kostreva
Bijoux fantaisie, créations uniques et accessoires de mode - ALittleMarket
AAKASH NIHALANI
Shop Sweet Lulu — Home
I've written several books with the words "Last-Minute" in the title, so you can imagine that I occasionally relish the exact opposite! Especially in the depths of winter, I love to sink my teeth into a project whose gratification may not be immediate but whose pleasure is deeply satisfying. My Diagonal Pinstripe Scarf is just that! Not only does this scarf represent a month or two of on-again-off-again knitting, but its pinstripes actually serve as a record of my production. I wanted the stripes to be syncopated and unexpected, but have you ever tried to be intentionally random? It's hard!
Knitting Crochet Sewing Crafts Patterns and Ideas!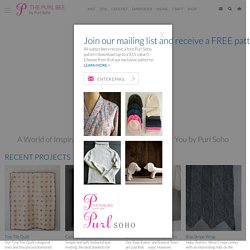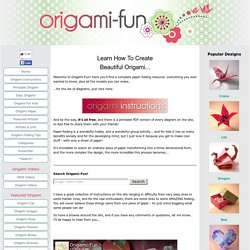 Welcome to Origami-Fun! Here you'll find a complete paper folding resource: everything you ever wanted to know, plus all the models you can make… ...for the list of diagrams, just click here:
Origami That's Fun And Easy
origami club
Paper goods; new & old from near & far.
My little Fabric, Food and Creation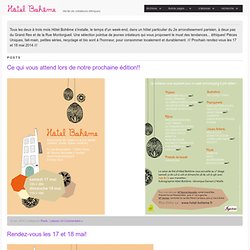 Vous avez adoré ses cookies aux pralines roses, son cheese cake ou encore son cake légumes du soleil cœur tapenade lors de sa participation en mai dernier. Pour votre plus grand plaisir, chers visiteurs d'Hôtel Bohême, Johanna Roques de Jojo & Co revient pour notre édition spéciale « On n'perd pas l'Nord » les 14 et 15 décembre prochains !!! Vous la verrez à nouveau déambuler avec son fidèle tablier noué autour de la taille, ses grandes lunettes, ses mains qui s'agitent quand elle parle et sa vivacité que nous aimons tant. La petite fabrique Jojo & Co investira non pas un mais deux salons de thé (au 1er et 3e étage), eh ouais !
Hotel Boheme, vente de créateurs éthiques
acheter, vendre et vivre fait-main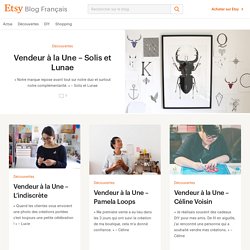 6 conseils pour organiser un marché de créateurs avec votre Team Profitez des conseils de la Team EtsyBCN pour organiser un marché de créateurs et faire connaître Etsy. By LaetiFrenchie Published: 4 April 2014 Prêt pour la Craft Party ? Nous avons la date et le thème. Il est temps de commencer à s'organiser.
Seller Handbook Archive From SEO to photography to advertising, find it all in this thorough index of resources for running your small business. By Katy Svehaug Published: June 10, 2013 Bringing Craft to the Olympic Games UK Artist and Etsian Sarah Turner got the surprise of her life when she was invited to design an installation for the world's biggest sporting event.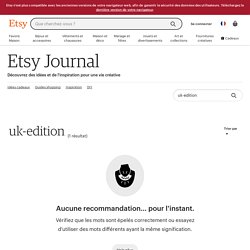 Search: uk edition :: Etsy Blog
Beautiful Aromatic Gluten Free Play Clay by MamaKs on Etsy
Thanks for stopping in to see Mama K's work. Hope you find something you love! Mama K's Aromatic Play Clay is the proud winner of a Best Green Toy of 2011 award from Dr.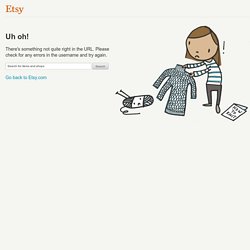 Design Mom — The Intersection of Design & Motherhood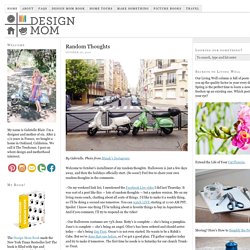 Images and text by Gabrielle. I've mentioned having my cleaning routine greened up. But it turns out I've greened up my beauty products over the last six or seven months kind of by accident. Years ago, when I lived in New York, my friend Sara Stratford told me about an article she'd read on the dangers of using petroleum products on your skin, and how she was having a hard time quitting her favorite lip balm. But I confess, I mentally plugged my ears at the news. Because Vaseline — straight up petroleum jelly — is the pharmacy product I probably use most.
happy tape — japanese masking tape, now in the U.S.
Welcome to Ornamentea.com!!!
Ornamentea is your home for fine craft ingredients and inspiration. We strive to offer the most interesting 'parts' for your creations and we do it in an environment that is welcoming and encouraging. Our 'real' store is located in Raleigh, North Carolina and our virtual store is open 24 hours a day on your screen. You can visit us by sitting at our work table, joining us early on a Friday morning for Breakfast & Beads, coming to a class or by downloading one of our free jewelry making and beading tutorials any time.
We're gearing up for our ten-year anniversary, which is actually this week! Keep in mind, 10 years on Melrose, is like 100 years on other streets. We were recently told the average length of time for a business on Melrose is about 14 months - so don't mind us if we have a beer at the opening. Speaking of - if you plan on attending the opening reception for our 10 year anniversary show this FRIDAY NIGHT at G1988 (West) - RSVP by emailing rsvpgallery1988@gmail.com.
Lovely Ink
Petit Pot
¡Como ya es tradición en estas fechas, este fin de semana llega la sexta edición del Festivalet (podéis ver la anterior edición aquí)! Este año promete: más stands, más espacio y programación de documentales y conferencias. Nos vemos este sábado y domingo en el Museu Marítim con un montón de novedades.
"Orange is trash, green is for cans, and blue is paper... I think." "Germs, Lardee, GERMS!" "Whoah, Check it out! Someone threw out this cool dresser." "Think of all the things we could stuff in here!"
MY MILK TOOF
Free Online Invitations, Announcements, Save-the-Dates and Party Guest List Management from pingg
M A G P I E    l o v e l y
The Girls Loft
Knit Spirit
Etsy :: Your place to buy and sell all things handmade