Sites internet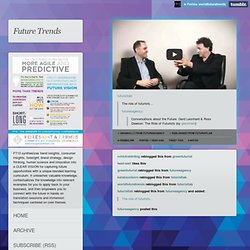 Future Trends - futuristlab: The role of futurists… ...
FT13 synthesizes trend insights, consumer insights, foresight, brand strategy, design thinking, human science and innovation into a CLEAR VISION for capturing future opportunities with a unique blended learning curriculum. It unleashes valuable knowledge, contextualizes the knowledge into relevant examples for you to apply back to your business, and then empowers you to connect with the future in hands on translation sessions and immersion techniques centered on core themes.
Kurzweil Accelerating Intelligence
SoonSoonSoon - Prenez un temps d'avance
Home | Innovationnewsdaily.com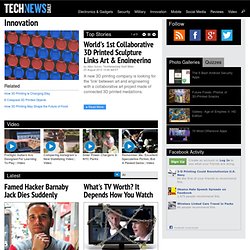 CBS asks for more money from a declining Time-Warner Cable, while customers can get it nearly free online or via an antenna. Before Google Glass' latest patch, a picture could have been worth a thousand hacks. It might be the technology of the future — but not of the present, judging by the simplistic and surprisingly expensive items offered so far. Bigger isn't always better. Two roboticists weigh in on just what it would take to make a giant robot—and why humanity should probably look elsewhere for defense against alien invaders.
Les technologies Web et les tendances à surveiller en 2012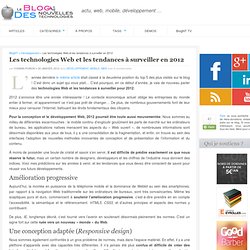 L'année dernière le même article était classé à la deuxième position du top 5 des plus visités sur le blog ! C'est donc un sujet qui vous plait… C'est pourquoi, en ce début d'année, je vais de nouveau parler des technologies Web et les tendances à surveiller pour 2012. 2012 s'annonce être une année intéressante ! Le contexte économique actuel oblige les entreprises du monde entier à fermer, et apparemment ce n'est pas prêt de changer… De plus, de nombreux gouvernements font de leur mieux pour censurer l'Internet, bafouant les droits fondamentaux des citoyens. Pour la conception et le développement Web, 2012 pourrait être toute aussi mouvementée.
Objets communiquants - Nokia imagine un… - Les uniformes… - Lunettes Lumus… - e-vigilante : un… - Naïo Technologies…
Demain la veille - Le blog de la veille – Aref JDEY
Tendances et innovations du secteur informatique
19 février 2014 | 6 commentaires Malgré l'omniprésence des batteries rechargeables embarquées dans les appareils électroniques mobiles de notre quotidien, la bonne vielle pile bâton reste toujours indispensable dans un bon nombre d'accessoires peu consommateurs d'énergie : télécommandes, radios portables, souris et claviers sans fil pour ordinateurs, stations météo, horloges, réveils-matin, lampes torches, etc. Bref, le petit bâtonnet AA ou AAA n'est pas encore tombé aux oubliettes.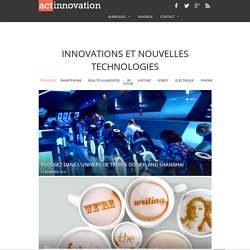 Actinnovation.com
Solve For X
High Tech - L'actualité High-Tech - L'Expansion
Indroduit sur le Nasdaq ce jeudi au prix bas de 17 euros par action, le site de microblogs chinois Weibo n'a finalement levé que 285,6 millions de dollars, quand il en espérait au départ entre 340 et 437 millions. Whisper et Secret sont deux applications mobiles qui permettent de partager anonymement des secrets. Elles sont à l'opposé de Facebook et autres Twitter qui exigent des renseignements personnels. L'Express les a testées pour vous.