Sites internet
Future Trends - futuristlab: The role of futurists… ...
Home | Innovationnewsdaily.com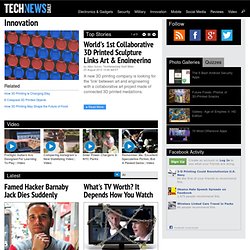 The telegraph, a precursor to the Internet, changed the way people communicated. The filmmaker and deep-sea explorer lends out his high-tech ocean vehicle to be used for the greater good. We take you inside Google's project to spur a tech-business revolution in this heartland city. Microsoft finally releases figures on law enforcement requests and exceeds Google by showing how often it released user content to authorities. A new device that tracks sugar and enzyme levels could make life easier for cancer patients and diabetics.
Les technologies Web et les tendances à surveiller en 2012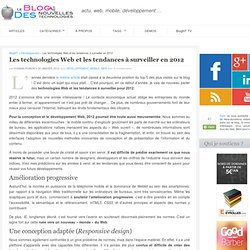 L'année dernière le même article était classé à la deuxième position du top 5 des plus visités sur le blog ! C'est donc un sujet qui vous plait… C'est pourquoi, en ce début d'année, je vais de nouveau parler des technologies Web et les tendances à surveiller pour 2012 .
Objets communiquants - Nokia imagine un… - Les uniformes… - Lunettes Lumus… - e-vigilante : un… - Naïo Technologies…
Tendances et innovations du secteur informatique
High Tech - L'actualité High-Tech - L'Expansion
Les Echos Entrepreneur : Création entreprise, Gestion & Développement entreprise - Conseil aide Entreprise France - Les Echos