Cooking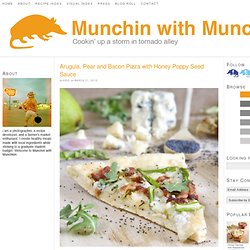 I am so thankful it's spring, but man did winter ever go out with a bang! While the Northeast experienced abnormally warm weather, Arizona got snow!
Arugula, Pear and Bacon Pizza with Honey Poppy Seed Sauce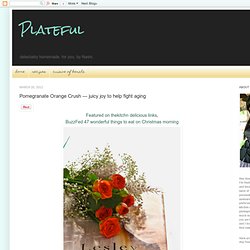 Pomegranate Orange Crush —juicy joy to help fight aging
Warm, breezy afternoons. Golden sunlight. Drinks and laughter.
Thai Summer Salad It's only a matter of time before our beach vacation begins. This means that I've been working out like a mad-woman, drinking gallons of unsweetened iced tea, and eating as light as I can between bites of Peanut Butter Cup Ice Cream and Cookie Dough Brownies.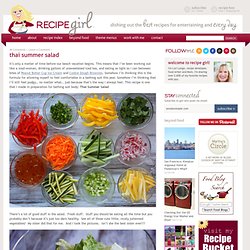 Thai Summer Salad Recipe
My sister-in-law Missy first introduced me to the concept of fruit pizza years and years ago, and here's how: she brought one to my house and I proceeded to eat the whole thing.
Deep Dish Fruit Pizza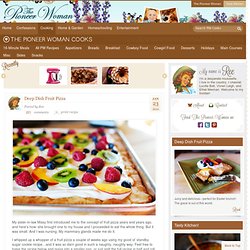 Mini Meatball Sandwiches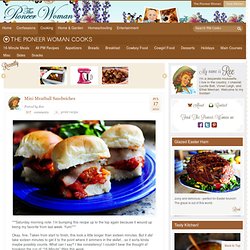 ***Saturday morning note: I'm bumping this recipe up to the top again because it wound up being my favorite from last week.
Bacon Guacamole Grilled Cheese Sandwich
A guacamole grilled cheese sandwich has been on my to try list for a while now and since I was making the bacon guacamole on the weekend I figured I would just pick up double the ingredients and make both.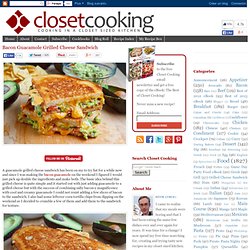 Those of you who have been reading this blog lately know that I have developed an alarmingly close relationship with my muffin pan.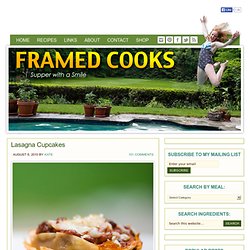 Lasagna Cupcakes
lemon bars
January is always the time of year when most of us get caught up in the winter produce doldrums, fueled by the dearth of flavorful fruit and the overabundance of hard, starchy vegetables. But I find if I set my mind on citrus, I can carefully sidestep most bouts of Farmers Market Mourning.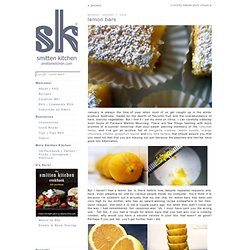 Bacon, Egg, and Toast Cups
I'm fairly certain that I've discussed my lack of love for the great outdoors, so it's safe to say you'll never hear me writing about long hikes in the woods or camping anywhere other than on a deck chair at a five star resort (Hey, I can dream, right?). Not to say that I am not fond of the fresh air and scenery, I just like to keep a screen between me and the bugs. Needless to say, I don't last long at picnics in the park or anywhere outdoors for that matter.
Cheesecake in a Jar Recipe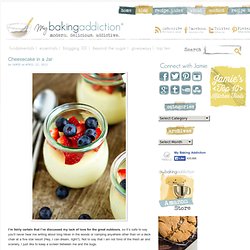 Sloppy Joes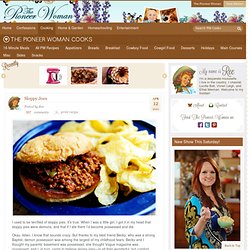 I used to be terrified of sloppy joes.
peach shortbread
Is there an unsaid rule that bar cookies have to be heavy and gooey? Two weeks ago, we picked up a cup of coffee on our way to the park so that the little monkey could continue his path of destruction outside our apartment, and I fell for something in the bakery case called peach shortbread, cut into bars.
Homemade Cinnamon Bread
I baked cinnamon bread last night. I thought of it.
Banana Banana Bread Recipe
blueberry crumb bars
I uploaded pictures of this recipe yesterday onto Flickr, but didn't get to telling you all about it because I was feeling a little lackadaisical after that whole seven days in a row of posting thing.
Here we go.
Healthy Yogurt Breakfast Parfait with Blueberries & Granola Recipe
Easy Breakfast Recipe: Banana Split with Yogurt and Jam Recipes from The Kitchn
» Homemade Muesli Recipe for breakfast in a jar Vintage Mixer
Thai Chicken Tacos
Recipe: Springtime Soba with Miso Sauce Recipes from The Kitchn
Buffalo Chicken Ranch Sliders
Char Sui Chicken
Apple Coffee Cake Recipe « Smoked and Grilled meats | Brine and Marinade and grilling recipes
Rice Pudding :: Home Cooking Adventure
Avocado BLT
Cheesy Corn Capsicum Sandwich | Easy Sandwich Recipes
Mango Avocado Salsa {SRC Post} » Savour the Senses
Coconut-Ginger Seven Layer Bars
The Best Muffins EVER! Banana Nut Coffee Cake Muffins
Shrimp tostadas
kumquat: Blueberry Coconut Pecan Breakfast Cookies
Pear and Blue Cheese Pizza on Whole Wheat and Honey Pizza Dough
Asian Slaw | Feral Kitchen
Vegan Rice Crispy Treats | The Queen of Quinoa
Thin Green Spinach and Herb Omelettes | Flourless Crêpes | Gourmande in the Kitchen
Arroz con fideos (Rice and fried noodles
Arugula Salad with Fresh Mozzarella, Tomato, and Basil Vinaigrette | www.KatherineMartinelli.com
Homemade Horchata
Cake Batter Rice Krispie Treats
Granola Bars Recipe
Full Breakfast & A Day at the Beach
Asparagus Frittata, Your Easter Brunch Centerpiece
Blueberry Chocolate Energy Bars
Espresso Chocolate Bars
Raw Energy Bars~Chocolate, Cashew, And Almond
Dak Bulgogi (Korean BBQ Chicken) | eating and living