Scientific links
ACS Mass Spectrometry
Calculation of Isotope Pattern
Sheffield ChemPuter Isotope Patterns calculator Enter a formula : Notes The results will come out with the most intense line set to 100%. This is standard practice in mass spectrometry and is not an error!
Unit Converter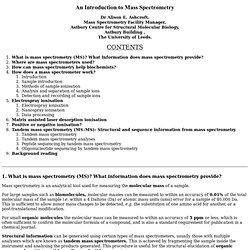 An Introduction to Mass Spectrometry
An Introduction to Mass Spectrometry Dr Alison E. Ashcroft, Mass Spectrometry Facility Manager, Astbury Centre for Structural Molecular Biology, Astbury Building , The University of Leeds. What is mass spectrometry (MS)?
Solvent Strength for TLC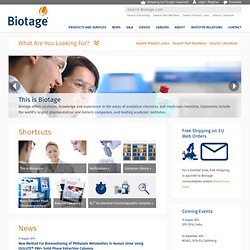 Optimizing Flash Chromatography Solvent Strength Optimization When the correct solvents have been determined, the next step is to adjust the solvent composition (solvent strength) so the compound of interest elutes within the R f range 0.15–0.35 (6.7–2.8 CV). By adjusting solvent strength to provide elution within this window the chances for optimal purification are greatly enhanced.
Bond Energy Table
Glassware Tricks
Chemistry requires an understanding of molecular structure, knowledge of molecular reactivity, and the creativity to combine them in novel situations. A synthetic chemist must be able to translate a two-dimensional drawing into a three-dimensional mental image. This three-dimensional image is then unwrapped and divided into key intermediates, each of which will be unwrapped and divided in turn. We cannot see with our eyes the molecules we study. Therefore, we bridge the gap between ordinary vision and visual imagination with models: physical models which embody the metaphorical models.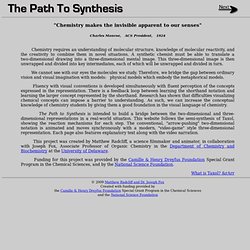 Synthesis (very nice instructional course)
Welcome to WebSpectra - This site was established to provide chemistry students with a library of spectroscopy problems. Interpretation of spectra is a technique that requires practice - this site provides 1 H NMR and 13 C NMR, DEPT, COSY and IR spectra of various compounds for students to interpret. Hopefully, these problems will provide a useful resource to better understand spectroscopy.
UCLA Problems in NMR and IR Spectroscopy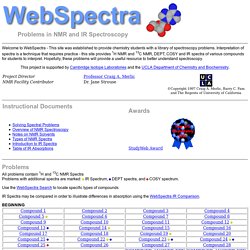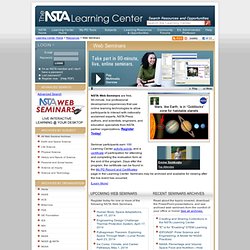 NSTA Web Seminars are free, 90-minute, live professional development experiences that use online learning technologies to allow participants to interact with nationally acclaimed experts, NSTA Press authors, and scientists, engineers, and education specialists from NSTA partner organizations. Register Today! Seminar participants earn 100 Learning Center activity points , an NSTA SciGuide , and a certificate of participation for attending and completing the evaluation form at the end of the program.
NSTA Learning Center
Synthtic Organic Chemists
Chemistry Conferences
The Basics of NMR
NMR Facility at Queen's University
Peptide Molecular Weight Calculator
DNA properties calculator
Water-Soluble Polymers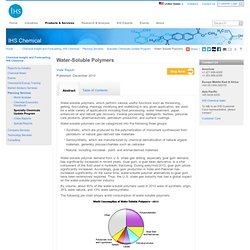 Overall, modest growth in the consumption of water-soluble polymers is expected to continue through 2014, characterized by (1) minor displacement of semisynthetic polymers by natural polymers, particularly in food applications, (2) generally slower growth in consumption for nonfood applications, and (3) minor product innovations that will create new applications in existing market segments. Aggregate volume consumption of these polymers will increase at an average annual rate of 3.0–4.0%. The water-soluble polymer industry is mature. However, with the exception of vegetable starches, casein, and gelatin, most water-soluble polymers continue to remain specialty chemicals—priced at more than $2.50 per kilogram, requiring technical service, and providing relatively high gross margins compared with commodity chemicals.
In chemistry , and especially in biochemistry , a fatty acid is a carboxylic acid with a long aliphatic tail ( chain ), which is either saturated or unsaturated . Most naturally occurring fatty acids have a chain of an even number of carbon atoms, from 4 to 28. [ 1 ] Fatty acids are usually derived from triglycerides or phospholipids . When they are not attached to other molecules, they are known as "free" fatty acids. Fatty acids are important sources of fuel because, when metabolized, they yield large quantities of ATP . Many cell types can use either glucose or fatty acids for this purpose.
Fatty Acids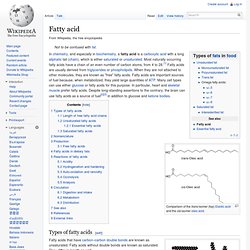 iSUSTAIN Green Chemistry Index
PyMOL
PyMOL is an open-source, user-sponsored, molecular visualization system created by Warren Lyford DeLano and commercialized by DeLano Scientific LLC, which is a private software company dedicated to creating useful tools that become universally accessible to scientific and educational communities. It can produce high quality 3D images of small molecules and biological macromolecules , such as proteins . According to the author, almost a quarter of all published images of 3D protein structures in the scientific literature were made [ when? ] using PyMOL. [ citation needed ] PyMOL is one of a few open source visualization tools available for use in structural biology . The Py portion of the software 's name refers to the fact that it extends, and is extensible by the Python programming language .
PyMOL - Wiki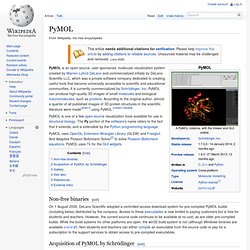 BOINC projects
BOINC is used by many volunteer computing projects . Some are based at universities and research labs, others are run by companies and individuals. You can participate in any number of these projects.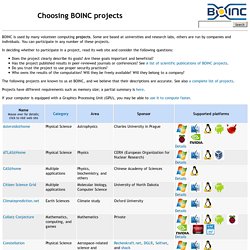 Climate prediction
Basis Sets for Gaussian