Search engines
Squirro. Trendistic - see trends in twitter. Openbook - Connect and share whether you want to or not. TopSite.com - The Best Way to Find the Top Sites on the Web.
DeepPeep: discover the hidden web. Distributed search engine. A distributed search engine is a search engine where there is no central server.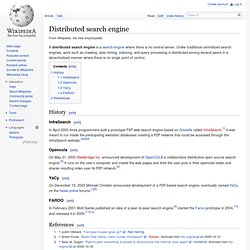 Unlike traditional centralized search engines, work such as crawling, data mining, indexing, and query processing is distributed among several peers in a decentralized manner where there is no single point of control. History[edit] InfraSearch[edit] In April 2000 three programmers built a prototype P2P web search engine based on Gnutella called InfraSearch.[1] It was meant to run inside the participating websites' databases creating a P2P network that could be accessed through the InfraSearch website.[2][3][4] Opencola[edit] IncyWincy: The Invisible Web Search Engine. Clustering Engine.
Carrot2 Search Results Clustering Engine Carrot2 organizes your search results into topics.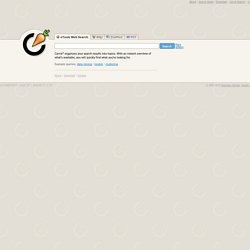 With an instant overview of what's available, you will quickly find what you're looking for. Cluuz Search. Real Time Search - Social Mention. Real-time Discovery Engine - YourVersion: Discover Your Version of the Web™ Top trends for - Technology on TrendSpottr. Top 7 Semantic Search Engines As An Alternative To Google. But there are other ways to search the web, using what are known as semantic search engines.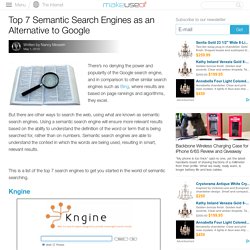 Using a semantic search engine will ensure more relevant results based on the ability to understand the definition of the word or term that is being searched for, rather than on numbers. Semantic search engines are able to understand the context in which the words are being used, resulting in smart, relevant results. This is a list of the top 7 search engines to get you started in the world of semantic searching.
Kngine. 30 Specialist (and Super Smart) Search Engines. Google is widely (and rightly) recognised as the mother of all search engines.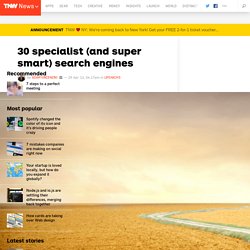 But, if you need to drill down your searches by more specific details, do you trust Google to give you what you need every single time? Here's a collection of 3o vertical search engines which you should have up your sleeve when you need some specialist power. Flights / Travel 1. Lexxe Search Engine - Home page. SWSE -- Semantic Web Search Engine. SenseBot - semantic search engine that finds sense on the Web. Watson Semantic Web Search. This is the Watson Web interface for searching ontologies and semantic documents using keywords.
This interface is subject to frequent evolutions and improvements. If you want to share your opinion, suggest improvement or comment on the results, don't hesitate to contact us ... At the moment, you can enter a set of keywords (e.g. "cat dog old_lady"), and obtain a list of URIs of semantic documents in which the keywords appear as identifiers or in literals of classes, properties, and individuals. You can also use "jokers" in the keywords (e.g., "ca? La rete sociale globale dedicata all'apprendimento.
Search-cube - the Visual Search Engine. Spezify. AlternativeTo - Alternatives To The Applications You Want To Replace. Websites Like - Alternatives to your favorite websites. Decide. Decide community and friends, As you may have heard, Decide was acquired by eBay, the worldwide commerce leader.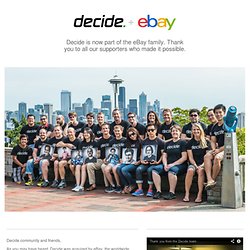 Since we started three years ago, weve been on a mission to bring you a more transparent shopping experience and help you feel more confident in your purchase decisions - in fact, we've been downright obsessed with it. Over the past year, we began experimenting with eBay and discovered an exciting opportunity to apply our team's strength in data and predictive analytics to help over 25 million eBay sellers make smarter decisions and be more successful. We want to thank you - our loyal users, members, media partners and investors. Quixey - Find apps that do what you want. Business Software Reviews, SaaS & Cloud Applications Directory. SimilarSiteSearch.com - The Best Place To Find Similar Websites.
10 Popular Sites Like Wordle (Updated: Dec 1st, 2011) An example search result How moreofit Searches Each website has a unique tag signature -- a set of words that users have described the website as.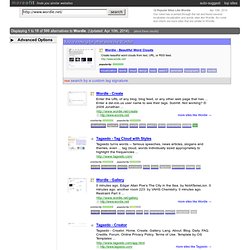 Internet Archive: Digital Library of Free Books, Movies, Music & Wayback Machine. Universal Meta Search and Discovery Engine. Yebol. YaCy 'kit-sc-head': Search Page. Academic Concepts. Wolfram|Alpha—Computational Knowledge Engine. Numerical Data Search. Volunia (Italiano)
Come sta cambiando Volunia: importanti novità dal 18 maggio 2012 | Volunia Blog (Italiano) GoldenMap - Mindmaping de World. Infomous. Search engine and human edited web directory KartOO. DuckDuckGo. Spam free search. Dooble Web Browser. Uzbl - web interface tools which adhere to the unix philosophy.
---
garabaldafafarata Nov 27 2013

good work thank you!

Hope you can find something interesting in my pearltree...

keep on pearling
---